March 20th
Issue 1.5
Good morning!
Welcome to Issue 1.5 of Digestable, your daily mouthful of real things happening in the world, minus alarmist pandemic news.
I'm still all ears for your feedback, or if you're already a fan, share this email with your friends. If you're not yet on the list, click below to sign up!
Today's news, fermented:
Good morning. It's Friday. I'm tempted to say something I'll regret about 'the longest week ever' cause we're in for a long haul, so instead I'll just say that I feel like NASA's Mars lander, which was recently fixed by receiving commands to whack itself with a shovel. (It worked.)
So, apparently, does the US Government, which has established that even though people are massively, direly in need of leadership and support, the fossil fuel industry is really what should be bailed out now. It's worth noting that all those headlines about 'every American receiving a check' are at the top of articles about a bailout package that gives additional massive tax cuts to corporations. Remember corporations, those non-people that have the same rights as people, but conveniently don't need healthcare, social security, shelter, clean water, or fresh and healthy affordable food? Yeah, them.
If you're thinking, 'oh gosh, the world is falling apart, this is the last straw,' have no fear! All of this nonsense has been going on for a really, really long time. This is not new at all.
Take Philip Morris International, the largest tobacco company in the world, for one. They've been knowingly driving the public health crisis that's behind the largest preventable cause of death for more or less forever. One of their employees at a Richmond, VA plant tested positive for the virus. The best analysis of their move to close the plant is here:
Ugh.
Moving right along to other instances of governmental monetary insanity, it turns out that the Spanish government is still paying bonuses to a large handful of police officers who were recognized for their service under Franco, the late dictator. For one, at least one of these officers committed acts of torture. For two, Franco died in 1975, which was many many budget cycles ago. Just…how.
Speaking of continuing to do something for a long time, but in this instance, it's survival against all the governmental and corporate odds: the Oujé-Bougoumou Cree have long moved around boreal Quebec looking for a place to exist out of the murderous path of resource-seeking entities. In the words of Julian Brave NoiseCat, these folks "had the misfortune of building homes on top of riches claimed by white men." In your long isolation hours, read the whole piece below. It's a reminder of the long game, and that people are more resilient than non-people entities.
•••
Hey everyone, thanks for digesting with me. It's been *one week* since I started writing Digestable and Latifah started blessing us with the *Hot Goss*.
Writing during the time when I used to commute, and for an audience of folks I do and do not know, has made me feel like the sweet marsupials of Australia must have felt when the government rained down carrots and sweet potatoes for them to eat after a brutal wildfire season. In other words, in the absence of structure and IRL sustenance from community, now I get to type things and read the news for an extra hour of the day.
Kidding. I really appreciate you.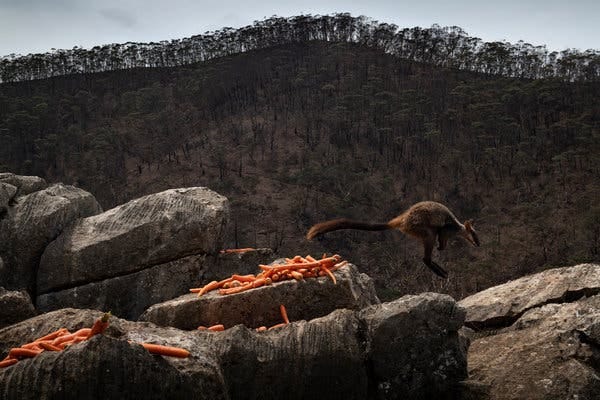 (picture via)
*Hot Goss*
When I first agreed to curate and write this section of the newsletter, I secretly made a pact with myself that all the celebrity news I chose would have as little to do with the coronavirus as possible.
In the last few days, I've adjusted this rule slightly to allow news related to the coronavirus – but only if it was absurd, messy, or totally nuts. That's how stories like Chrissy Teigen's $86 dollar bowl of soup or the Cuomos bickering on air ended up making the cut.
But as the pandemic continues to grow, it's getting harder and harder for me to keep to this pact. I guess we can silently drag Evangeline Lilly for refusing to quarantine because she thinks "freedom" is more important despite having a cancer-stricken father living with her, or collectively cringe at Gal Gadot and her celebrity roundup Instagram cover of "Imagine." But even these 'rona-related stories aren't as ludicrous as previous ones have been.
So today, we're going to end the week on a calm note – by looking at unproblematic fave Lucy Liu's latest spread in Marie Claire China. I know this isn't technically ~*Hot Goss*~ but any excuse for me to write about Lucy Liu is good enough for me. Please enjoy this array of photos of the actress dressed up as musicians of the 80s from Boy George, to Madonna, to Prince.
Stay safe everyone! We'll be back on Monday with more ~*Hot Goss*~.
And now, a song!
The rest of this week I have the privilege of sharing songs by Mare Berger. Listen to today's song, Stardust, here.
Today's news, raw:
NASA fixes Mars Lander by telling it to hit itself with a shovel, 3/18/20, Futurism.com
Not Even A Pandemic Can Stop Trump From Pushing Fossil Fuels, 3/18/20, Huffington Post
Senate Rescue Package Includes Corporate Tax Cuts and $1,200 Checks, 3/19/20, NY Times
UPDATE: Philip Morris suspends operations at South Richmond plant after second employee tests positive for coronavirus, 3/19/20, Richmond Times-Dispatch
Spain still paying bonuses to 115 police given medals by Franco, 3/19/20, The Guardian
In search of promised lands, 3/19/20, Canadian Geographic
Fires Left These Wallabies Nothing to Eat. Help Arrived From Above. 3/18/20, NY Times