March 23rd
Issue 2.1
Good morning!
Welcome to Issue 2.1 of Digestable, your daily mouthful of real things happening in the world, minus alarmist pandemic news.
Happy week 2! I'm all ears for your feedback, or if you're already a fan, share this email with your friends. If you're not yet on the list, click below to sign up.
Today's news, fermented:
And now back to your irregularly scheduled programming. It's gettin tough out there, news-wise and otherwise. Even news that isn't technically virus-related is now that in some way or another, so bear with me. If things get too fibrous here at Digestable, reply to this email or angrily tweet at me, and I will do my best to adjust accordingly.
The juiciest news of the weekend is that all powerful entities know about crises before they unfold. We saw the latest iteration of this phenomenon last Friday, when news broke that four US Senators, including Intelligence Chair Richard Burr, dropped millions of dollars of stock before the virus-related economic catastrophe. For one, why and how do US Senators even have millions of dollars in stock? I thought they were here to serve the public? For another, just…round of applause please for our decision-makers really having their priorities in order.
Also: please take this opportunity to devote some of your attention to another not-so-well renowned politician named Burr. While we're on Aaron Burr (and by necessity, Alexander Hamilton), it seems worthwhile to draw a comparison between another pair of of politicians, one of whom holds strong views and is outspoken about them, the other of whom is absolutely nowhere to be found. (Hint: if you search "where is joe biden" or "is joe biden missing" it's kind of like when your teacher says to the class, "is anyone not here?")
Anyway, back to how this staggering deception from the halls of power is nothing new. First, we have the tobacco industry, which wrote the playbook on how to deceive people on the negative effects of your product so they keep buying it. You bet they knew that tobacco products cause lung cancer and a whole other slew of terrible illnesses. Then we've got Big Oil, which funded research into the effects of extracting and burning fossil fuels as early as the 1980s, the findings of which they hid…and then denied…and now are acknowledging were right but how could we possibly fight climate change without fuel from algae…made by the fossil fuel industry? And then there's the bottled water industry, which in a consulting role, gave Flint's water a clean bill of health months before the city admitted it was contaminated.
Okay, bleak. It's time to call in some wise folks who happen to be the co-editors of Octavia's Brood, which is both terrifying and perfect reading for this time.
Walidah Imarisha said that "all of our writing is either advancing or regressing justice." I'm going to shift gears here and use the rest of this space in front of your eyeballs to do the former, rather than the latter.
While it makes sense that all eyes are on this horrible catastrophe, some of the worst injustice goes down when people are not looking. Two examples of this: an earthquake rocked Zagreb, Croatia over the weekend, yielding destruction and fear. In the wake of all crises from earthquakes to epidemics, disaster capitalism happens. We have to keep watching.
Another example is the gentrification of an area once known as "Black Wall Street," located in Oklahoma City, OK. All the shenanigans you'd expect (mysterious 'land acquisition,' Whole Foods) are going down. Gentrification is a slower kind of violence, not quite as sexy as massive rebuilds of earthquake-stricken cities, but still definitely happening while we look away.
Here's the second idea from an Octavia's Brood editor: adrienne maree brown says that "the realm of science and speculative fiction could be a great place to intentionally practice the futures we long for."
I'll close with some IRL happenings that seem like the stuff of speculative fiction.
Animals, no longer scared off by rush-hour traffic or other Loud Things that happen in cities, have been wandering into urban areas. Some folks have gone off the rails in claiming to see dolphins in Venice's canals, but this is where the speculation comes in. Could we remake our world so that dolphins might wanna swim in Venice's canals?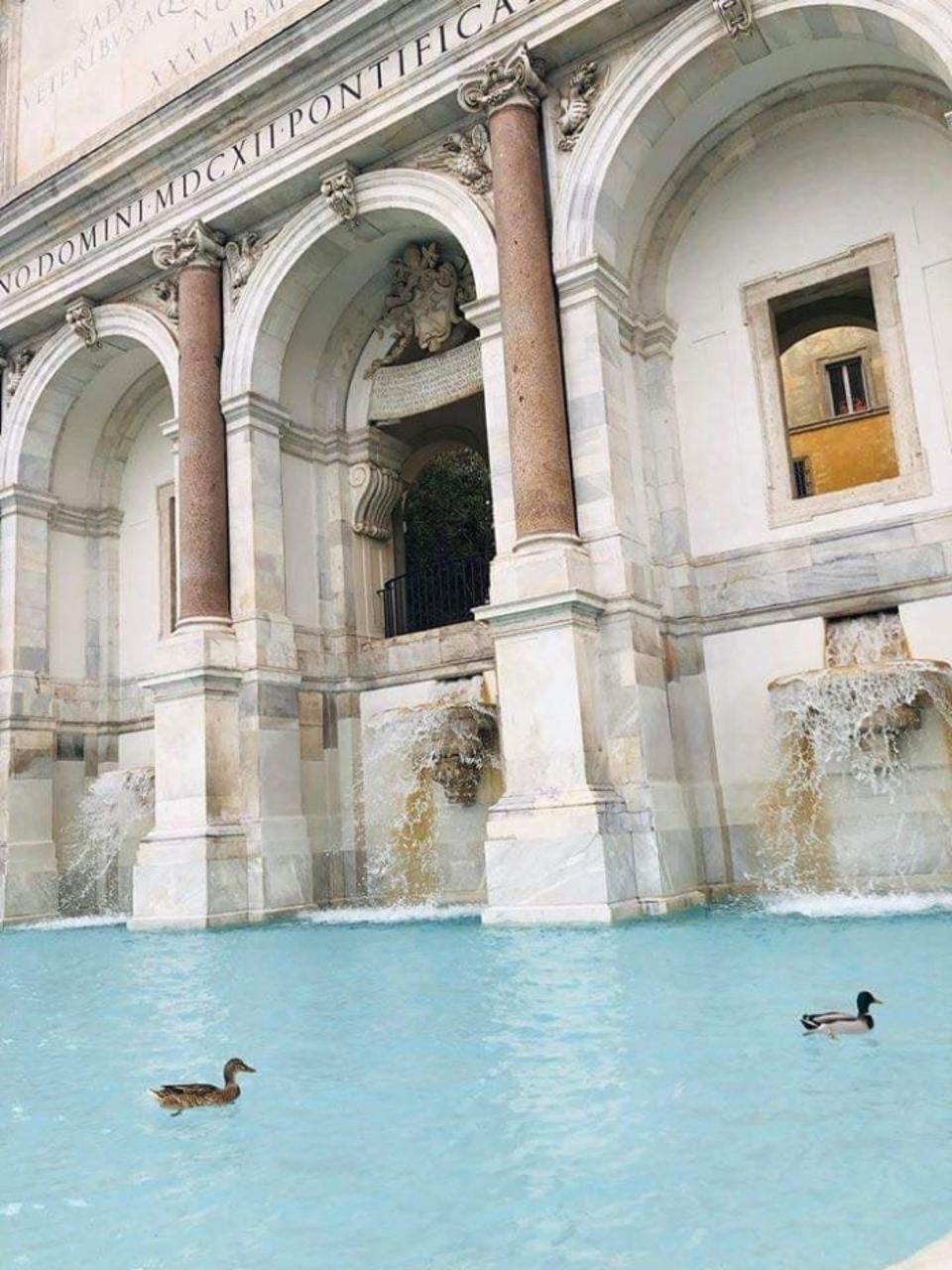 Lastly but not leastly, a storm in Wales has revived discussions of Atlantis.
I'll let you look at the gallery in the link below and make your own conclusions about flooded cities in the era of climate catastrophe, but I have plucked out for you the best line of the whole article: "the land was fortified against the sea by a dyke."
Sounds like a world I want to live in.
(image via)
*Hot Goss*
We're heading into another week of self-quarantining, which, if you're anything like me, means another step closer to having an emotional breakdown.
But if there's anyone who can bring calm in a time of high-stress, it's decluttering queen and organizing consultant extraordinaire Marie Kondo, who was recently profiled in The New York Times' vertical Like A Boss. In the column titled "How Marie Kondo Declutters During a Pandemic,"Marie documents a week in her life, and boy is it soothing. She picks lemons from the tree in her backyard and cooks lunch and dinner every single day, all while juggling her businesses both in the U.S. and Japan. If you don't have incense to light every single morning, reading this brief snapshot into Marie's life – especially if you try to do it by hearing her voice speak through these words – will have just about the same effect. I highly recommend it.
Pivoting from the tranquil to the tumultuous, we have the drama that will never die: the feud between Kanye West and Taylor Swift. All of this began at the 2009 VMAs with the infamous "Imma Let You Finish" moment where Kanye stage-rushed Taylor as she was accepting an award. This moment has defined the relationship that both artists have had with each other in the decade that followed, culminating in a spectacular falling out brought about by Kanye's song "Famous" that included lyrics referencing Taylor in... less than savory ways, shall we say. If you've been following this feud or vaguely know something about it, you'll know there's been a lot of back and forth over consent and knowledge over who knew what regarding the decision to include Taylor in this song. All of this is to say that a new video from 2016 of a conversation Kanye and Taylor had was released over the weekend that apparently vindicates the latter. I'm tired, you guys. I'm tired of this stale drama that keeps being shoved in our faces over and over again. In the words of M*lania Tr*mp, I really don't care, do you? There's a f'in pandemic during what feels like the end of the world and this is what I get?! Give me my pocketbook, I'm leaving.
Brought to you by the superb Latifah Azlan.
Today's news, raw:
Emboldened wild animals venture into locked-down cities worldwide, 3/22/20, The Guardian
Earthquake rocks Croatia's capital Zagreb, 3/22/20, BBC
Thousands of Black Families in Danger of Being Displaced from 'Black Wall Street', 3/20/20, ColorLines
How a storm revealed a Welsh kingdom, 3/19/20, BBC
Senator Dumped Up to $1.7 Million of Stock After Reassuring Public About Coronavirus Preparedness, 3/19/20, ProPublica