March 24th
Issue 2.2
Good morning!
Welcome to Issue 2.2 of Digestable, your daily mouthful of real things happening in the world, minus alarmist pandemic news.
I'm all ears for your feedback, or if you're already a fan, share this email with your friends. If you're not yet on the list, click below to sign up.
Today's news, fermented:
Coming to you this morning with some pre-news: this is the salt on your vegetables to get the juices flowing.
As you may have seen, the pre-human jellybeans running this country are 'trying' to pass a relief package for the NSFD (Not Safe for Digesting) catastrophe. As I mentioned last week, many iterations of this package include huge bailouts for corporations, aka not what needs saving.
If you are as pissed and worried as I am about this, join me in this 10am EST Twitter storm calling on aforementioned jellybeans to bail out #PeopleNotPolluters. Sample tweets here (scroll down to "sample posts").
While we're on politicians massively failing to do what they said they would, former staff on the Bloomberg campaign are suing the billionaire. They claim that the campaign guaranteed pay and health insurance until the November election; in response, Bloomberg's people are putting together a (slush) fund to ensure all staff are insured through April. It goes without saying that if the government already guaranteed healthcare and universal basic income for Americans, this poor billionaire would be off the hook. Weird.
There's another billionaire-entity that is deeply on the hook, and with much greater consequence: PG&E, the private gas utility that serves most of California. They've been in the news quite a lot over the last few years because of their role in and response to the now nearly-endless wildfire season. State regulators determined that PG&E's old equipment, which they decided not to upgrade, was responsible for the destruction of Paradise, CA. Yesterday, the company announced it would plead guilty to involuntary manslaughter as a result of this misstep.
Wait. A company can be held liable for killing people? Seems pretty out of line with most decisions made about accountability in this country. This isn't a perfect case — residents of Paradise still need a lot of support to envision returning to anything like normal life. But it sets a new precedent for holding corporations (remember, non-people) financially responsible for failing to keep people safe (ahem fossil fuel industry, you're next).
All those wildfires have contributed to tremendous warming of the ocean, which is a huge carbon sink (if the ocean was a sink and carbon came out of a faucet and the faucet is humans). This warming has drawn scientists' attention to a deep trench under the Antarctic ice sheet that is twice as deep as the Grand Canyon. Because this trench is so deep, there's huge potential for warm ocean water to flood in and melt the ice sheet above the trench, causing *quite* a lot of sea level rise.
Rising seas and the salty water that comes with them won't help Mexicali, a small city on the México/US border. Mexicali is in an arid region amidst a constant water shortage. Naturally, a US-owned company wanted to open a brewery there and use 25% of the area's water reserves (to produce Corona beer, which has not received the distaste you'd expect in this era of corona-shaming). But farmers and organizers pushed back, and after a two-year battle, they have successfully squashed the brewery plan.
Last word today, while we're on corona-shaming, goes to the strange sweet dinosaurs we know as pangolins. Pre-corona, pangolins were near extinction, because people liked to sell and skin them for their fabulous scales. However, amidst rumors that pangolins are one of the carriers of ~the virus~ sales have dropped. Pangolins are not yet in the clear (of blame or extinction) but at the very least we can take a moment to appreciate their stackable anatomy: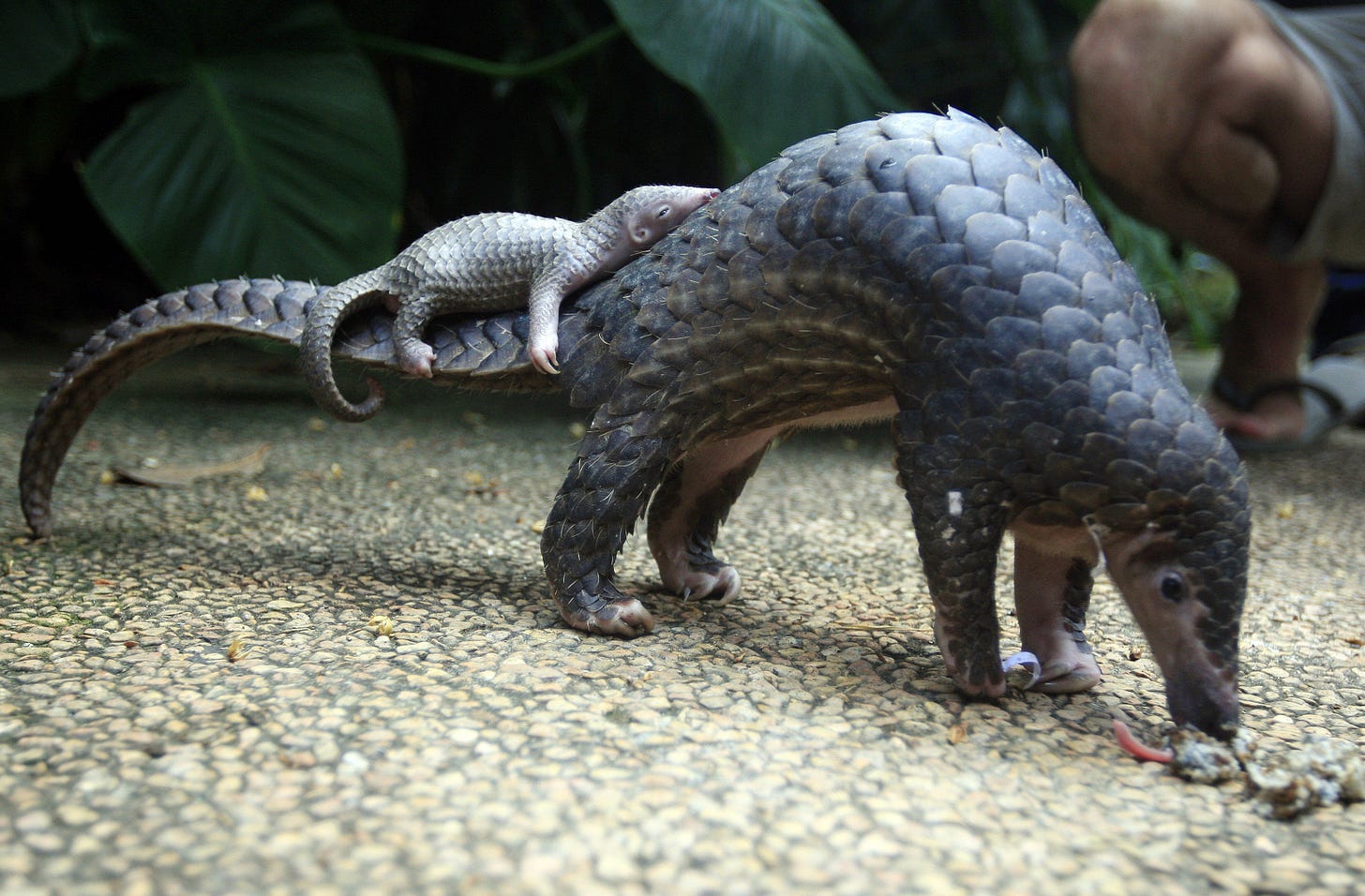 (image via)
*Hot Goss*
Yesterday Massachusetts officially declared a "shelter in place" directive in response to the coronavirus pandemic and I lost my temper with my roommate for the first time since self-quarantine started (or since we started living together, to be honest). And because I live in a single floor three-bedroom apartment, I could only avoid her by either locking myself in my bedroom or locking myself in the bathroom and pretending I had the stomach flu. 
These two events led me to think about my options if I was rich and lived in a mansion. Where would I go? Where would I banish others? And of courseOprah Winfrey has the answer. In an Instagram live posted on Monday, the 66-year-old media mogul revealed that she recently moved her long-term partner Stedman Grahamout of their main house and into the guest quarters instead. Duh! The guest quarters, how could I not think of that?! To be fair to the couple, this was an extra precautionary step they decided to take due to Stedman's recent travels and Oprah's pre-existing medical condition that makes her particularly at risk for potentially contracting the virus. But social distancing is certainly made easier when you're a Rich B*tch and your guest house is the size of a normal person's multigenerational family home. Oprah, take me in please! I'll volunteer myself for the pool shed if that's still available.
Because I do not want to spend more than 2 sentences on yesterday's continuation of Kanye West and Taylor Swift's feud, here's a follow up article on the statements both camps put out regarding the latest phone call that was released over the weekend. YAWN!
And for all the Caucasians out there still refusing to self-quarantine, your Caucasian King Neil Diamond has distilled the message into a form you may understand: a coronavirus version of legendary Caucasian Bop "Sweet Caroline." Put it on, pretend you're at a Red Sox game with your fellow Caucasian brethren, and sing away my sweets. Summer will be here soon enough!
Brought to you by the superb Latifah Azlan.
Today's news, raw:
Scientists just discovered a massive new vulnerability in the Antarctic ice sheet, 3/23/20, Washington Post
PG&E Will Plead Guilty to Involuntary Manslaughter in Camp Fire, 3/23/20, NY Times
Former Staffers Sue Bloomberg Campaign, Alleging They Were Promised Pay Through Nov., 3/23/20, NPR
Mexican city rejects plans for giant US-owned brewery amid water shortages, 3/23/20, The Guardian