March 25th
Issue 2.3
Good morning!
Welcome to Issue 2.3 of Digestable, your daily mouthful of real things happening in the world, minus alarmist pandemic news.
I'm all ears for your feedback, or if you're already a fan, share this email with your friends. If you're not yet on the list, click below to sign up.
Today's news, fermented:
Happy Wednesday!
Amidst week two of this effort to share news that is not merely just pandemic panic, things are getting difficult over here. Many newsrooms have pivoted most if not all of their staff to covering the ~virus~, so it is creeping in as subject matter.
I said to a friend yesterday that I was ready for this crisis to be over. We then discussed that while this crisis may end, we have to get used to organizing in crisis, and the choices we make and the work we do now are all foundational for how we build the next world, the just, safe, symbiotic one.
Today's news is all about democracy, starting with a hot date.
While hot dates are usually Latifah's territory, I figured I'd take this one. It's June 2, 2020. It's the date with the largest number of delegates on the ballot for the US Democratic primary. The author describes it as "Super Postponed Day," but I'd like to offer a couple of other options. "Super last time we can pretend this is a democracy before things get really bad Day," "Super maybe we should have online voting that also protects Americans' privacy Day," and "Medium Day" are a few.
Which brings us to the next matter: along with birthday parties, performing arts, religious ceremonies, game nights, and seances, elections are on the chopping block as now-unacceptable gatherings of humans. See my above suggestion about voting online — turns out that the lower-tech option of mail-in ballots is rife with fraud opportunities. Suggests that maybe, just maybe, it's time for an overhaul of the American election system. So while you can't vote online, you can at least fill out the US census from the confines of your home.
As folks who have been trying to organize these last few weeks already know too well, gathering to protest failed governments is also not allowed anymore. Super convenient for truly evil, dangerous leaders like Jair Bolsonaro (not to mention, some others), president of Brazil for the last year. Brazilians came out on their porches en masse not, as the Italians did, to sing, but rather to tell Bolsonaro to GTFO. It's worth looking at the whole article to ponder how on earth they got such nice protest lettering up so high on a building…without leaving the building.
Back to the US, where we sing and also have a deeply troubled criminal justice system, the "most important" District Attorney race in the country is in a runoff. Jackie Lacey, the current DA of Los Angeles, "promised reform but has continued…fueling mass incarceration and destroying black and brown communities in Los Angeles," in the words of Patrisse Cullors, co-founder of Black Lives Matter and author of this book you should definitely read. BLM protesters also showed up at Lacey's house and her husband…pulled a gun on them. Seems like maybe she is not equipped to make calls about justice.
Someone who is certainly, unquestionably equipped to make those calls is Stacey Abrams, pictured in this article about a certain politician choosing a female running mate. To be completely honest with you, I didn't read this article, I just looked at Stacey Abrams, champion of democracy, and wished with all my human capacity that the shitstorm that has and will be this election will end with me getting to vote for her.
Like our democracy, ring-tailed lemurs are also in danger of extinction. But two were born in a UK zoo this week.
Here's a tiny picture of these tiny friends.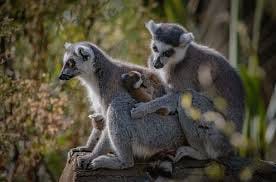 (image via)
*Hot Goss*
Attention, attention: The call for revolution has been given – and by none other than Comrade Britney Jean Spears herself! On Monday, the 38-year-old pop icon shared an Instagram post on connection in the time of corone, which included demands such as "redistribute wealth" and "strike." A breath of fresh air amidst the "Imagine" singalongs and cutesy graphic designs we've been seeing of late. And as always, Twitter delivers when it comes to the accessible academic-level analysis we've come to expect out of 240 characters. Here's my favorite of the bunch.
Continuing on the 90s nostalgia trip, we're celebrating the twentieth anniversary of *NSYNC's iconic second album No Strings Attached, featuring evergreen singalong hits such as "Bye Bye Bye," "It's Gonna Be Me," and "Digital Get Down" (my favorite song on the album, FYI). To celebrate the milestone anniversary, members Lance Bass and Chris Kirkpatrick sat down with Vulture to talk about the boyband's halcyon days making dirty pop, and picking the best and worst of their career. I genuinely have nothing snarky to say here because I love *NSYNC and this interview was truly, really fun to read. From reminiscing about frosted tips to reflecting on JC's dancing, it's got all of it. I highly recommend saving this for your lunchtime break.
Brought to you by the superb Latifah Azlan.
Today's news, raw:
Why June 2 Is Suddenly the Hottest Date on the Primary Calendar, 3/25/20, NY Times
Voting by Mail Would Reduce Coronavirus Transmission but It Has Other Risks, 3/24/20, ProPublica
Quarantined Brazilians protest against Bolsonaro from windows and balconies: 'Get out!', 3/25/20, The Guardian
'Opening a door that was closed too long': the hunt for a female vice-president, 3/25/20, The Guardian
The "Single Most Important DA Race in the Country" Is Headed to a Runoff, 3/24/20, Mother Jones