March 26th
Issue 2.4
Good morning!
Welcome to Issue 2.4 of Digestable, your daily mouthful of real things happening in the world, minus alarmist pandemic news.
I'm all ears for your feedback, or if you're already a fan, share this email with your friends. If you're not yet on the list, click below to sign up.
Today's news, fermented:
In the interest of minimalism—because we all know the news cycle has been eaten alive by not just the virus but the pack of bedraggled dishcloths supposedly salvaging the economy, today's issue will be short.
We will also miss out on the Goss today, so I leave it to you and your cohabiters to stir up some narsty internal goss of your own.
The Supreme Court, aka the governing body most of us have *not* been attending to in the last couple of whiles, just unanimously (yup, just like the Senate last night) decided a case that has a key racial discrimination issue at its core…in the wrong way. The beacon of evil who wrote the decision argued that a racially discriminatory process might not necessarily yield a racist outcome. RBG came at him with some sort of concurrence that supposedly should head off further arguments in this direction of allowing problematic process. But 1) I don't understand Supreme Courtese and more importantly 2) why are only nine people responsible for making this kind of call?
Moving along on the concentration-of-power theme, it seems like modernist architects are continuing (following their predecessors who worked for Hitler, Mussolini, and others) to walk a very fine, almost invisible ethical line. These architects, as recipients of money and creators of space on behalf of evil leaders and amoral corporations, have the potential to say no to these contracts, or continue saying yes, because they 'have to keep doing business.' It seems to me kind of like those rich people who donate a lot of money to progressive causes but own stocks in private security firms that carry out wars so governments don't have to.
Speaking of which, the water protectors at Standing Rock, who have been subjected to more than their fair share of targeting by private security, won a big victory yesterday. The Army Corps of Engineers has been instructed to conduct a full environmental review before the project moves forward; the court will soon decide if the pipeline should be shut down while the review is conducted. The review will take years, partly because of bureaucracy and partly because of the Army Corps' long history of successful projects.
Good news is we might be able to live on Mercury. I'm sure we wouldn't do anything wrong if we had another chance, right?!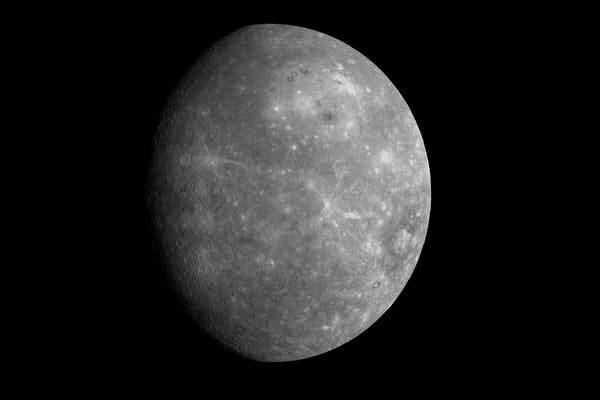 (image via)
Today's news, raw:
The Ethical Failures of Modern Architecture, 3/26/20, The New Republic
Dakota access pipeline: court strikes down permits in victory for Standing Rock Sioux, 3/25/20, The Guardian
The Supreme Court Just Made It Easier to Get Away With Discrimination, 3/26/20
Life on the Planet Mercury? 'It's Not Completely Nuts', 3/25/20, NY Times