March 30th
Issue 3.1
Good morning!
Welcome to Issue 3.1 of Digestable, your daily mouthful of real things happening in the world, minus alarmist pandemic news.
I'm all ears for your feedback, or if you're already a fan, share this email with your friends. If you're not yet on the list, click below to sign up.
Today's news, fermented:
One of the first things I learned when I became a *media professional* (just shy of three months now, who's counting?) is that most news is trash.
A big part of my job, and the reason why Digestable is viable, is that I consume an ungodly quantity of news and file it away in the card catalog that is my brain, and try to keep that big beautiful card catalog clean of trash news. Once, Latifah and I were talking about our favorite news sources, and she said she loved 'trash news,' which she now transforms into the work of art that is *Hot Goss.*
I'm talking about a different kind of trash. This is the 'how did anyone determine it was worth our limited human resources to present and consume this information as news' trash. This is the 'when I read this I'm not getting any information I didn't already have' trash. Lastly, and perhaps most importantly, it's the 'whoever is doing this shouldn't have an audience' trash.
Might as well run with this news ecosystem metaphor, hm? Here goes.
The news cycle has predators: top carnivores, hardcore heterotrophs, call them what you will. These are the few stories that capture the top headlines at every outlet. They don't leave a lot of space for the rest to thrive. The *virus* and the human virus running this country are top culprits these days. I try to spend little or no time on them here.
Then there are keystone species, who maintain 'normal,' that thing we all talk about wanting to get back to but is actually just a standard of hiding all the worst things that happen to the least deserving people at the hands of rich people and corporations and governments. This is the heart-wrenching news that is very real for a lot of people that most of us don't read.
Looking back, I think the trash news I described earlier is probably the forests that airlines plant to count as carbon offsets on land that companies stole from people who were previously symbiotically living there.
There's lots more to this ecosystem, but all of it is made possible by the autotrophs: the beings that synthesize food from the sun, and make it possible for everything else in the system to live. We're the autotrophs: news is nothing without people.
All of this is to say. I have two pieces of trash news (see definition above) for you today, and one thing that defies categorization. Maybe it's like those flowers you see and think 'how tf is it evolutionarily viable to be that shape?' It's in the only section of the NY Times where I linger: Trilobites.
One: Jeffrey Epstein was supporting Harvey Weinstein's sex trafficking ring. I was going to make this issue about 'men who do awful shit' and then I realized I would not be occupying a distinct-enough niche in the news ecosystem.
Two: Joe Biden is starting a podcast in order to remain relevant in this era of virtual-only campaigning. All I have to say on this is that the podcast ecosystem is already thriving, and Joe's contribution would just be like phragmites in a healthy pond.
Three: Pablo Escobar, late Colombian drug kingpin and hippopotamus owner, inadvertently left us a gift. His hippos have re-wilded themselves since his death, and are now filling the void left by now-extinct species, including this sweet wooly friend. I'll excuse myself from an ecology metaphor here because…this is actually about ecology.
(Bonus thank you here to dearest Gabriel, who provided some of today's news items.)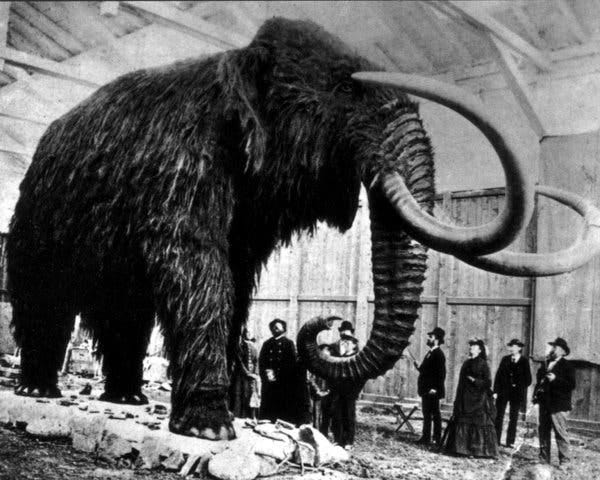 (image via)
*Hot Goss*
is taking a little break today, but feel free to let Latifah Azlan how much you appreciate her wizardry.
Today's news, raw:
Jeffrey Epstein's Hollywood Pipeline Ran Straight to Harvey Weinstein, 3/30/20, The Daily Beast
Biden debuts podcast in his virtual campaign for president, 3/30/20, NBC News
Pablo Escobar's Hippos Fill a Hole Left Since Ice Age Extinctions, 3/26/20, NY Times