March 31st
Issue 3.2
Good morning!
Welcome to Issue 3.2 of Digestable, your daily mouthful of real things happening in the world, minus alarmist pandemic news.
I'm all ears for your feedback, or if you're already a fan, share this email with your friends. If you're not yet on the list, click below to sign up.
Today's news, fermented:
Last night I decided to finally do my civic duty and fill out the census. One of the first questions is about how many people live in my household. A little confused, I clicked on the 'who to count' button, read it three times, and clicked out of the info box, still unsure of how to proceed.
In January, I moved into this apartment to live with two people I didn't know at all. When faced with that Census question, I realized it had only taken three months for the US Government to see us as an informal family of sorts. As I went through the questions, I learned some things about my apartment family (most interestingly, that our ages are a palindrome: 24/33/42).
Amidst this recent upheaval, we have been asked to reconsider so many things, including the people we first turn to for care and company. Today seemed like a good day to look into iterations of community that occur against the odds.
In the late 1800s, Chicago (and most US cities) saw a massive boom in its immigrant population. Because our government has, um, always done a terrible job of looking out for its most vulnerable, these new densely-packed urban communities were ignored. This is where Jane Addams and Helen Gates Starr came in — they wanted to create a safe place for immigrant women to get their needs met.
This space was called Hull House, and it was basically a library on steroids: a combination of all the best public institutions at once, run by women in the absence of government support. Residents at Hull House could take classes, use sewing machines to take on work, eat good meals. There was a kindergarten and a nursery. They held events to celebrate the cultures and traditions represented by their residents.
Community-led social service like this seems so vital for our next world, as well as surviving this one. I'm sure everyone else's neighborhood has a mutual aid spreadsheet like mine does; it might just be evolutionary instinct to look after each other in times of scarcity (more on that later).
Perhaps the most stunning example of this kind of community care is the Black Panther Party, which started a free lunch program in Oakland in 1969 in the face of — you guessed it — tremendous (deliberate) failure by the government to get people what they need, aka systemic racism. By the end of 1969, the Black Panthers had served 20,000 children, more than the entire state of California. There is so much more to say about the Black Panther Party and the ways in which they created self-sustaining systems for their communities; I know I cannot do it justice here.
In an an article on the British Blitz, David Brooks writes about it can teach us about this current crisis moment. Personally, I despise his political views and general being. So I present to you here a heavily edited version of the article, in which I have pulled out only the lines that seem…most relevant.
"People generally did not lose their mind. Nor can we attribute British pluck to those iconic 'keep calm and carry on posters.' Some of the shelters created little newspapers to record the personal news of those who slept there. People had sex multiple times a day, for release, comfort, and fun. The Queen was delighted when Buckingham Palace was bombed, because she didn't want it to seem like she was being spared. Rationing was mostly equitable. Resilience is built when people tell a collective story about the danger that places the current terror they are facing within a larger redemptive context."
(As always, I invite you to apply this passage, specifically the last sentence, to climate change.)
And finally: vampire bats, who fall into the 'against the odds' category because they need to drink blood every 48 hours to survive, are really good community-builders. Researchers found that groups of these bats are more likely to include bats from lots of different families, rather than in a blood-relative group. They share their food, and spend "23 hours of the 24-hour-day inside a space that's maybe the size of a small closet." Seems like we have a lot to learn from them.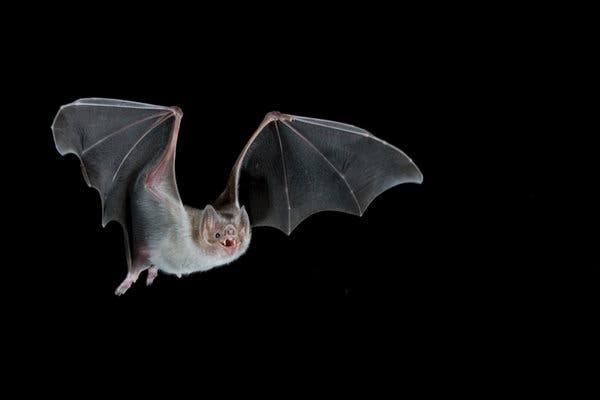 (image via)
*Hot Goss*
Still on hiatus today, but will be back soon from the superb Latifah Azlan.
Today's news, raw:
How to Survive the Blitz, 3/29/20, The Atlantic
The Women Who Welcomed Immigrants, 3/27/20, Yes! Magazine
Vampire Bats Know Sharing Blood With Friends Is Good Manners, 3/19/20, NY Times