May 13th
Issue 9.3
Good morning!
Welcome to Issue 9.3 of Digestable, your daily mouthful of real things happening in the world, minus alarmist pandemic news.
I'm all ears for your feedback, or if you're already a fan, share this email with your friends. If you're not yet on the list, click below to sign up.
Today's news, fermented:
If you've ever had a conversation with me, you know that I'm the last person to suggest that a binary is the right frame of analysis for basically anything.
Duality is a nicer, less firm way to put it, but I still doubt the use of either/or as the most useful means of thinking through a complex situation.
But today, the news is not complex. There is a clear split along lines of right and wrong, and reader, it is so incredibly obvious that even I am not looking for nuance to avoid the dreaded binary.
As I've mentioned, my dear friend Gabriel often sends me articles to pull from every morning. I also do my own scan of the news, and then find some common thread amid everything I have to choose from. We rarely find the same stuff, but we often find things that fit together in a more comprehensive story than what I came across alone. It's much nicer to read the news with a buddy, especially in these times.
This morning, Gabe sent me a few articles, and after a bit of reading and thinking, a comprehensive story emerged.
It's called The Opposite of What is Supposed to be Happening is Happening!!
content warning: violence
First: Breonna Taylor, a young Black woman who worked as an EMT in Kentucky, was shot dead in her home on March 13th. What's wrong here:
As with Ahmaud Arbery, why is this only making headlines now? That was two months ago.

How is it possible that we are killing essential workers when they are already fighting a pandemic?

Why was Breonna's home raided in the first place? It was the possible location of a suspect—but the police had the wrong address.

Breonna's partner, when the police burst through their door, fired shots in self defense, at which point police fired more than twenty rounds of ammunition into the house, killing Breonna.

Remember when the Black Panthers legally carried weapons to defend themselves from murderous white cops? And then the gun laws, previously backed by the NRA, changed, when Black people used them? How is it possible that officers of the law in this country kill Black people with no justification and Black people are also killed for defending themselves, while angry white armed mobs march publicly?

Also, is there any chance at all this would have happened if Breonna Taylor was white?
Breonna Taylor's family will be represented in a case against the Louisville police department by the same lawyer as Ahmaud Arbery's family. May she rest in power.
Second: Today, the Supreme Court is hearing a case about faithless electors, which, like most things that go wrong, wouldn't be an issue if we lived in even a semi-functional democracy, but because we don't, is actually a very big deal.
Faithless electors are members of the electoral college (which everyone was upset about in 2016 because the winner of the popular vote wasn't the winner of the general election) who don't vote in line with the votes that are cast. This case, defended by Lawrence Lessig, another billionaire who says he cares about people and ran for president (lol) would allow faithless electors to vote for…wait for it…whoever they want.
Yes, that does mean that actually, despite all the hard work that goes into running campaigns, convincing people a candidate will serve them, getting people to actually vote in this time of multi-faceted voter suppression, could mean little to nothing. We might very well end up in a democracy that is so indirect that we (some of us) vote, and then 538 other people who nobody elected could just decide to do whatever they damn well please.
As Gabriel said in their first message to me today, "okay, the time loop we're stuck in appears to be shrinking." People are getting murdered and the 'justice' system is failing us.
We might as well cap off this loop with another invasive species: the tegu lizard, a child-sized omnivore that lives up to 20 years, whose range is rapidly expanding from parts of Florida into Georgia.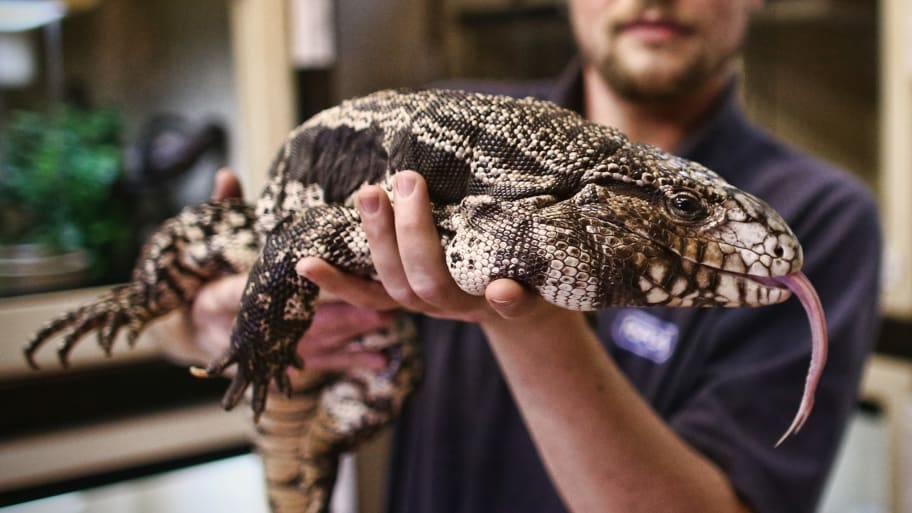 (image via)
*Hot Goss*
Brought to you by the superb Latifah Azlan.
Well, well. It seems like my Alison Roman goss yesterday struck a nerve with several of my readers – many of whom were blissfully unaware of the drama that went down all of Sunday night! To which I say I'm utterly SHOCKED that none of you are spending your nights scrolling through a semi-sentient screen and sopping up the craziness that is going on in the world today (I'm weeping because my brain is practically mush right now).
As a footnote to last weekend's beef, I just want to add two things. First, Charlotte alerted me to this monstrosity of a salad that is part of Alison's recipe box. I don't even know where to start here. Cranberry jelly with blood oranges and thinly sliced red onions – I'm truly horrified. Granted, I've never tried making this recipe but I am physically recoiling at the combination of all those textures and flavors and I refuse to believe this was worthy of the four stars that 260 New York Times readers bestowed upon it. This is why I don't trust Alison Roman. I'm just going to go ahead and say it!
Second, and most important, all of this drama has only made me realize how valuable it is that Malaysian cuisine is so underrated. If I ever see some Brooklyn transplant talk about cooking rice in coconut milk like some revolutionary self-discovered method, I am truly going to throw a fit. Folks from the Malay peninsula do not mess around when it comes to food. As a geographic region of the globe, we once collectively cyberbullied judges from MasterChef UK because of a COMPLETELY nonsensical critique they gave to a contestant who made chicken rendang – a much-loved dish in Malaysian and Indonesia. So when I say I'll fight, I truly mean it. It's in my cultural DNA not to.
Now on to the goss! No tea, no shade, but I truly thought Bryan Adams had, um, passed away. So imagine my surprise when I saw his name trending on Twitter for the very opposite reason that he is alive, well, and extremely racist. Oh, joy.
In a video posted on Instagram, the Canadian singer railed against "bat eating, wet market animal selling, virus making greedy bastards" for a pandemic that has cancelled a series of concerts he had planned to kick off this week. I mean, the only reaction you can really have to reading that is the woozy Emoji face because Y I K E S dude. In the same video, my man also found time to virtue-signal about going vegan because of course.
Look, I know who Bryan Adams is, and I know how he is different from Ryan Adams, but I still had to Google to make sure. Ultimately, however, it didn't really matter because both Adamses are complete garbage people. One's a racist conspiracy theorist who makes the corniest ballads and the other's an abusive asshole who is from North Carolina. I mean, really, cancel culture could not be more relevant and applicable to these two.
I had wanted to include in this column some ~*hot goss*~ of a C-list reality star who was also being racist but you know what?! I just want some peace of mind now. I do NOT want to write about this Who whatsoever. So here's a video of the Lizzie McGuire cast reuniting and doing a virtual table read of the best episode of an iconic tv show – the bra episode. Enjoy!