May 14th
Issue 9.4
Good morning!
Welcome to Issue 9.4 of Digestable, your daily mouthful of real things happening in the world, minus alarmist pandemic news.
I'm all ears for your feedback, or if you're already a fan, share this email with your friends. If you're not yet on the list, click below to sign up.
Today's news, fermented:
This morning, I got up and took some tomato and pepper transplants outside. We're hardening them off, so they go out and come in with the sun. The addition of the plants to my morning routine means I step outside before I really do anything else. It brings back, even if just a tiny bit, the experience of spatial separation between work and home.
It's a beautiful day in Boston. The sky is clear, the trees are full of still-fresh leaves, so bright sometimes you have to look away. Migratory birds, with a careful eye, are visible out any window. The louder, more local friends—robins, starlings, mourning doves, sparrows—provide a rousing chorus to the morning.
The world smells alive. There's a little chill in the air but no breeze; the sun is warm. I smiled when I went outside, dallied a little before going back in.
I opened up my computer and went to the NY Times, often where I start my daily scan. I read a few headlines, but didn't click; I scrolled, read some more, and immediately broke down into tears. The headlines I had read were about how this virus is here to stay, more economic pain, botched investigations of those who should be held accountable, mass murder of animals bred for meat.
After a sizable bout of kitchen counter hysteria, I collected myself, made myself un-crouch from the weight of this world that continues to be so hard because all the wrong people are making choices about how to run it. I went outside and sat down.
I saw this video, which is about how ice cream trucks are essential in Brooklyn neighborhoods. First it made me cry more, and then I stopped, and just felt awe for people's staggering capacity to care for each other during this time in which so many lives are treated as disposable.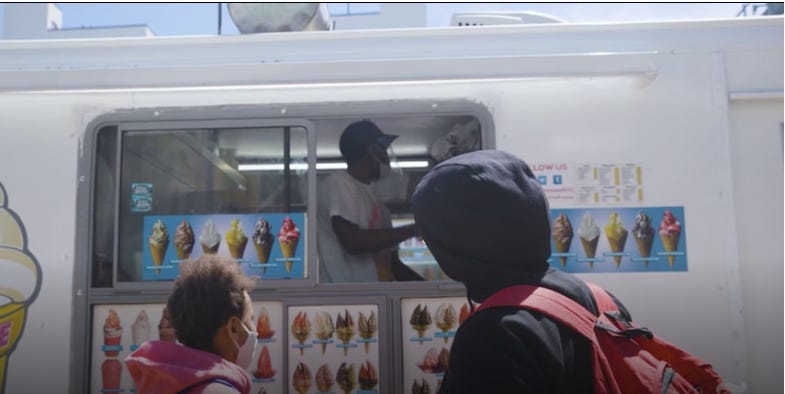 My partner, who emerged from sleep to the sound of me losing my mind, came to give me a squeeze and remind me to breathe. I told him I still had to write something today, even if I didn't read much news. He said, be gentle.
So here is our reminder, writers and readers, to be gentle. I have written many times on the danger of looking away, but taking a break is maybe just as important. Today, I was not wearing my superhero suit, which allows me to read about lots of awful things and turn a few of them into a (hopefully) meaningful bunch of paragraphs that speak to the larger systems at play, all without letting that news hurt me too deeply. Scratches, often, but today was different.
And that's okay. It just is this way sometimes.
Here are some goats, who stormed a residential California neighborhood, because it just is that way sometimes. See them in action here.

*Hot Goss*
Brought to you by the superb Latifah Azlan.
After several weeks of relative quiet, the celebrities are slowly starting to act up again. I'm not complaining because that gives me more fodder to choose from for this column, even if they're not always happy messes we can laugh at. For a while there, it was nothing but "X Steps Out in a Mask for Daily Quarantine Walk!" headlines for every tier of fame you can imagine. But now we've got racist tirades, pregnancy rumors, and lots and lots of divorces.
On the racist front, I wrote yesterday about Bryan Adams going off the rails in an Instagram video where he blamed "bat eating, wet market animal selling, virus making greedy bastards" for his concerts being cancelled. Of course he walked that back with an apology after being lambasted for the better part of the week. He did it for veganism, folks. Because who amongst us hasn't resorted to vicious racism to promote a cause we deeply care about?!
Twitter was also ablaze yesterday with rumors of a Kardashian pregnancy! Khloe Kardashian was a trending topic on the social media site for hours on Wednesday after sparking rumors that she and former beau Tristan Thompson were expecting another baby. All this speculation was based on the fact that folks noticed Khloe hadn't been posting new full-length photos of herself on social media for some time. Clearly an anomaly for a Kardashian. But the second least interesting Kardashian-Jenner hit back on these rumors through Twitter, saying that she was "disgusted by so many things I am seeing" and that "people should focus on their own lives/families." I mean… homegirl has made a living off us ordinary folk focusing on HER life and family for decades now so I'm not quite sure why it's such a surprise that people are interested. She also didn't completely deny the rumor…
And finally, messy divorces. The biggest break up of this quarantine szn has been Jay Cutler and Kristin Cavallari's divorce of course, which quickly became somewhat acrimonious. I won't go into every single update that has happened since the split announcement (there has been a lot of back and forth from Kristin's camp against Jay) but I did want to say that my favorite update to this saga was a story published in early May as to why the couple split up. Apparently, Kristin thought that Jay had become "lazy" and "unmotivated" after retiring from the NFL (Jay Cutler was the former quarterback of the Chicago Bears). Truly, I laughed because I could not name a single endeavor Kristin has been up to other than hopping from one reality show to the next. From Laguna Beach, to The Hills and now, Very Cavallari, I respect the dedication this woman has to building her mid-tier fame off being a reality star. All I'm saying is even Heidi Montag tried to release an album.  But Jay Cutler, who has been knocked around and injured on a field for 11 years, needs to get off his ass and do something with his life. Makes sense to me!
I'll also be keeping an eye out on a divorce that became quite messy within 3 hours of its announcement: that of Mary-Kate Olsen and Olivier Sarkozy. Taylor alerted me to this goss last night, and I must say, I had totally forgotten that Mary-Kate was even married at all. And has been for the last five years! Although they are no strangers to being tabloid fodder, the Olsen twins are typically extremely private. Details are already starting to emerge over the split, and it doesn't look pretty at all, especially with the 'rona delaying the process even further. I'll report back in a few weeks if things take a turn for the ugly.