May 18th
Issue 10.1
Good morning!
Welcome to Issue 10.1 of Digestable, your daily mouthful of real things happening in the world, minus alarmist pandemic news.
I'm all ears for your feedback, or if you're already a fan, share this email with your friends. If you're not yet on the list, click below to sign up.
Today's news, fermented:
This morning, I woke up early, long before my alarm. I started some bread dough, and then opened up my computer. As soon as I did, this squirrel caught my eye, dangling from its feet outside my window.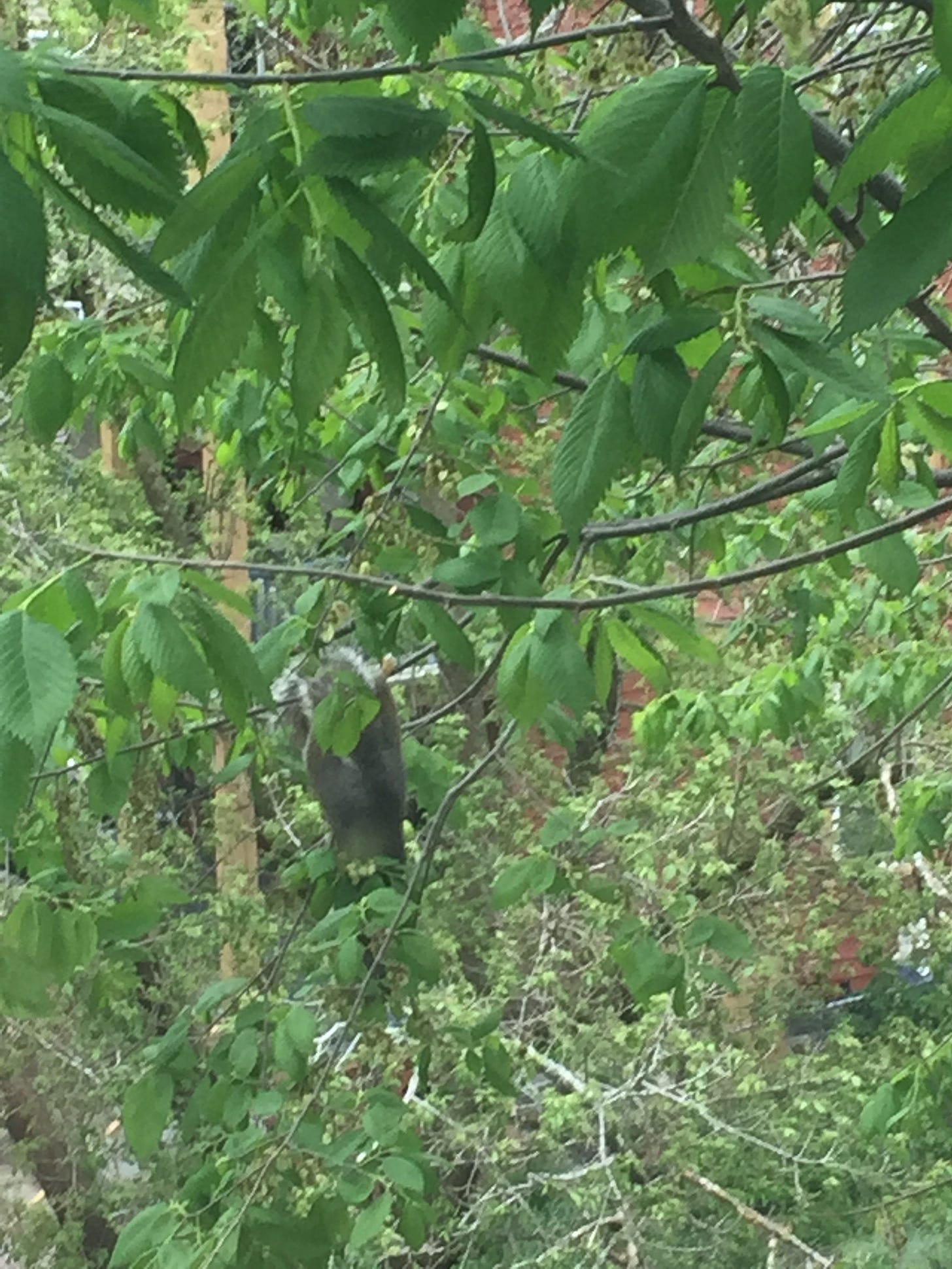 It's not a very good picture, but I hope you can see that our friend, engrossed in some tasty branch bit, is holding itself up with its toes, face down, three stories up in a tree, apparently zero percent concerned.
The news today is that 1. apparently I have been underestimating the tremendous core strength that squirrels possess and 2. things don't always happen the way we assume they do.
Most notably, I'm not a squirrel; there's just an endless amount I don't know about what it's like to be a squirrel. This is no revelation, but this morning's reminder that there are just so many ways of being about which I am completely in the dark was a necessary one.
As unmasked imbeciles continue to protest lockdowns and spread this virus far and wide, it is clear that, even if you manage to stay home in your upset and not, you know, punish other people with your irresponsibility, the weather is warming and the season we all seem to believe it is our right to enjoy is approaching. Everyone is getting a little angsty; something's got to change.
Staying home is working, virus-wise, although those of us who have been home are getting tired of it, and those who don't have that luxury are at ever-increasing risk.
It's easy to fall into the hole of 'when will this end' and tallying up the countless ways in which this pandemic has taken so much away. But it has become clear that if we as a people want something back, we'll have to revisit what was not just logistically but culturally normal.
On a large scale, the World Health Assembly is gathering, starting today, for two days of video-call conferences. There's a packed agenda, including talking about what will happen when we have a vaccine. A former WHO(rganization) member is warning against "vaccine nationalism," and she's got a point—now is certainly the time to turn back the tide on the culture of each-country-for-itself-ness, which has only been on the rise in recent years.
On a, I have a liberal arts degree and I live in a bubble in which all my friends think that Judith Butler determines how quickly the earth spins level, Judith Butler, author of Gender Trouble and other texts that bring about and affirm cultural shifts, has a new book out. It was released in February, but has only become more timely since then. It's called The Force of Nonviolence. One of the things I learned while getting aforementioned liberal arts degree is that one oughtn't even try to paraphrase Judith, so here are her words, illustrating that nonviolence is an active position, rather than a passive stance.
"[Nonviolence] materializes through recognition of the interdependency of humans in forms of protest and acts of solidarity, which states often seek to undermine by reframing as violent." (via)
Obviously, nonviolence is not new; but during this time in which we cannot gather in the streets or lock ourselves to things, it is a nice reminder of the urgent need for a grand cultural shift towards a politics of nonviolence.
And as, in this new era, we are so amenable to cultural shifts that keep us inside, we must too be willing to decriminalize other kinds of work that is more readily available to folks without the financial security of a work-from-home job.
In Puerto Rico, sex workers, who already had it rough pre-pandemic, are struggling to make ends meet, not least because this kind of work is criminalized. There's no question that sex work will continue to happen, legal or not, but its illegality along with the added risk of not having resources to do this work safely only magnifies the danger sex workers are in. Normalizing, as well as legalizing, sex work is a long conversation. But now that we designate some work as 'essential' and some not, and this work continues to happen, it is urgent that we shorten this conversation, and bring about shifts that would protect, rather than punish, the people who do it.
Last but not least—and in fact, the article that sent me on this whole train of thought about cultural shifts—is a treatise on why it's time for Americans to embrace bidets. What a wonderful intersection of waste-related and butt-related potential cultural shifts. The basic argument is that we need to stop panic-buying toilet paper along with leaving old-growth forests to be the carbon sinks we so need them to be.
Apparently this angst has also manifested in making fake stuff go viral, from virus conspiracy theories to, sadly, last week's baby platypus. Thanks Andrea for the fact check on that.
Here are some real baby platypi to make up for it.
*Hot Goss*
Brought to you by the superb Latifah Azlan.
Hello and Happy Monday, folks!
After a graduation weekend full of happy and sad tears, I am ready for some ridiculous goss. And who better to start with than Naomi Campbell? The supermodel made headlines a few months ago for her habit of disinfecting an entire plane each time she travels. More recently, Naomi posted a selfie on Instagram of herself wearing a full on hazmat suit – complete with goggles, a face mask, and a face shield – on a flight from Los Angeles to New York. This is the kind of batshit diva content I like to start the week off with.
Mom, Elon Musk is being a dickhead again. Man has been a steady tabloid fixture for months now and I think he's realized that his shenanigans earn him more media coverage than his business acumen ever did. So here we are, on a Monday, reading this goss about how Elon has been tweeting about "taking the red pill," a phrase from The Matrix that has been adopted by right-wing conspiracists and "men's rights activists" on the Internet as some kind of shorthand for "Feminism is ruining our lives." Oh, and Ivanka Trump responded with "Taken." Lord, I need all the damn pills in the world to make it through this year at this rate.
Oh and here's my biweekly Chalamet Communiqué! Our favorite reincarnation of an 18th-century Victorian child participated in President Obama's Graduate Together broadcast last Saturday and gave a shoutout to his high school Statistics teacher Ms. Lawton. The Internet went wild, of course. This man could be sitting there, doing nothing but blink and breathe and the Internet would still go insane. That's true power right there.