May 19th
Issue 10.2
Good morning!
Welcome to Issue 10.2 of Digestable, your daily mouthful of real things happening in the world, minus alarmist pandemic news.
I'm all ears for your feedback, or if you're already a fan, share this email with your friends. If you're not yet on the list, click below to sign up.
Today's news, fermented:
I saw a headline last week that I'm still thinking about. I guess that's what every journalist wants, so congrats, Brett Molina at USA Today.
The headline, which you probably also saw, is "Jeff Bezos could become world's first trillionaire, and many people aren't happy about it."
Well duh, Brett, people are dying and also starving and homeless and this one guy, who has done basically nothing, when you scale his actions and wealth to anyone else's actions and wealth, to deserve anything he has. If I called him an oligarchic mole rat, I wouldn't be the only one engaging in petty name-calling. So there we have it.
But today's issue isn't about how much I loathe this grimacing consumer products overlord. It's about the fact that there is money to be had in this time that is, for many, one of tremendous scarcity, and there basically are zero mechanisms to prevent the wealthy from continuing to get wealthy, while governments peel away basic protections and act as though their hands are tied.
I'm just having a 'no war but class war' kind of day, you know?
Another headline I saw included a phrase that never ceases to catch my eye: to save New York City. Often what follows this kind of phrase is discussion of the 'good old days' which we know were often a lot more good for some people than most people. But in this case, it was: we need to follow the money.
It's an article by a member of New York City Council, who's long been involved in the budgeting process. In it, Councilmember Rosenthal lays out a plan in which, rather than allowing New York to merely be the host to the stock trading apparatus that is literally one of the world's most powerful financial engines, all this transacting should be taxed. Furthermore, New York, like every city, can only exist because of the vital work that people do to make it go. And that vital work, often done by immigrants and communities of color—are those "whose work has been deemed essential, although their welfare has not," in Rosenthal's words.
One fun fact is that Rosenthal is a huge supporter of worker co-ops, aka seizing the means of production. Looks like she's having a 'no war but class war' kind of day too.
So in the meantime, while capitalism is busy failing us and only a select few elected officials are considering changing that, something else has to happen. I'm sure that wherever you live, there is some sort of mutual aid effort going on. We know that people turn to their communities in times of crisis, and this will likely be our strongest protection against the worst ravages of the climate catastrophe, mother of all crises.
But what is not so explicit about mutual aid is that it must exist as a stopgap between people's needs and what capitalist, racist, systems provide. It is what happens when people cannot get what they need from the systems they (although not corporations or Jeff Bezos) are taxed to fund, and must turn to each other. Because this fault is basically the blood that runs through this country's veins, people, specifically communities of color, which have been left out of stimuli and economic uplift programs for centuries.
In the words of Myriam Gurba, who wrote about mutual aid efforts led by POC in response to the virus,
"White supremacy does not like to share and the history of minoritized communities living on U.S. soil reflects that tendency. We have mobilized mutual aid since this country's inception."
'Interesting' isn't the right adjective here, to describe the fact that those most robbed of agency seem to have the most of it. If you think of one, let me know.
To tie this all up, it's worth noting that in addition to investors and corporations and trillionaires-to-be, there is one other stakeholder for whom this current system is working.
It's salamanders—this is the time of year when they migrate across roads, and often get squeeshed by unknowing drivers. But given the slow of traffic, these tiny friends are having just a fine time crossing roads.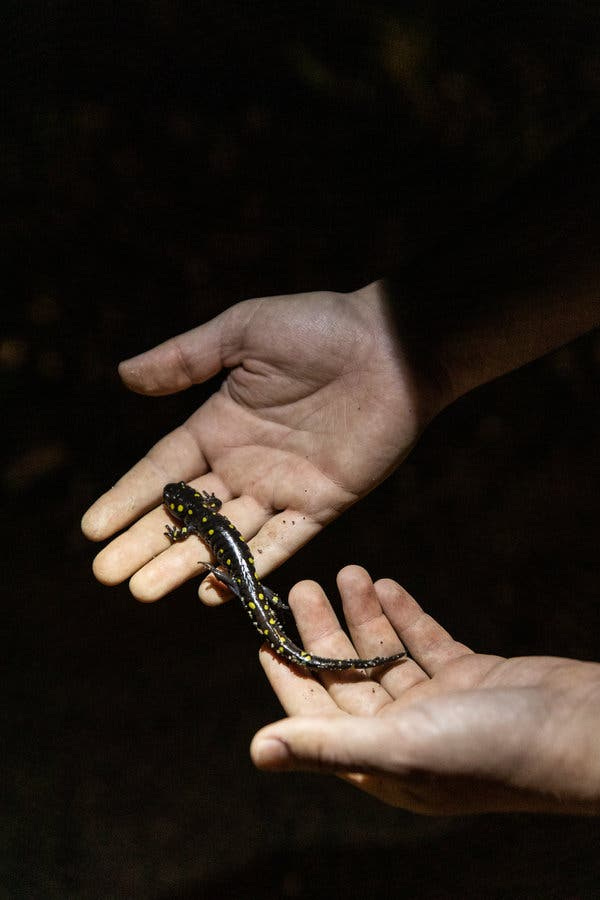 (image via)
*Hot Goss*
Brought to you by the superb Latifah Azlan.
Ya'll… I really don't want to cover the various divorces that are happening right now. Mary-Kate Olsen and Olivier Sarkozy are still a mess. Brian Austin Green and Megan Fox are donezo after 10 years of marriage and so are Jaime King and her husband.
Other than folks splitting up, it's a slow goss day. There are rumors that Rooney Mara and Joaquin Phoenix are expecting their first child together, which will probably be the vegan hippie equivalent of X Æ A-12. I'm taking bets on names now and have got $5 down on Seedling Louise or Tempeh Nori.
And Nancy Pelosi called Donald Tr*mp "morbidly obese," which I'm low-key chuckling about as I make my bed. I mean, where is the lie?
A little short today but hopefully we'll be back stronger tomorrow. Damn, I miss the days of culinary feuds.