May 1st
Issue 7.5
Good morning!
Welcome to Issue 7.5 of Digestable, your daily mouthful of real things happening in the world, minus alarmist pandemic news.
I'm all ears for your feedback, or if you're already a fan, share this email with your friends. If you're not yet on the list, click below to sign up.
Today's news, fermented:
Happy May Day!
It's International Workers' Day, and there's strikes abound to show for it. I'll cover some of those, as well as do some follow-up on some things we covered earlier in the week.
Emissions stuff
Here's a very mediocre article in the NY Times (heh, my love/hate relationship with NYT continues) about why this drop in emissions isn't as good as it seems. Lucky for us, we already know why that's the case (reminder: we still need a holistic, just shift away from fossil fuels).
Some *tremendous* news though—the International Energy Agency, which is not, erm, the most politically aligned, said that the "Covid-19 crisis will wipe out demand for fossil fuels." Super. Works for me. (Also hint @ US government, maybe you should stop giving them money?)
Lastly, Shell, one of the biggest fossil fuel companies on the planet, just slashed its dividends, which means its investors will make less money on their Shell stock. This is just another reason to divest from dirty energy and reinvest in clean stuff (I have some recommendations, hmu). Also, this is a great opportunity to send you to probably my favorite article published in 2020 so far. Don't ask questions, just treat yourself to this juicy long nerd read this weekend.
Meat stuff
If you're curious about the future of Big Meat (gross, so sorry) in light of the federal order (there's some nuance to this) to stay open, this is for you. Sneak preview: new rules mean massive meat processors might be shielded from liability for worker illness (and worse). Yikes.
Also just want to briefly give myself a shoutout for having a *finger on the pulse* because the two email newsletters I most look up to, Heated and Popular Information, also wrote their issues yesterday on meat.
May Day stuff!
Hooray! Firstly, when you read this, please take a moment, close your eyes, and think about all the things that workers—yourself included—make possible on any given day of any given year. What a staggering, complicated web of work we exist in.
Today, we'll see a wave of strikes across the country. Workers from an "unprecedented coalition" will be walking off their jobs at Amazon, Instacart, Whole Foods, Walmart, Target, and FedEx. These are the folks who didn't sign up to be front line workers, but got very much thrown into it, often without protective equipment, health insurance, job security, or hazard pay, not to mention that most of them didn't start out with a living wage.
Amazon workers have been fighting for fair wages for a long time; Amazon has retaliated against them, and then denied doing so. Continued pressure from workers and continued idiocy from Amazon suggests that this tension will continue to escalate, especially because today, the corporation will be discontinuing their embarrassingly un-generous policy of unlimited unpaid sick time (yes, you did read that right; all it means is that workers can stay home without pay to recover from the virus and then come back to work).
What can you do? Don't cross the virtual picket line: don't buy stuff from these companies today, or ever, if you can help it, because even when they aren't putting under-supported workers in high-stress high-risk environments, they still suck.
And don't forget about the massive rent strike.
One more thing
I have to include this, because while I understand that literally anyone would be a better president than DT, I am truly heartbroken that our only viable alternative right now is this gaslighting, lying piece of trash.
Truly the most charming piece of news
The Japanese aquarium is urging the public to video-chat eels who are forgetting humans exist. I have nothing to add.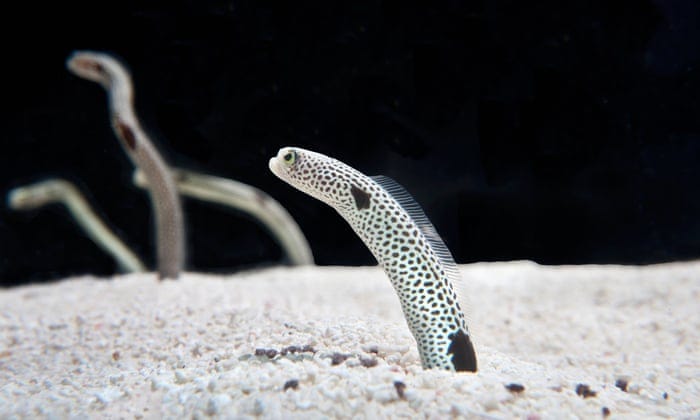 (image via)
*Hot Goss*
Back next week from the superb Latifah Azlan.