May 20th
Issue 10.3
Good morning!
Welcome to Issue 10.3 of Digestable, your daily mouthful of real things happening in the world, minus alarmist pandemic news.
I'm all ears for your feedback, or if you're already a fan, share this email with your friends. If you're not yet on the list, click below to sign up.
Today's news, fermented:
Last night I dreamed I was walking through Brooklyn and there were enormous screens suspended in the air. People's faces appeared on the screens, angelic, in hyper-clarity. I knew, in my dream-brain, that they were people I knew, but could not reach, because they existed in these screens now.
When I woke up, I tried to identify the source of this material in my subconscious. I noted that another part of the dream, in which I poured water into an already rusted cast iron pan, was surely a remnant of a kitchen incident the previous day.
Yesterday evening, I tuned into the first installment of four of Course Correction: Just Transition In The Age Of COVID-19. It's a series of discussions about the future, and what it could and should look like. It was nice to do something with my brain that involved reality and not the news. I highly recommend it.
One of the things discussed was the increasing dominance of a few key tech platforms (all of which you can name, so I won't). There was talk about how the biotech industry, which many are expecting to save us from this pandemic, along with tech companies, are looking to become the new megacorporations that run our lives (as fossil fuel corporations slowly but surely cease to fill that role). I think this was the fodder for my technofuturism dream.
One example the presenters used, along with the theoretical future vaccine, was contact tracing. I had initially planned to send around this article about who is eligible to be a contact tracer, thinking of it as a new kind of census, collecting data for the public good. Contact tracing—mapping who was where in order to identify who is at risk of having the virus—can and should be just that. But when it is done on platforms run by Apple and Google, those corporations are using tracing, like any other profile or personal account you have with them, to mine, analyze, and sell data.
I'm laying this out not to become a fear-mongering luddite; I believe there is plenty of good to be gained through use and development of technology. However, the problem here is not what, but how. If contact tracing was done without a data collection mechanism that could be commodified by the tech giants that turn the details of our lives into profit, it would just be a good solution.
This question of how we un-build and re-build our complicated world to value justice and human rights instead of profit and meritocracy is a big one, and comes up in many realms. Of course, there is the climate crisis. Similarly, there is hope that technology will save us, from carbon capture to solar panels. These are still are often owned by fossil fuel giants, like BP's solar company or the CO2 vacuum in Texas, which is also partially backed by Bill Gates, one of the OG tech billionaires.
Again—I'm not saying that we don't need these solutions, because we do. The common thread is that these solutions have potential to do more harm than good depending on who profits from them and decides how they run.
The same goes for corporations that produce and deliver consumer goods, like Amazon or General Electric. Following up on yesterday's 'no war but class war' sentiment, this article talks about why it's time for workers to become collective owners of big businesses, both seizing the means of production and dramatically decentralizing power and leadership. There is just no way a group of people as big as, for example, all the workers at Amazon, could steer a business as aggressively toward profit and away from justice as one (1) Jeff Bezos. Have you ever tried to convince ten people in a room you were right, and had less than an hour-long discussion about it?
The same goes for any of these other solutions. If we put people in charge by giving workers ownership, not only do they decide to ensure everyone has masks when they do their essential work, they also would likely prevent the data that, arguably, we need, from getting sold to advertisers and politicians, and maybe just use it for the public good.
Speaking of the public good, here are some penguins that got to enjoy an art museum while it is empty of the rest of us. If you want a laugh, watch it on 2x speed.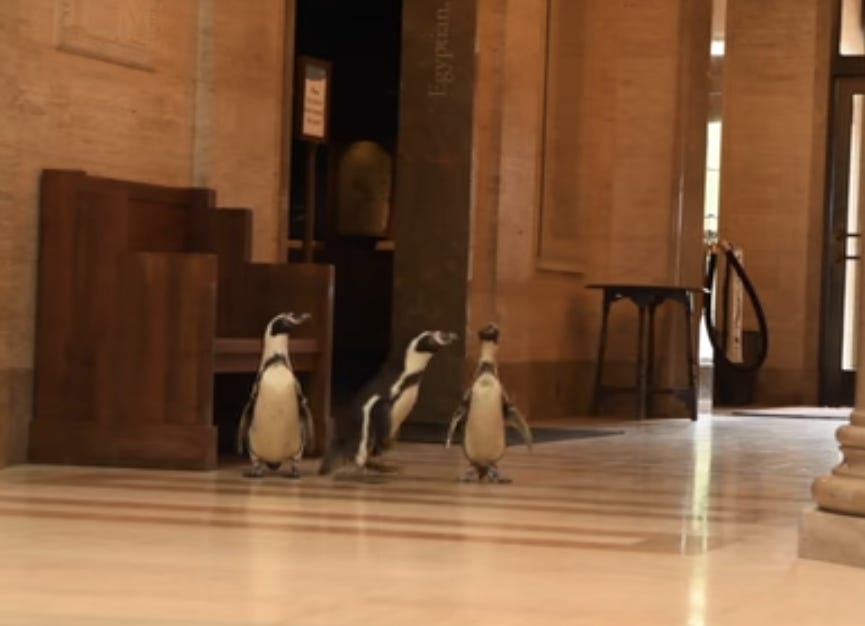 (image via)
*Hot Goss*
Back soon from the superb Latifah Azlan.