May 21st
Issue 10.4
Good morning!
Welcome to Issue 10.4 of Digestable, your daily mouthful of real things happening in the world, minus alarmist pandemic news.
I'm all ears for your feedback, or if you're already a fan, share this email with your friends. If you're not yet on the list, click below to sign up.
Today's news, fermented:
Remember that discussion a few weeks ago about climate disaster season?
Well, it's here now.
This week, there were two big climate disasters in very different places and of very different natures. But both were worse than they would have been if there was less greenhouse gas in the atmosphere and governments had taken proactive steps to prepare coastlines for floods and required the remediation of toxic sites.
The first is Cyclone Amphan, which is moving rapidly through eastern India, Bangladesh, and towards Bhutan, leaving destruction in its path. The storm made landfall yesterday, killing people, felling trees and buildings, flooding roads, and destroying power lines.
This is terrible. An official from West Bengal, an Indian state hit hard, said that this was worse than the virus. Good to say, and also, without minimizing the horror of this pandemic, of course this is worse than the virus. I believe we will someday see the end of this pandemic, but unless we summon that elusive political will, especially in countries that house the corporations that fueled this crisis, these disasters will continue to destroy people's lives, ecosystems, and the densely built coastal areas where hundreds of millions of people live.
The second disaster is in Michigan, and resulted from heavy rains that overwhelmed the Tittabawassee River, which is right near the corner of the Michigan mitten. After a lot of denial from public officials about the potential danger of this flooding, a couple of dams were breached, and people were evacuated.
And then the flood reached the Dow chemical plant, which is one of the US's largest toxic cleanup sites.
While the pollution itself from the chemical plant is not explicitly climate change-related pollution, the chemicals that Dow has produced are deeply connected. This complex produced Saran Wrap and Styrofoam, both landfill-bound, un-recyclable plastic products made from fossil fuels. Dow is also responsible for Agent Orange and mustard gas, which have been used in chemical warfare, which not only destroys people's lives and livelihoods, but also ecosystems, not to mention the tremendous emissions of war.
And then because, you know, why would a corporation do anything responsible with the literal or figurative runoff of its dangerous actions, Dow released toxic waste from these processes into the river (yes, the one that flooded), creating a 50-mile long contaminated zone.
So Wednesday was a bad day for climate disasters.
Fortunately, Thursday (today) is a good day for climate action and some news.
FERC, the Federal Energy Regulatory Committee, gives fossil fuel infrastructure the go-ahead, and yikes are they a bad bunch of folks. Join this online action today at 9:30 ET during FERC's next meeting, or call them at (866) 455-3498, press 1, 2, or 3 to pick a FERC commissioner, and tell them to stop issuing permits for pipelines and fossil fuel infrastructure during the pandemic.

Today is the seventh-annual Anti-Chevron Day. There will be an incredible panel (11am ET) of people who have experienced Chevron's impunity first hand from Argentina to Ecuador to Nigeria speaking about the urgent need to hold the corporation accountable for its abuses. You can retweet some of these tweets, or tune in and tweet your own.

RL Miller, founder of Climate Hawks Vote, just got elected to the DNC. She's excited to tell Tom Perez, the DNC chair, to "fuck off," and get the Democrats to actually do something about the climate catastrophe.
And in completely other news, apparently sea turtles are sneakier than we thought.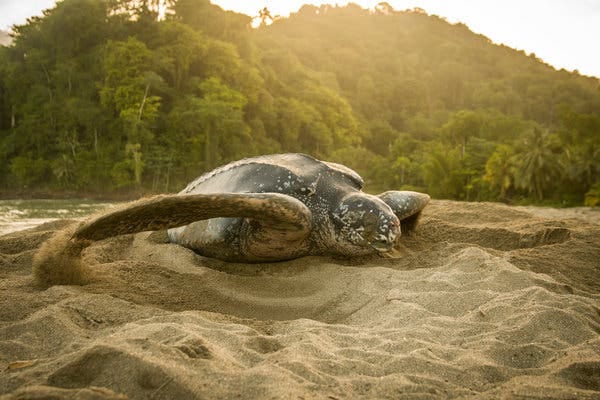 (image via)
*Hot Goss*
Brought to you by the superb Latifah Azlan.
I took a one – one – day break from sniffing out goss for this column because the sites have been a little dry this week. And what happens? Goss. Let's dive in.
On Tuesday, I waxed nostalgic about missing the days of culinary feuds. Well, here's an update to the Great War of Woks (2020-2020) that I asked for: Alison Roman has been suspended from the New York Times. Two weeks after making comments on Chrissy Teigen and Marie Kondo that sparked widespread criticism, the Times has put Alison's biweekly food column on "temporary leave" – with no reason or period of leave offered. And because things just can't have a period, full stop anymore in this year of disease, Chrissy has made her thoughts known on this suspension, through Twitter, of course. Aaaaand with that, I am officially taking a page out of Marie's book and closing the ~*Hot Goss*~ chapter on this Becky-induced feud to find joy in messes elsewhere.
Messes, like Lana del Rey's most recent album announcement. I am stealing the headline to this story because it is just too good. Lana del Rey announces new album by sowing chaos in seven fanbases. And that is exactlty what happened last night when she posted a statement to her Instagram account that read:
"Now that Doja Cat, Ariana, Camila, Cardi B, Kehlani and Nicki Minaj and Beyonce have had number ones with songs about being sexy, wearing no clothes, f---ing, cheating, etc. – can I please go back to singing about being embodied, feeling beautiful by being in love even if the relationship is not perfect, or dancing for money – or whatever I want – without being crucified or saying that I'm glamorizing abuse?"
Coming for the Beyhive AND the Barbz AND Arianators AND – not you Camila – the Bardi Gang AND the Tsunami Mob AND Doja's fandom on a Wednesday night is bold. And the chirrrrrrren are up in arms about this call-out. And this is why we stan Lana. The madness, chaos, confusion, turmoil, and discord that this Becky queen brings with her music and her energy is just too strong for me to turn away from. Remember when she started dating a cop and had to defend him by calling him a good cop because he "sees both sides of things?" I still laugh when I think about it. And then I put on "Norman F—ing Rockwell" and sing 'Venice Bitch" at the top of my lungs anyway because she just gets it, you know?
Love you, Lana. Don't ever change.