May 22nd
Issue 10.5
Good morning!
Welcome to Issue 10.5 of Digestable, your daily mouthful of real things happening in the world, minus alarmist pandemic news.
I'm all ears for your feedback, or if you're already a fan, share this email with your friends. If you're not yet on the list, click below to sign up.
Today's news, fermented:
Hello friends!
I have some exciting news.
Ten-ish weeks ago, when this all started, I had an idea to start writing about news so that folks could feel aware of what's going on in the world without exposure to pandemic-related hyperbole and panic. Lucky for me and all of you, Latifah signed on as well, and has been bringing us *Hot Goss* with the articulation and sass we have come to know and love her for.
It's time for the crew to grow!
Three of the now four of us work at the same organization, which we just found out will be all-remote for at least three more months. I've been in an extended moment of realizing we are really in this pandemic for the long haul, and imagine I'm not alone. That means we have to, as under any lasting, trying conditions, learn how to live like this—in a way that is as full and in as active a pursuit of justice as possible.
For me, this means taking a step back from Digestable one day per week (Fridays), and bringing two new sections of the issue in addition to the *Hot Goss.*
I'll let everyone introduce themselves below, but please join me in welcoming them from wherever you are.
Before I go, two quick things.
One: some reading for this stunna of a weekend that's coming our way. This article is called You Can't Mask Stupid, and it's about what throwing caution to the wind looks like, and why we shouldn't do it. While I was generally in agreement with the premise of the piece before reading it, I did step outside today into the 65-degree perfection that is a May morning and wonder how things could be so bad when they feel so good. Reminders are necessary sometimes. For a reality check (heh), read Here's What We're Doing With Your Check, Donald.
Two: Did you think I'd leave you without an animal? Here are some elephants, who apparently like to get drunk and, despite weighing thousands of pounds, are actually lightweights.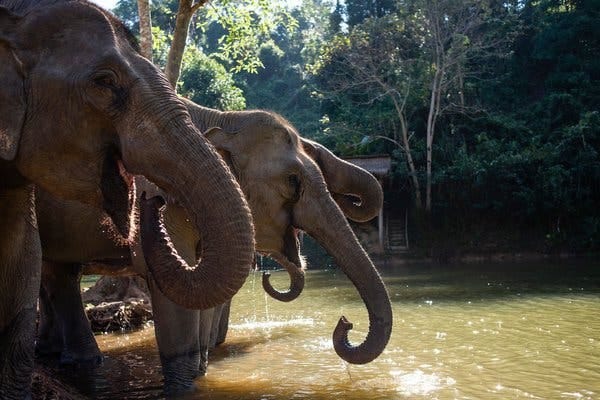 (image via)
Caro's Advice Corner
Hello, you might be wondering "where's Lena?" -- I understand this isn't your usual Friday line-up, but fear not not, Lena will be back on Monday!  
In the meantime let me introduce myself.  My name is Carolina, but I like to go by Caro.  I was recently told by a group of trusted friends that I'm more qualified than Dr. Phil to give advice...and let's be real, why does this man still have a show on the air!?  Regardless, you heard that right, I am here for YOU, the loyal readers of Digestable.  At the end of every week, I will be responding to your questions, and nothing is off limits! (ok some things are off limits, but I trust you to discern that).  
Wondering if this is the right time to buy that box dye and change up your hairstyle? -- That is probably a terrible idea according to all of my hairdresser friends, and I am only here for honesty, people.  Are you wondering if this is the right time to buy a pet?  Ran out of recipe ideas and wondering what to make for dinner next week?  Have a weird growth on your toe and don't know what to do?  (gross, you should probably talk to your doctor about that in your next telehealth appointment) -- You get the gist.  
Ok, here is how you submit your questions: email me at carosadvicecorner@gmail.com with the subject header "Dear Caro" and write your question in the body of the email!  It's as simple as that.  The last day to submit for a given week is Thursday by noon ET.  I look forward to being your humble advice columnist, and will be excitedly anticipating your questions.
MoRo's music show
welcome to the corner of this newsletter devoted to remembering that art is happening all the time, even in—especially in—these times. i'll be featuring artists that are making noise in quarantine. maybe you'll learn about your new favorite song or album, or maybe you'll regret taking my musical advice! or perhaps you'll be inspired to make a lil something of your own (if you do, plz send.) so get comfy, take a deep breath, and dive in to a brief musical interlude. if you can, consider supporting artists with your heart, and/or dollars.
this week's feature:
love in mine by big thief (2020) 
a haunting meditation and a tune to swing your body in rhythm to. a love song lullaby about trust and hope, it's vague but specific (yep). but it's also not offering a happily ever after just yet, which I appreciate. I like loose ends not at all but I like fake chipperness even less. this song will make you feel without falling apart. wistful, achy, heartfelt, and worth manifesting your dreams to.
mollie rose k. siebert is a social geographer, cultured foods enthusiast, and highly unqualified music reviewer currently residing on unceded cherokee land in alabama at an educational farm. by the time you are reading this, she'll probably have devised a new plan, remembered something she forgot, and listened to something she loved. 
*Hot Goss*
Back on Monday from the superb Latifah Azlan.