May 26th
Issue 11.2
Good morning!
Welcome to Issue 11.2 of Digestable, your daily mouthful of real things happening in the world, minus alarmist pandemic news.
I'm all ears for your feedback, or if you're already a fan, share this email with your friends. If you're not yet on the list, click below to sign up.
Today's news, fermented:
I remember seeing this great TikTok a few months ago about how black people, indigenous people, and queer people were all just silently shaking their heads at the fact that white people couldn't believe that the US government was letting, and about to let, massive numbers of people die.
From genocide to legally-cemented forms of racial control to denial of epidemics, this stuff is not new. But now that we have a pandemic (from Latin, pan = all, demic = people), all the folks previously allowed to believe that the government either had our best interests in mind or we didn't need it at all were let in on the secret that it has actually always been this way.
To be totally clear, here's what I think 'the secret' is. People in power, whether they are elected officials or corporate execs (or both!) generally do not have the people's best interest in mind, and when the people's interest and their profits require differing action, the profit motive prevails, including (but not limited to) when people die.
Scott Walker, the most incompetent thankless trashbag of maybe the entire Midwest (!?!!), is back from his career-crushing unpopularity to advise that states struggling during the pandemic…should implement austerity measures. This is such an unreasonable suggestion that it feels like a meme:
Nobody:
Scott Walker: stop doing the only thing you did right
Basically, the fallen union-buster is saying that instead of spending money to save people's lives, we should just…not.
In a recent article, Kimberlé Crenshaw, mother of the study of intersectionality, articulated how Black lives, during this pandemic and long, long before, have been un-mattered by America. She explains in the context of Ahmaud Arbery and Breonna Taylor, both of whom were murdered in 2020.
"The specter of our sudden, senseless, and crudely rationalized demises is so directly correlated with the simple status of being Black that we have taken to naming innocent activity as an apparent capital crime. Arbery's offense was jogging while Black; Taylor's was sheltering in her own home while Black.

These deaths are modern embodiments of racial terror dating back to a time we like to think is long past: the reign of white impunity rooted in slavery and Jim Crow. In these times, there were no rules, laws, or expectations against Black life being taken."
Basically, Crenshaw is saying that the murder of Black people is not acknowledged as lynching or execution, because it is encompassed within an acceptable number of people dying that allows America to turn its head without feeling bad.
Compounded with this idea of an all-the-time head-turn-able acceptable death toll among Black Americans is the idea that during this pandemic, there will also be an acceptable number of people who die of the virus as long as it is fewer than it could have been, and those who die are those who are also acceptable to let go. Along with Black people, indigenous people, immigrants, children of immigrants, people who do essential work, and old people all seem to be in this category.
This line of thinking, also called 'eliminationism,' has its roots in Social Darwinism/survival of the best or fittest framing, which generally fails to acknowledge the uneven ground on which humanity stands.
There are eliminationists in the conversation about the climate crisis, too. "The human is reduced to a price or, in the environmental metonymy, a footprint," says Aaron Timms in an article entitled Making Life Cheap. It's the same stuff: deciding that it's worth giving up some people's lives to save others, and quantifying those lives in ways that have little to nothing to do with those people's humanity.
The bad news with the bad news is that, regarding our progress in making people's lives more equitable, safe, and fulfilling, we will be unable to give a good report-back to this year's batch of cicadas, who have been patiently resting since 2003. These big shiny friends return every 17 years, and are starting to emerge for the 2020 season. At least the Bush-era to T****-era transition is an easier emotional transition than what we've been through.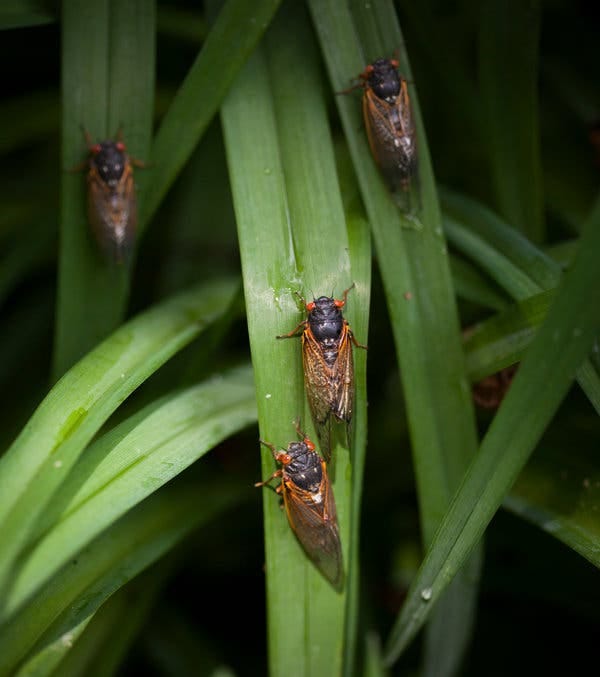 (image via)
*Hot Goss*
Brought to you by the superb Latifah Azlan.
I'm upset.
There are many things to be upset about. If you've read any of the past issues of Digestable, you would know.
But today, I am most upset that the juiciest thing I still have to share on today's ~*Hot Goss*~ is another update from Lana del Rey regarding drama that she herself manufactured and can't seem to get out of.
In her fourth statement regarding her music in less than a week, Lana decided to name-check yet another Black female artist to continue making her point that… something? This time, the target of her discontent is FKA Twigs. You know what? You can read about it yourself here. Also, can somebody call Alison Roman and tell her to act up again? I need something else to write about, PLEASE.