May 27th
Issue 11.3
Good morning!
Welcome to Issue 11.3 of Digestable, your daily mouthful of real things happening in the world, minus alarmist pandemic news.
I'm all ears for your feedback, or if you're already a fan, share this email with your friends. If you're not yet on the list, click below to sign up.
Today's news, fermented:
Yesterday, the news was full of two stories of Black men endangered for existing while Black.
(content warning: violence)
The first is George Floyd, who was born in Texas and lived in Minneapolis. He was murdered on Monday by a police officer who, despite Floyd's pleas including "I can't breathe," and "Please don't kill me," killed Floyd.
Protesters gathered en masse and in masks in Minneapolis yesterday. Police fired tear gas at them.
Floyd was a good friend of Stephen Jackson, a former NBA player, who referred to Floyd as his 'twin.' In social media posts mourning his friend's murder, he said many things, including "Can't let this ride," and "All hands on deck," and… "already talked to Shaun King."
Many of us who use social media are familiar with Shaun King's ability to garner attention for injustices done to Black Americans, often at the hands of the police. So it makes sense that Stephen Jackson got in touch with King. But increasingly, King has come under scrutiny—for the failure of his ambitious journalism project, The North Star, the money he raised for it that went maybe nowhere, to attacking other Black people on Twitter who disagree with him, to groups of organizers calling him out as incompetent and absent.
Why, then, is this all-talk fraud of an activist seem like the best way to seek out police accountability?
The second story in yesterday's news was about a Karen (a white lady with a dog, in this case named Amy) in New York's Central Park, who called the cops on a Black man named Christian Cooper who, while recording her with his cellphone, asked her to leash said dog as per the rules of the part of the park where they both were. She responded by saying that she would "call the cops and tell her that an African American man was threatening her," implying, it seems, that she not only knows that police have a tendency to harm and kill Black people when they do not pose a threat to anyone, but that she wanted to use this to her advantage.
Christian stopped videotaping as soon as Amy leashed her dog, which she did after low-key strangling it while she was on the phone with the cops. He thanked her, and promptly left the scene, likely in anticipation that when cops arrived, there was a high probability things would go wrong.
The good news is Amy has been fired from her job, and she has surrendered her dog. Other (good?) news is that lawyers for Ahmaud Arbery are looking into prosecuting his murder as a hate crime, which is an opportunity to be increasingly explicit about the racist motivations behind murders of Black Americans.
Last bit of good news (for today!) is that wild cockatoos and ones raised in a lab are equally smart. Maybe we can train them to be benevolent enforcers of the law, and relieve all those humans from the duties they cannot seem to carry out?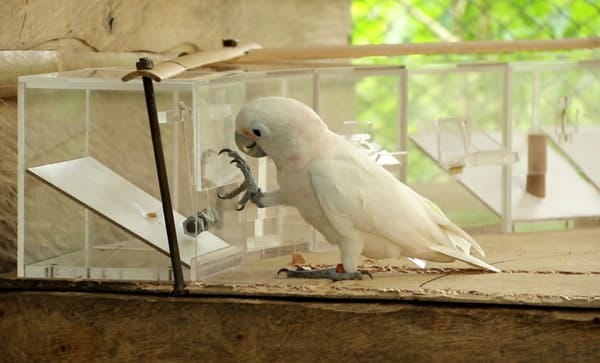 (image via)
*Hot Goss*
Brought to you by the superb Latifah Azlan.
I have scoured the rags for some goss to share and I am sad to say that I have come up empty handed.
Some headlines: Elon Musk and Grimes are changing their son's name from X Æ A-12, to X Æ A-ii, which, okay. I guess. I mean, this is exhausting, you know? That child is probably going to change his name when he's able to and it'll pivot from one extreme to another, like Tim or Pete or something and he'll be the better for it.
Um, this Doja Cat mess, which I have been staying away from with a ten thousand foot pole. That's all I'll say on that!
Riverdale stars Cole Sprouse and Lili Reinhartbroke up after years of being dogged by rumors of a split. They aren't quarantining together after three years of dating so you know it's real. I am actually kind of sad about this one. They were so cute together.
A disappointing day for ~*Hot Goss*~, no doubt. Here's to hoping that the celebrities will act up as the weather continues warming up.