May 29th
Issue 11.5
Good morning!
Welcome to Issue 11.5 of Digestable, your daily mouthful of real things happening in the world, minus alarmist pandemic news.
I'm all ears for your feedback, or if you're already a fan, share this email with your friends. If you're not yet on the list, click below to sign up.
Today's news, fermented:
Greetings, it's Friday!
Here's a few things from me, and then I'll hand it over to Gabriel, who is guest-writing our music section today, and Caro, who is laying some good good advice upon us.
Some news from this week:
Remember those investigations of Democrats and Republicans that sold off millions of dollars in stock before the pandemic? Well, they aren't happening anymore because the Justice Department decided…that it wasn't important.

There's been lots of talk about 'looting' amid protests in Minneapolis and St Paul, where people ('thugs' in the words of our 'president') have continued to protest George Floyd's death. This tweet sums up my feelings on the matter:

In Minneapolis, members of a CNN news crew were arrested, which is DEFINITELY illegal.
(content warning: violence)

Protests have escalated in Louisville, where Breonna Taylor was murdered; last night, seven people were shot. It's unclear who did the shooting, but a police spokesperson said "no officers discharged their weapons," which is all well and good, but what reason do we have to believe the cops?

The American Petroleum Institute, which has basically been Big Oil's muscle and sugar daddy for the last long time, started a twitter war with Friends of the Earth, an environmental group. API said, in so many words, that they 'didn't want' bailout money, but here's a bit more about what's actually going on.
Gosh friends, it's been a tough week. Here is a nice kitty (more).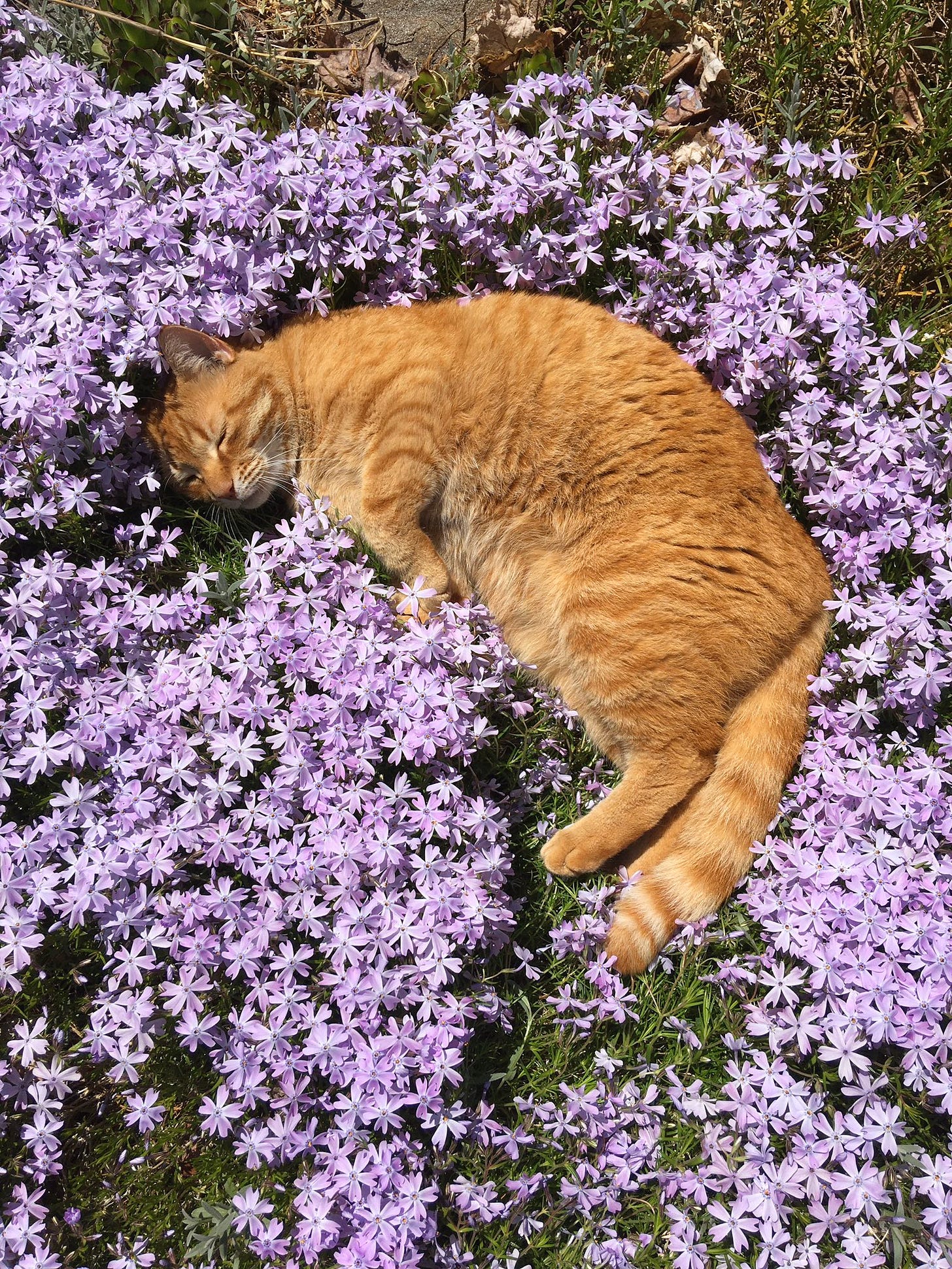 (image via)
Music time aka Coronamatica
From Gabriel, guest writing this week.
I describe myself as a critical fan of Lady Gaga which basically means that I really like her but I talk about her like I don't. One of the things that frustrates about Our Lady of Pop is that her albums (ARTPOP, Born This Way, even Joanne) often start out with some kind of fantastic revolutionary space opera concept but end up dropping it after the few tracks to make way for a parade of fantastic but mostly unrelated Gaga hits. Chromatica finally resolved this issue for me by keeping the world building mostly atmospheric (blade runner, pink, utopia, etc.) and injected all the conceptual packaging into the album's structure itself.
The album is organized into three very effective and thematically unified suites, punctuated by little orchestral interludes (Janelle Monáe said hiiiiii). Chromatica I finds our hero as a melancholy party gal dancing downtown with mascara streaked cheeks after an especially devastating break up. In Chromatica II our Lady struggles for mental wellbeing, uses objectification as a medium to explore empowerment and powerlessness (it's very good), and grants us a very tasteful Bowie reference.  Chromatica III is Elton John feature Sine From Above plus 1000 Doves and Babylon which feel like bonus tracks but it's okay because Sine From Above is *chef's kiss.*  Sir Elton's vocal treatment is a little strange and doesn't really sound like him BUT the song is A Very Gaga Cosmology and there's a little French horn solo that leads into the track (as a horn player, I wept).
The Good: Thematic continuity (yas gaGa!), airtight and social-distance-dance-floor ready production, lovely lyricism, meaningful collaborations, and Babylon samples a loon call which just melts my little Minnesotan heart.
The Bad: I want so badly for the tracks to transition smoothly into one another like the string interludes do! There are these wide gulfs of fade out/fade in between each track that make me want to jump in and re-cut the album myself.
The Verdict: You've been a very very good good girl Gaga.
Top Tracks: Sine From Above, Alice, Sour Candy, Enigma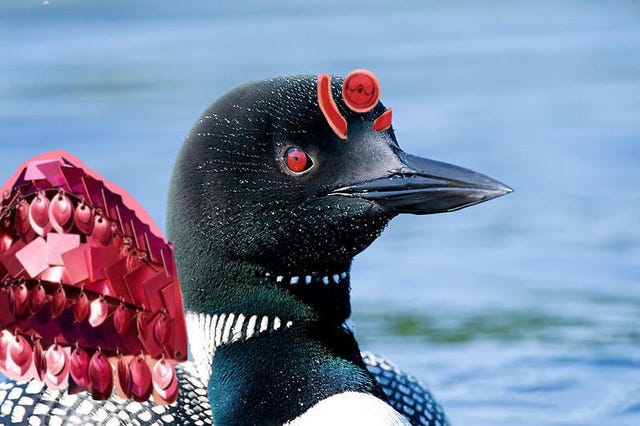 Caro's Advice Corner
Happy Friday fellow Digestable readers!
It's Caro over here, reporting from the advice corner.  This week we've got some juicy content, starting with a master chef, followed up by a concerned daughter, and ending with a quarantine (un)fashionista…we've got no time to waste, so let's dive in:
*Quick note before we dive in: questions have been edited for brevity*

Dear Caro, 
I am getting near the miscellaneous options of our pantry and hoping for some inspiration on how to combine some / any / all/ of these into a meal! Our creativity is a bit sapped so here it goes:- Almonds (whole)- 1 can of pumpkin- 1 c red lentils- 2 cans of tomatoes- brown basmati rice- chickpeas- a jar of roasted red peppers- raisins- 2 cans of tunafish- a box of pastaWe have some standard condiments, a lot of different dried spices, and would be able to get some fresh veggies/herbs from the corner grocery to help supplement or combine into this mix.  
Thanks for any inspiration, Pantry Puzzler

Dear Pantry Puzzler,
Ok, this was a tough one!!  You almost stumped me….but luckily I have found myself in this very scenario many times in college (hello to dressing up Ramen with all the pantry goodies), and discovered this nifty website: https://fridgetotable.com/.
So Pantry Puzzler, you had ~QUITE~ the list of fun ingredients.  I paired them down to the three for my search: red lentils (which I learned in this great podcast that they are amazing for your overall brain health), chickpeas, and canned tomatoes.  This search turned up this delicious vegan Moroccan Vegetable Stew.  
Now, not only does this recipe include the chickpeas and canned tomatoes, it ALSO includes almonds and raisins, and an assortment of basic pantry spices.  Alright, now I'm going to add my own little twist here.  I will admit, I was a bit bummed that the lentils were not ingredients in this recipe, but I love to go rogue.  My recommendation is to prep the lentils (I have included a very basic recipe here), and either experiment and add them to this recipe or go ahead and make it a side dish!  
I wish you luck Pantry Puzzler!
Hungrily yours, Caro

Dear Caro,
I am hoping to see my 83-year-old mom in Boston in July. I live in Brooklyn, haven't been on the subway since March 13, will travel with one family member by car, and only socialize outdoors at distance, with a mask (of course). It's important to me to act responsibly, but I'm not sure what's right.  
- Intrepid Heart

Dear Intrepid Heart,
My heart goes out for you.  These are not easy times, and every single one of us has faced our own version of this scenario.  Our anxieties are understandably high right now, and so are our longings for embracing our loved ones.  We also want to show up for them too, in the ways that this new normal allows us.  While I am not truly qualified to tell you whether this is a good idea or not (I quit the pre-med track halfway through my first semester of college...maybe I became a doctor in an alternate universe, that would be cool), I did find these valuable resources that have helped me decide when to break social distancing and when to not:

First things first: the number one place you should be looking for guidance from right now is the CDC website, more specifically their guidelines on social distancing.  Continue checking their webpage for the most up to date information. Also, this resource from the CDC helps you create a household plan of actionJohns Hopkins published this great, very basic explainer on social and physical distancing

While this may not be a straightforward answer, I hope you are able to get something useful out of the resources I shared.  At the end of the day, only you can decide what's right for you!  I will be thinking about you Intrepid Heart!
Compassionately yours, Caro

Dear Caro, 
What is the proper etiquette regarding matching masks to outfits? Shoes and masks? Shoes, masks, and belts? Masks to shirts?  Sincerely,Unmatching and unfashionable 
Dear Unmatching and Unfashionable,
To match, or not to match, that is the question many are asking themselves as they grab their masks and gear up to brave the grocery store lines, go on their morning "commute" walks, or take a stroll around the block with their dogs (or cats, cat leashes are a thing y'all).

I think the best way to explore this topic is through celebrities photos, a fun game of who wore it best if you will.

So let's start with Cindy Crawford.  Now for me, this is feeling a bit too matchy matchy... but I will let you be the judge of that Unmatching and Unfashionable (although we cannot deny she can strike a pose):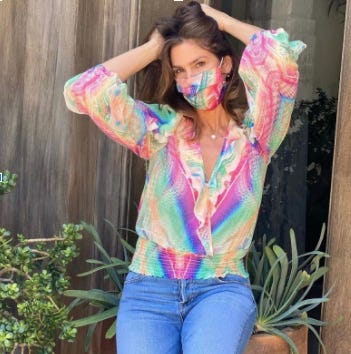 Then there is Howie Mandel….with uhhhhh matching yellow gloves and a dull mustard gone bad yellow..gas..mask?  Aircraft mask?  I'm really not sure what to make of this matching number: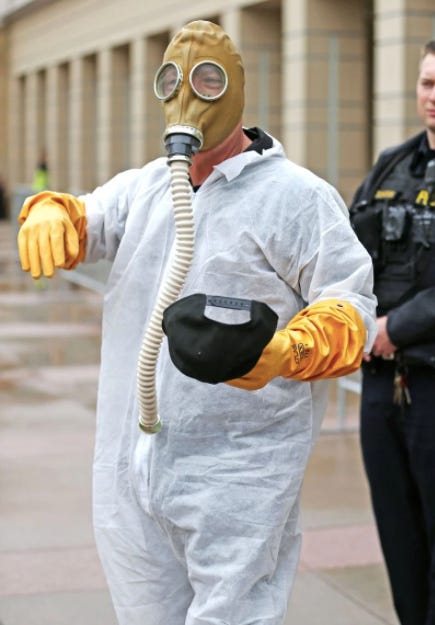 And finally, we've got the cool and casual Naomi Cambpell, with a matching hazmat suit and luggage duo, I mean even those shoes match the luggage.  I think we know who wore it best: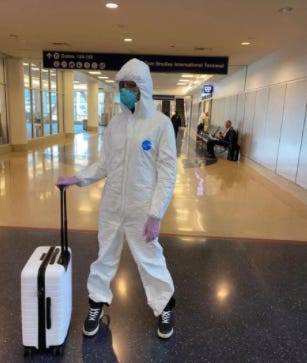 Alright Unmatching and Unfashionable, I leave you with this fun and informational video on what face masks do against the coronavirus.  
Stylishly yours, Caro
*Hot Goss*
Back next week from the superb Latifah Azlan.