May 7th
Issue 8.4
Good morning!
Welcome to Issue 8.4 of Digestable, your daily mouthful of real things happening in the world, minus alarmist pandemic news.
I'm all ears for your feedback, or if you're already a fan, share this email with your friends. If you're not yet on the list, click below to sign up.
Today's news, fermented:
A few months ago, my colleagues and I sat down in a conference room to discuss what events on the horizon we wanted to keep a close watch on. (Who knew I would be standing in my kitchen, not so long after, actually missing the office part of my office job?)
Lots of things were tossed around: international policy gatherings (now cancelled), the presidential election (we'll see), underwhelming and distracting announcements about how fossil fuel corporations were 'going green.'
And then we talked about climate disaster season.
Warmer months are infamous for being some of the most violent; with climate change warming our warmer times, this is set to get more intense.
There's violent interpersonal crime, especially the unjustifiable brutality of (generally white) police officers or armed people against (generally black or brown) unarmed people, like Ahmaud Arbery, who was (content warning: violence) murdered while on a jog by a gun-toting pair of white men.
And then there's climate disaster, which is a whole different kind of violence—although often, those who live closest to failing seawalls or oil refineries or in dense hot apartment buildings are the people on whom white supremacy steps to maintain its dominance.
So it's getting warm out, and FEMA, as we know, has only done a mediocre-at-best job of handling some of the most intense climate disasters of recent years, and is apparently completely unprepared for this new era of dual disaster. And lest we forget that last August, in the heat of the season, the T**** administration pulled hundreds of millions of dollars from other agencies, including FEMA, to fund the border wall.
And then there are other disasters, ones that look like 'freak accidents,' but are really just another arm of the beast of fossil capitalism. About 15 hours ago, styrene started leaking out of a plastics factory in Andhra Pradesh, India, leading to a number of deaths and hundreds of hospitalizations. This, I would say, falls under the category of climate crime.
If you're not familiar with styrene, it's one of the two carcinogenic materials (along with benzene) used in expanded polystyrene foam, or Styrofoam. We know that the fossil fuel industry is looking to extend its life, even though all those nasty execs see the writing on the wall that most of us would prefer to have continued human life on earth than line their pockets. The best way to keep people needing fossil fuels is to create demand for plastic, which is made out of said dinosaur juice.
If you're as upset reading this as I am writing this, it's probably a good time to look at the People's Demands for Climate Justice, which outline a path forward that involves climate reparations and holding polluting, extracting, and often also murderous corporations to pay for their abuses.
That was a lot—but also, looking away doesn't make it disappear. Climate is a threat multiplier, whether on the scale of individual brutality or factory-scale catastrophe or a global pandemic. When I feel overwhelmed by all these disasters, I remember they're all connected and amplified by fossil fuel corporations, which we can, will, and must put out of business.
Thanks for making it this far. Here are some seductive lemurs.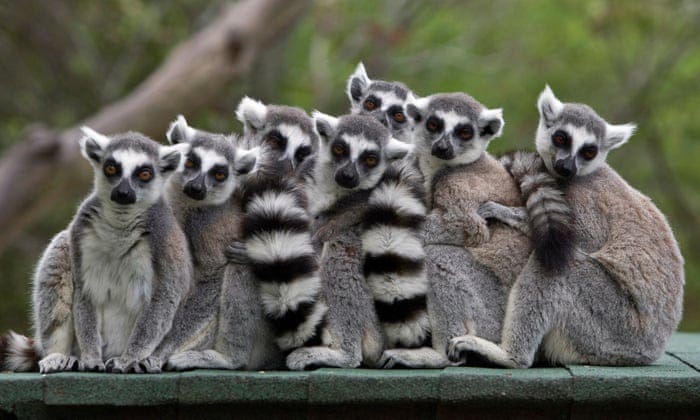 (image via)
*Hot Goss*
Brought to you by the superb Latifah Azlan.
This time last year, I was enjoying my last few weeks of graduate school and getting ready to walk at graduation. I remember how beautiful the weather was because I sat outside in the grass with friends a lot and my allergies had never been worse. It was a brief period of rest and just pure fun, not having anything to worry about now that classes and finals were over and job applications were out in the world.
Many students – undergraduate and graduate – leaving school this year will unfortunately not have this experience now that the pandemic has cancelled many a commencement ceremony (not to mention graduating into a precarious economy). But so many famous folks have stepped up and announced virtual graduation events that our weekends are still sure to be full of joy and celebration. The biggest announcement came yesterday from Youtube, who is hosting a star-studded virtual graduation special featuring celebrities such as Lady Gaga, Zendaya, and BTS among many others. Oh, and former President Barack Obama and Michelle Obama are the featured commencement speakers. Pomp and circumstance indeed! My favorite thing about this announcement is the fact that K-pop giants BTS received third billing on the announcement poster ahead of former Secretary of Defense Robert Gates and former Secretary of State Condoleezza Rice. This placement just feels so right, you know? Anyway, congratulations to all graduating this year. Here is a full list of all graduation specials airing over the next few weeks.
To those of you who LIVED for the Backstreet Boys Zoom reunion a couple of weeks ago, I am here to make your day once again with this goss. Lance Bass of NSYNC fame hosted a mini band reunion for his birthday this week, celebrating the occasion with friends and family on Zoom and posting the video (of course) on Instagram for us to watch! Former bandmates Joey Fatone, Chris Kirkpatrick and JC Chasez were all on hand for the occasion, with only Justin Timberlake absent. LOOK I'M OVER IT OKAY. I'm so over Justin acting like he is too good for his teeny bopper band when NSYNC made him into the star that he is today. The masses want a "stay-at-home" rendition of "It's Gonna Be Me!" We are craving a re-creation of the "Bye Bye Bye" choreography! We are rooting for ramen curls and frosted tips to make a comeback again! And if you really think about it, the "Trolls World Tour" movie that just came out is just an animated movie version of what NSYNC represents. So come ON Justin, come back to your roots. I promise, it doesn't make you less of an artist at all.
And yes, Adele lost a lot of weight. Not much to discuss here folks! She looks eerily and uncannily similar to Sarah Paulson that I had to look three times to make sure it was Adele (Sarah Paulson as Adele as Sarah Paulson) but we're still waiting with bated breath for that next album to drop and break our hearts, queen. Don't let us down!