November 2nd
Issue 34.1
Good morning!
Welcome to Issue 34.1 of Digestable, your daily mouthful of real things happening in the world, minus alarmist pandemic news.
I'm all ears for your feedback, or if you're already a fan, share this email with your friends. If you're not yet on the list, click below to sign up.
Today's news, fermented:
It's so hard to know what to say. After a quick scroll, my chest is tight.
Look up at the sky today. Check in on the people you love. Enjoy this little floopy squid.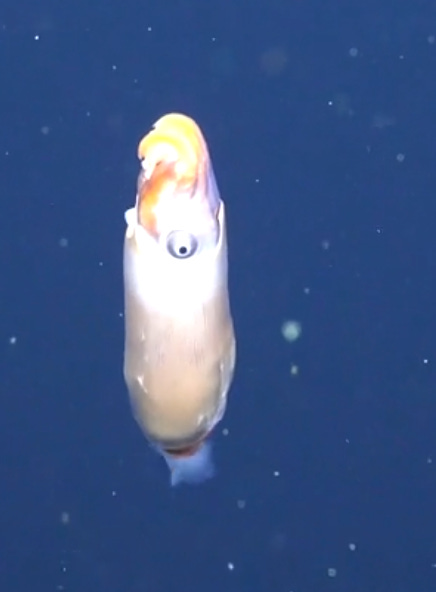 (via)
The Second Look
Half-baked cultural criticism from Gabriel Coleman.
I feel very lucky to have friends that have TikTok accounts. It means that I get to keep up with all the whacky stuff the kids are up to without falling down the TikTok rabbit hole myself. Last week I was introduced to the current meme/collaborative art project taking life on the platform: Ratatouille The Musical.
The pandemic is not making life easy for theaters, restaurants, or rats, so it's almost kind of nice to see something this heartfelt and goofy pop out of the collective internet hive mind. The project initially started with user Em Jaccs writing a short couple of lines inspired by the Disney movie which was then orchestrated by Daniel Mertz Lufft and Cori Jaskier. Then the content just started flowing: people designed sets, created choreography, wrote original songs, and even an uncanny Lin-Manuel impersonation. There is just So Much Content. This isn't even the first time this idea has been tried out. Dan-Laura Curtis composed and recorded a 15 minute version of a Ratatouille musical with a full orchestra that apparently make quite a splash five years ago.
Normally at this point in the column I would try to connect this with movement building strategies, or interspecies communities, or French cultural imperialism or something but honestly, my brain is mush rn. So this week I instead invite you to just soak in the weirdness of the world wide web and draw your own conclusions.
If you're looking for something a little spookier – because honestly, Election Day feels like an extension of Halloween this year – I suggest checking out this very unsettling edit which finds Wendy Williams and Guy Fieri in some sort of horror sci-fi car-jacking uhh… conflict? Bone apple teeth!
*Hot Goss*
Brought to you by the superb Latifah Azlan.
Happy post-Halloween weekend, everyone! Did you have fun? I think I mostly did. My roommates and I decided to dress up for the night, as characters from Clue, and played the actual board game for a few hours. We did have two friends from down the street join us but it didn't take long for me to realize that my capacity to have prolonged social interactions has considerably dwindled over the last few months, thanks to all of the social isolation I've been partaking in, and I felt myself being physically exhausted 45 minutes into our very small get together.
That wasn't the case for Kendall Jenner, though. The model and Kardashian sister celebrated her 25th birthday over the weekend, throwing herself a Halloween costume party to celebrate the occasion. If you remember, older sister Kim Kardashian courted controversy last week when she posted photos of her "intimate" private island getaway party with close friends and family to mark her 40th year around the sun. Obviously, the decision to throw a lavish celebration in the middle of a global pandemic was not a very wise one, despite Kim's "reassurances" to the public that her and her family quarantined, social distanced, wore masks, and did everything they could to be "as safe as possible" before traveling for her party. Well, in Kendall's case, she decided to swing to the complete opposite end of the spectrum and throw this birthday bash with as many guests as possible drinking and dancing in closed quarters at a Los Angeles bar.
On the one hand, I have to give credit to Kendall for thinking ahead. The flyers for her party explicitly included a "no social media" rule that instructed guests to refrain from posting photos or videos of the bash online. This tells me that Kendall's two brain cells are aware of the optics of having this party in the middle of a pandemic to the peasants who have had to cancel celebrations of all kind, much less birthdays, in this diseased year. On the other hand, did Kendall forget that her whole family's bread and butter is overexposing themselves on social media and recording every detail of their lives for public consumption? Because the only reason people are aware of and upset about this party was because Kylie Jenner, Kendall's younger sister, posted about it all night on her Instagram. It do be your own kind that brings you down in the end, huh?
Anyway, nothing demonstrates the inequalities of this country and this society more than this video:
Spot the difference between the two waiters carrying her cake and Kendall with hundreds of her guests cheering in the background? Hint: for some people, the shields and masks they were wearing weren't part of a costume -- just a necessary precaution against an infectious virus that in the United States disproportionately affects working class people and people of color than they do people of the Kardashians' income bracket. But yeah, happy birthday I guess! And maybe take away Kylie's phone the next time you throw yourself a superspreader event during a global pandemic.