October 13th
Issue 31.2
Good morning!
Welcome to Issue 31.2 of Digestable, your daily mouthful of real things happening in the world, minus alarmist pandemic news.
I'm all ears for your feedback, or if you're already a fan, share this email with your friends. If you're not yet on the list, click below to sign up.
Today's news, fermented:
content warning: mentions of sexual violence
My 'fun activity' for the weekend was watching the entirety of I May Destroy You, a show about a young woman, Arabella, trying to put the pieces of her life back together after she's raped. Throughout the show, scenes of the climate catastrophe, and one really nuanced ongoing discussion about climate change, play out in the background, on televisions and social media.
Today's news kind of looks like that to me—women demanding safety and respect while this catastrophe continues to unfold.
The first thing I saw this morning was an editorial published by the one and only Megan Thee Stallion (of WAP fame) in the NY Times, called Why I Speak Up for Black Women. Megan talks about her experience of violence by men, the ways in which Black women are forced to continue fighting for themselves, and what she envisions for the future.
Another woman, Nemonte Nenquino, published an opinion piece in the Guardian, called This is my message to the western world – your civilisation is killing life on Earth. It's incredibly beautiful writing about the horrors of watching the Amazon, Nenquino's home, get destroyed at the hands of corporations and ignorant white men.
Both of these women echo something that Arabella articulates—that if she wasn't safe on the night she was raped, when could she be? That if you aren't safe leaving a party, living in your ancestral homelands, simply existing, when would you be?
And then there are the hearings on Capitol Hill, which may very well result in the overturning of Roe v. Wade—which in Elie Mystal's words, will leave it "up to the states to decide whether pregnancy turns women* into incubators with no rights or some rights," and "States' rights arguments almost always mean "white cis-hetero men get to have rights; everybody else's are optional."
(*this use of 'women' is less than ideal, but indicates all people with a uterus, regardless of gender identity.)
As we continue to publicly question whether or not it makes sense to protect and respect half of any given human population, the climate crisis is playing out on a screen behind us, in another tab, or in our homes. Yesterday was a great day for toppling statues that honor this country's genocidal/colonial legacy, and suggesting that it's time for Italian Americans to stop being proud of said legacy, and acknowledge how that has allowed them to assimilate into whiteness.
Of course, all that is important because it set us on the path of planetary destruction (as Nenquino reminds us), which now includes an Arctic death spiral and yet another urgent reminder to put fossil fuel corporations out of business, and make them pay for damages.
Depending on who and where you are, these issues exist in the fore- and background, or possibly alongside one another. Could we invoke political will and address the climate crisis, then turn to the long work of dismantling racism and sexism (and transphobia and heteropatriarchy)? On paper, maybe—but it was precisely those societal ills that got us here in the first place. Background or not, they must be addressed in concert—the white supremacist heteropatriarchal state will certainly not be saving us from unwanted baby incubation and climate catastrophe anytime soon.
Here's an ancient massive land-mammal, the glyptodon, which likely remembers a time before these compounding crises.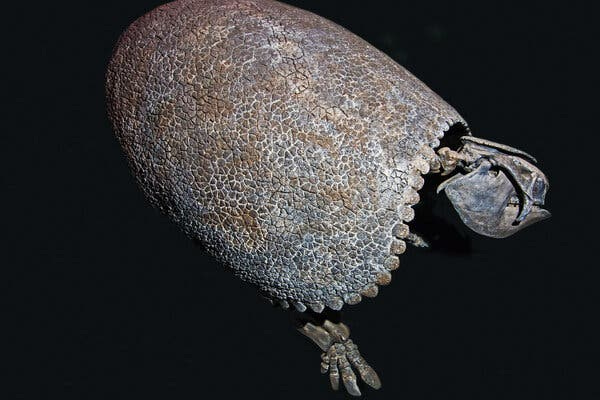 (image via)
*Hot Goss*
Brought to you by the superb Latifah Azlan.
Do you know who Dominic West is? The name may not be familiar to you right off the bat, but you might recognize him if you saw his photo. Dominic has been in two critically acclaimed television series: The Wire and The Affair. He plays Jimmy McNulty in the former and Noah Solloway in the latter. I'm a huge fan of The Wire and have watched and rewatched the show multiple times. The Affair, on the other hand, not so much. I could barely make it past the first season and stopped watching somewhere halfway through.
Dominic isn't exactly a household name but he's a respectable actor who consistently books gigs over the last few decades and has made a name for himself. So he's been around long enough to know about the things that come with being a famous person like paparazzi and tabloid stories. So it was quite the scandal when stories were published yesterday about Dominic openly canoodling with actress Lily James in Rome, Italy -- complete with photos of their romp. Also scandalous? The fact that Dominic has been married for ten years with four young children to Catherine Fitzgerald, member of an aristocratic Irish dynasty with a family castle.
Let's just get the obvious out of the way first: yes, this is life imitating art. That show The Affair of which Dominic was a star? It was a drama series about the effects of extramarital affairs on two different couples and their families. Again, I didn't watch much of it but I do remember Dominic's character, Noah, being quite the dog on the show. It seems like he is one in real life too? Because his wife is apparently shocked about what he's been up to in Rome. The pair weren't separated or in the process of divorcing -- Dominic really was just brazenly cheating on Catherine while away. On his part, he has swiftly returned to the family castle to make amends but oy... what a mess. I wish i could tell Catherine to dump him. She's Irish nobility, rich as f*ck, and owns a castle -- she doesn't need to hang around or hang on to Dominic! But they have four kids together, with the youngest being seven years old, and that changes the calculations quite a bit. At the very least, please banish him to the horse stables or a dungeon or something. That castle is big enough that she doesn't have to see him if she doesn't want to.