October 19th
Issue 32.1
Good morning!
Welcome to Issue 32.1 of Digestable, your daily mouthful of real things happening in the world, minus alarmist pandemic news.
I'm all ears for your feedback, or if you're already a fan, share this email with your friends. If you're not yet on the list, click below to sign up.
Today's news, fermented:
Here we are again. Gabriel is consumed this week by their studently duties, so here's some partially-chewed news from both of us.
First and foremost, I dropped my ballot off the other night in a Ballot Drop Box outside of our local library. How exciting! Then, I saw this graphic in the NY Times (which, let's face it, is the best thing they do with all their money and staff), which has got me paranoid about if I did a *good enough* job voting for my vote to be counted. Ridiculous.
While we continue down the road to chaos, featuring Rudy Giuliani lying about stuff, disproportionate numbers of people in Louisiana's fossil-fueled Cancer Alley dying from COVID, and a spike in plastic pollution in the ocean, Chile may be laying the foundation for what one political scientist calls 'true democracy'.
I don't know much about Chilean politics, but now might be a pivotal moment for Chilean people to move forward with rewriting a constitution that was "written under the authoritarian rule of the dictator Augusto Pinochet, has protected conservative interests and the military and has suppressed political dissent for 40 years."
In other words, it's time—approval ratings of the very rich president and his congress are at rock bottom, and a new constitution could usher in an era of public accountability and decentralized government. Without knowing anything about the nuance present in this process, the fact that protests are unified around basic stuff (gender equity, rights for Indigenous people, health care, education, transportation) suggests that there's potential for a new constitution that codifies all of that.
The piece concludes with a note that Chileans could set a precedent for other countries that have similar experience with authoritarianism, and names Indonesia, Guatemala, and Peru. That may be right; and I can't help but think that taking notes on this process might be useful for reorganizing/rebirthing/transforming another authoritarian state, coming soon to a government near you.
While we're on systems collapse, a rapper who performs under the name Nuke Bizzle was recently arrested after bragging about committing fraud to receive $1.2 million in unemployment benefits during the pandemic. Yes, this is not good. No, it does not compare, not even a little bit, to the fraud committed by corporations and billionaires during this pandemic, and all the theft they will continue to get away with.
Anyway, here's a black hole. Happy Monday.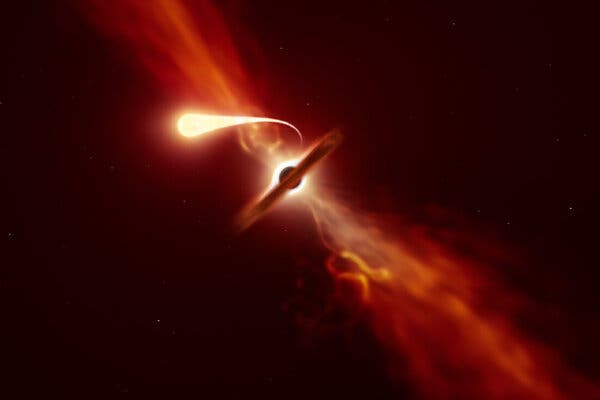 (via)
*Hot Goss*
Brought to you by the superb Latifah Azlan.
Good morning and Happy Monday, folks. This past weekend, I spent several hours having to talk about my feelings to people who aren't my therapist. It was a strange experience for me. I am an extremely guarded person and often hide the complexities of my emotions and my emotional truths behind simple statements like "I'm going to drink bleach" or "I'm changing my identity" so that I can avoid being real to the people around me. I guess I worry about being made fun of or laughed at for saying something with sincerity. But the last few days have taught me that I shouldn't feel that way -- that my feelings are valid and my truths are important, regardless of how wrong they may be. So here it is, here I am, stepping into my truths in all of its glory and opening myself up to mockery of the highest order. 
I love TimotheÉ Chalamet, okay?! THERE. I said it. TimotheÉ is the cover star and main profile of GQ's latest edition and yes, I read that shit word to word, baby. I absorbed every single syllable like a baklava soaking up rosewater syrup in its final stages of construction. Yes, he's yet another pasty, scrawny white boy who's captured my attention for no other reason than being pasty, scrawny, and white. You think I don't know he looks like an orphaned Victorian child roaming the streets for crumbs of bread in a Dickensian-like novel rife with poverty, disease, and crime? I'M AWARE. I can't help that I have worms in my brain. I can't help that I'm so easily enamored by an accented 'é' in someone's name that I'm willing to ruin my life for them. I didn't even want to watch the latest adaptation of Little Women but my friends made me go and now I've become afflicted with this disease. So I don't care if ya'll think I'm wrong for this. He's beautiful and I'm not ashamed to say it.