October 1st
Issue 29.4
Good morning!
Welcome to Issue 29.4 of Digestable, your daily mouthful of real things happening in the world, minus alarmist pandemic news.
I'm all ears for your feedback, or if you're already a fan, share this email with your friends. If you're not yet on the list, click below to sign up.
Today's news, fermented:
This morning, I woke up to bright blue sky, unblemished by humidity, slight breeze. October.
Today feels like 'real fall,' or what we, born near the end of the 20th century, will likely maintain to be the realest fall, even as the seasons shift and temperatures uptick, each round of climate disaster more dire and unrelenting as the past.
The speed at which the earth is warming is unlike anything we've seen on this planet in tens of millions of years. There have been a few conversations in my household and among my closest people about our plans for the coming weeks, in anticipation of potential fascism. Those conversations, when we get deeply into them, turn into another question: how will we protect ourselves and each other from the state and the climate catastrophe?
My people a little old to be part of Gen Z, but that cohort is voting with aforementioned climate catastrophe at front of mind. Voting with climate in mind seems to me at the intersection of investing in institutions (elections, representatives) while anticipating disintegration (climate chaos). Walking the line between these two visions of the future is no easy task; it is one I imagine keeps many of us up late these days.
When we consider this generally terrifying future, we must also reckon with the veiled dangers of the past. New forever chemicals—yes, that forever—were recently discovered in New Jersey. There's so much we likely don't know about the soil and water in our ecosystems, which have often been managed by corporations that are interested in short-term profits and innovations rather than long-term viability. What will we find next?
All of this is horrifying, and it surely will continue to be. But as Mariama White-Hammond says, it is much easier to live through (climate) disaster in community, surrounded by people who are taking care of each other.
In the state of California, a landmark law was just approved, potentially to that end. A new task force has been established to study "how California could provide reparations to Black descendants of enslaved people and those affected by slavery, and would look into what form those reparations might take and who would receive them."
Thinking about how economic inequality impacts all communities of color in the US, and particularly those who descended from people stolen from land or had their land stolen from them to create this empire, reparations are a necessary way to start chipping away at the uneven impacts of climate crisis.
Community care and mutual aid, as well as demands for structural shifts to ensure this kind of wellness, have become more common in these pandemic times. In Brooklyn, this effort to co-create space and care has made its way to Prospect Park—in the form of small rustic shelters, built by small and large humans. Here's one; you can find more here, as photographed by my sweet parent, Stanley Greenberg.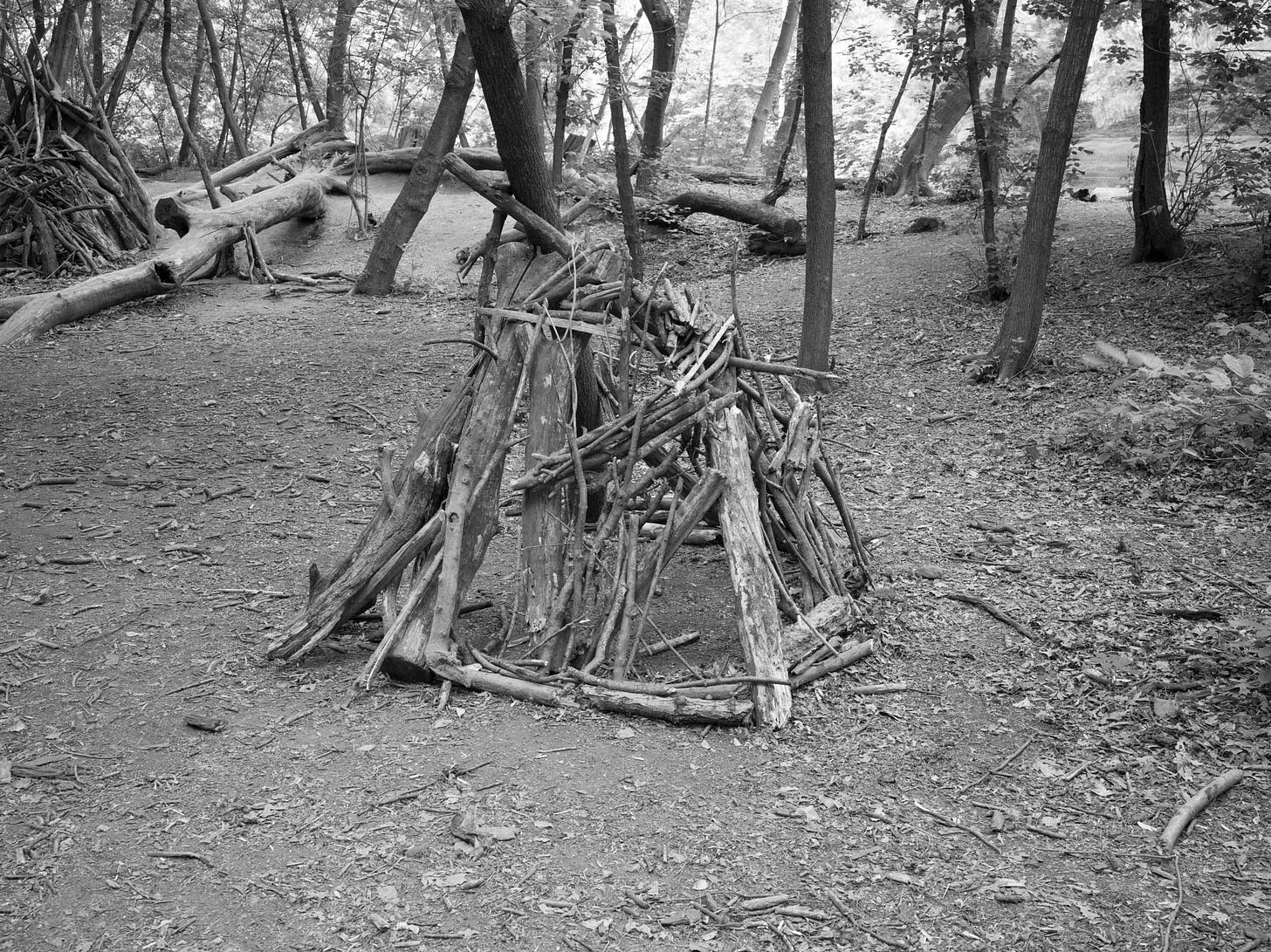 (via)
*Hot Goss*
Brought to you by the superb Latifah Azlan.
It has barely been a week since we heard about Demi Lovato ending her engagement to certified fame ho Max Ehrich and already, there's been additional drama to discuss.
To recap, Demi ended her whirlwind romance with Max last week for reasons unknown, although some believe it may have had to do with evidence ofMax's thirstiness coming to light. Whether or not you believe these tweets were the cause of the split, I think most people can agree that Max seems like a... self-interested guy. Again, I don't follow Demi closely when it comes to ~*Hot Goss*~ so I'm basing a lot of my perception on the stories I have read in the last week about their relationship. But according to this latest story from People magazine, there may be some sliver of truth to our collective side-eyeing of Max.
A source tells the magazine that Demi was "shocked" to discover that Max's intentions when it came to their relationship were not completely genuine, using Demi to further his career by using her name behind his back to anyone and everyone who would listen. Breaking off the engagement was not an easy decision for Demi to make, given that the couple spent all quarantine living together in a "fun and stress-free bubble." But she ultimately decided to pull the plug with the support of her family and friends, who repeatedly cautioned her against Max.
Perhaps someone close to her convinced Demi that the tweets he wrote were real, that his fame-ho vibe was strong, that things were not going to end well for her years or maybe even months down the line. Regardless, whatever whoever said worked on Demi, but may have set Max off because he's been running around to all sorts of tabloids claiming that Demi's being abused and that he and his family are being harassed after she dumped him. Max has been posting cryptic messages on his Instagram using the hashtags #FreeDemi and #FreeDemetria, going as far as saying someone was trying to "Jeffrey Epstein" him (silence him) for speaking out against Demi's abusers. Demi's camp has denied his claims, which I believe. Demi's struggles in the fame industry has been very public -- often shared by the singer and actress herself -- so I doubt Max knows what he's talking about. Seems to me like he is just upset that his meal ticket finally woke up to his shenanigans and left him. Abuse, that does not make. So I'm glad Demi dodged this bullet and hopefully, she bounces back soon. She also released a new song about the breakup yesterday, titled "Still Have Me," which isn't yet available on streaming platforms but you can listen to here.