October 27th
Issue 33.2
Good morning!
Welcome to Issue 33.2 of Digestable, your daily mouthful of real things happening in the world, minus alarmist pandemic news.
I'm all ears for your feedback, or if you're already a fan, share this email with your friends. If you're not yet on the list, click below to sign up.
Today's news, fermented:
I had a really busy day yesterday, to say the least. After being glued to my computer from 8am till after 5, I couldn't believe that another thing was happening—the Supreme Court vote.
If you missed it, Amy Coney Barrett, the epitome of what is wrong with conservative politicians installing women and calling it progress, was confirmed. This confirmation has been obscene—Democrats didn't vote for her, Republicans did, the whole thing happened during an election and the confirmation will impact the results of that election.
What a mess.
One really good thing that may come from a Biden administration is an expanded Supreme Court. Recently, Biden said in an interview that he'd establish a "commission of scholars" to figure out what court expansion could look like.
What I'm imagining is an expansion by two, which will shift the balance to 6-5, leaving crucial stuff like bodily autonomy and the viability of future human life on earth still in limbo. But maybe Democrats, who haven't done much in the way of intervening these last four years, would actually tip the scales so we don't just lose less badly but actually win. Thirteen judges? Who, other than superstitious, Christian heteropatriarchical nation-dwelling Americans, says no?
Anyway.
I got some feedback from a reader who I've known for my whole life about this question of what we have to look forward to and be excited about in a Biden administration. He said, in so many words, that it's selfish to erase the distance between an extorting ethno-nationalist and a moderate Democrat because one's particular political bone to pick is not acknowledged.
He went on to note that, despite Biden's not-so-hot decisions in the past about big political moments surrounding racial justice (busing, Anita Hill), Biden is the nominee because of Black women voting for him. Also fair—anyone who's ever read a demographic vote breakdown not on Fox News knows that Black women who vote consistently hold the moral line politically when others don't (erm, white women).
It is worth mentioning, I think, that while I do believe that our political system could work for more/all people, it certainly has not in the past. So while we need everyone who can vote to vote, it makes sense to me that people who have been abandoned—and targeted and persecuted—by the state might not want to engage in its political processes.
One of the things we've taken for granted in the past even about the worst presidents in this country's history is their willingness to peacefully give up power at the end of a term. Perhaps it is for this reason that most Americans deny how fragile (most things about American life and) our democracy is.
Take a few minutes to read We're Not Alone: Lessons on Democracy and Authoritarianism from the Rest of the World. It refers to studies from countries all over the planet that have responded when democracy starts to backslide, and what we can and must do to stop it.
It concludes with a reminder that feels so necessary in the wake of a decision that is one of the most political and least democratic in our public-facing political process—confirming a Supreme Court justice.
"There is nothing inherently special or unique about our country that somehow guarantees that our democracy will survive the coming months. But it's in our power to make it so. We can make it so by voting, ensuring that people in our communities can vote, and then doing everything we can to ensure that all those votes are counted. We can make it so by refusing to allow anyone who stands up for what's right to be criminalized. And then, after we've preserved our democracy, we double down on the struggle for the rights and dignity of everyone, especially those whom that democracy has historically excluded and ignored."
So, anything can happen, and we have power to shift the outcome of what does.
Here's a lemur.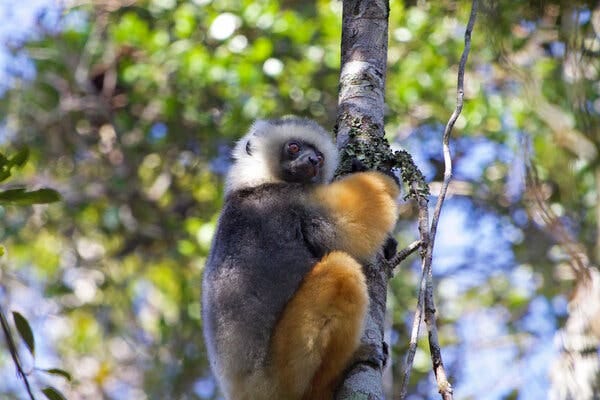 (via)
*Hot Goss*
Brought to you by the superb Latifah Azlan.
Have you ever read something so ridiculous that you just have to tell the entire world about it?
That's how I felt when I came across this story yesterday while scrolling through my Twitter feed. How could I not click on an article with the headline "This is the best drama on the Internet right now" when my whole schtick this pandemic has been to cover drama from the Internet? So I did. And boy, was it glorious.
There's plenty of turmoil going on in the world right now and a Facebook group for Crock-Pot cooks is no different. It started when an admin of said group posted a stern message to veteran "crockstars" admonishing them for judging newer cooks on making ugly-looking Crock Pot meals.
The author of the post, Amberly Graves, told a reporter over the phone that her post was a result of the "increasing negativity" on her Facebook group, Crock Pot Heaven, She was also fed up by the bullying of picky eaters and comments that people were leaving on posts about food looking like slop. However, Amberly was pleased to see that her mean mom message on the group elicited more support than it did backlash and those crockstars who were getting too big for their britches have either left the group or behaved themselves. 
Out of curiosity, I did take a look at Crock Pot Heaven and it's pretty much just people posting photos of their stews, soups, and pot roasts. I'm actually truly interested in seeing how pretty these Crock Pot meals can get because everybody's really offended by having their meals judged by appearance, which, like, it's f*ckin chili you know? How pretty can you make ground up meat and beans look? Seems like we should all get a grip here but I'm not a crockstar so what do I know. Reading about this drama did make me realize that I haven't used my slow cooker (not a Crock Pot because again, not a crockstar) in a very long time though so I may just continue scrolling through this Facebook group for recipe ideas and call it a day.