October 29th
Issue 33.4
Good morning!
Welcome to Issue 33.4 of Digestable, your daily mouthful of real things happening in the world, minus alarmist pandemic news.
I'm all ears for your feedback, or if you're already a fan, share this email with your friends. If you're not yet on the list, click below to sign up.
Today's news, fermented:
content warning: discussion of police violence
The murder of Walter Wallace in Philadelphia has shaken the city. Elected officials and commissioners have all 'made remarks;' Joe Biden and Kamala Harris released a pretty pathetic statement.
Black disabled people are over-medicated and treated as though they are inherently dangerous. Walter Wallace was in crisis; he should have received care.
You can donate to bail funds in Philly, which are working to free protestors and people who are unable to pay bail, here and here.
There's much else going on, and not sufficient time to discuss. Here's some things to look out for today:
Here are some musk oxen, which make it through long cold nights and dark days (something I am already dreading).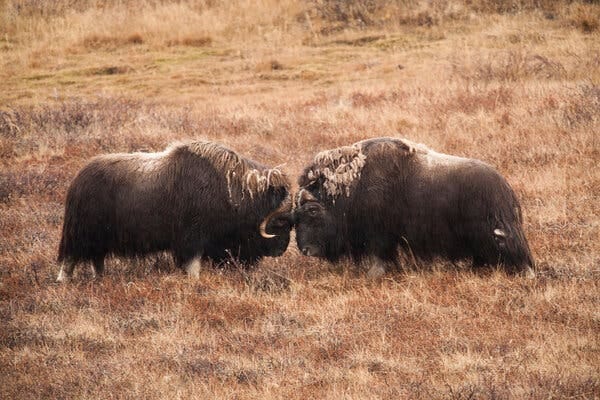 (via)
*Hot Goss*
Brought to you by the superb Latifah Azlan.
Well, it's over. Brad Pitt and his 27-year-old potentially-most-probably-in-an-open-marriage girlfriend Nicole Poturalski/Mary are donezo.
It's been a long while since we've checked in on Brad and Nico. After an auspicious rollout, things quickly turned south for Brad when news broke that Nicole has been married to a 60-something year-old restaurateur for a while and all this while; thus, cutting their relationship much shorter than it would have been otherwise. But we expected this right? When those German tabloids published the first stories on Nicole, Brad promptly banished her from their French villa getaway and since then, has downplayed their connection to the point of keeping mum about it.
Like Icarus, Brad flew a little too close to the sun of PR relationships in Hollywoodlandia and got burnt in the most spectacular way. I'd feel bad about it but what's there to feel bad about? At 56-years-old, Brad should have known better than to play this game. Or at least, consult the professionals. As you can see, Shawn Mendes and Camila Cabello are "still going strong" despite the fact that the entire world knows this relationship is a sham. Yet, Shawn is out here giving interviews about how blissful it's been to quarantine with his fake girlfriend and we're all just listening and nodding along politely like he's senile Uncle Phil talking about his days of service in Japan during World War II.
Yup, definitely a ///real/// ///relationship/// right there.
Anyway, William Bradley Pitt. I'm addressing you directly by your government name because you need to listen. Enough with the games. Neri Oxman, Sat-Hari Khalsa, Alia Shawkat, now Nicole... you don't need to rollout these relationships like these younger Hollywood types do and try to create all this buzz around your love life when nobody really cares. Are you not embarazzed? This is really embarazzing. Just sit quietly at home, hook up with whomstve-ever you want or need to without turning it into a PR spectacle, and focus on your upcoming custody trials. I know you don't have the best or even a relationship with (some of) your children right now but maybe this is why you need to do some self-reflection, some contemplation... some of the work if you will, into understanding why that is and how to rectify that, if you want to. I'm just saying there are bigger things at hand than trying to prove over and over again that you can still pull beautiful women after Angelina Jolie. Let's be real, it's all downhill from Angelina freakin' Jolie, you know? You don't need to one up yourself there, bud. We understand.
And seriously, get in touch with your buddy Leonardo DiCaprio's people about giving these 20-something models NDAs or whatever when you decide to date another one again in the future. Whatever Leo's process is, get him on the phone to give you a quick tutorial because if this Nicole-type of situation is going to happen again in the future, you need it. I am just looking out for you and you're not even my favorite of the Hollywood leading men. You're welcome.