October 30th
Issue 33.5
Good morning!
Welcome to Issue 33.5 of Digestable, your daily mouthful of real things happening in the world, minus alarmist pandemic news.
I'm all ears for your feedback, or if you're already a fan, share this email with your friends. If you're not yet on the list, click below to sign up.
Today's news, fermented:
Friday!!!
Your weekend homework: be really nice to yourself, things are gonna get wild next week. Check in with the people you're gonna look out for. Eat a tasty meal. Read this article about Amy Coney Barrett's connections to Big Oil.
Go watch these octopus videos, if nothing else.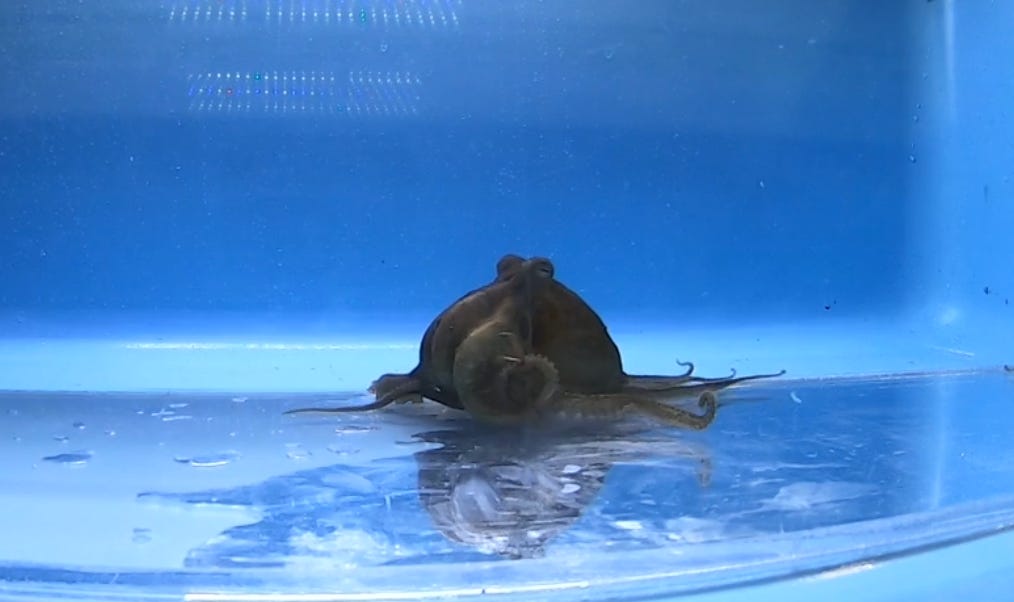 (via)
Caro's Advice Corner
Back next week!
DJ M0RO's low-key Music Show
After taking an unexpected week off from my very serious content here in this column, I'm back to provide you with an album for the weekend. I'm gearing up by wrapping myself in three warm blankets and finishing the second half of my workday in bed while Simone (sweet kitten) sleeps propped on my leg.
In this very strategic position I am listening to recent release from Raye Zaragoza called Woman in Color and it's absolutely magnificent. Every song is a poetic narrative making meaning of her identity and connecting to the world. The beauty in her voice illuminates the words, and lends power to the relatable topics covered.
So far Fight Like a Girl is coming through as a favorite, as is They Say, which perfectly captures the very present and very ancient problem of appropriation of folk music. The only part of in person music I don't miss is "forty dollar tickets and fifteen dollar beer." And on Red I am humbled and speechless.
Shout out to the movie Gather - which you should also put on your winter watch list - for featuring Raye and introducing me to this total gem. Her music pairs so well with the weaving of stories of healthy Indigenous food systems past, present and future.
*Hot Goss*
Brought to you by the superb Latifah Azlan.
I woke up today to a gentle downpour of snow outside. The first snow of the season! This is my favorite time of year because coming from the tropics, snow will always be a novelty to me, despite the fact that I've lived in Massachusetts for almost five years now. So to mark this occasion, I've decided to drop some ~*Hot Goss*~ that is equally wholesome and heartwarming so that we can all go into this weekend feeling less stressed about the week to come.
Harry Styles, formerly of One Direction fame and now a star in his own right, trended all night on Twitter yesterday when news of his unexpected excursion made headlines.
Now, regardless of how you feel about One Direction, you've got to admit that Harry has a certain je ne sais quoi to his celebrity that makes him extremely endearing to people who don't even follow him closely. When I first saw this tweet, I felt envious for Theodora and wished for the day Harry Styles would have his car break down in front of my house, come into my apartment, and feed me fish for the night. No, not feed my pet fish. I literally want Harry mf-in Styles to scoop grilled salmon into my mouth while we wait for AAA to arrive.
Anyway, with the snow picking up, there's some possibility for this scenario to happen were it not for the fact that Harry lives in the UK and I don't. But a girl can dream, right? And there won't be fish to feed me with but I am making a tomato and cheese tortellini soup tonight to mark this first snow, which is just as delicious and as sensual of a meal to feed a superfan with so I'm prepared for the possibility. Happy weekend folks! I'll see you again on Monday.