October 9th
Issue 30.5
Good morning!
Welcome to Issue 30.5 of Digestable, your daily mouthful of real things happening in the world, minus alarmist pandemic news.
I'm all ears for your feedback, or if you're already a fan, share this email with your friends. If you're not yet on the list, click below to sign up.
Today's news, fermented:
Wowie wow! This is the 150th issue of Digestable. As we are continuously tossed across the flatness of linear time, it feels important to pause and acknowledge.
It's Friday, so here are a few lil gifts to kick off your weekend, and then over to our contributors.
Firstly, this minute made my day yesterday—it's a non-partisan campaign ad calling out Big Oil for causing the climate crisis in one of the most impactful and cringey ways I've experienced.
Around this time last year, I and some other brave folks did our best to infiltrate a reception of oil and gas CEOs with a plaque congratulating them for knowing all along about the impacts of extracting fossil fuels, so that video really got me.
Also on the list of my favorite things (after using satire to dismantle fossil capitalism) are octopi. Here's a piece about them, why it's best to take octopi (and World Octopus Day) seriously, and of course, an octopus for your viewing pleasure. Happy weekend.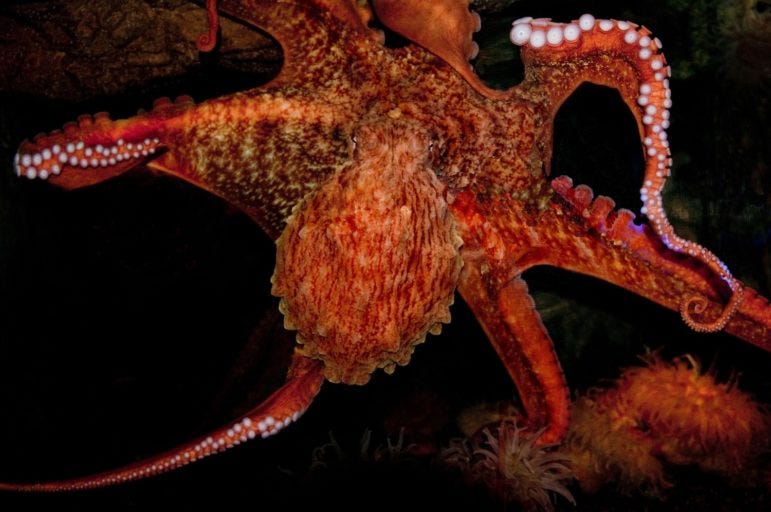 (via)
Caro's Advice Corner
Back next week!
DJ M0RO's low-key Music Show
The days are growing a bit darker, and where I live we finally had a break in the drought, which is a relief for the farmers bringing in the harvest. Here are some songs to connect the work of moving inward and maximizing our outdoors-but-make-it-comfortable time.
I have to start with a circle back to one of the things that helped me start writing this column in the first place, adrianne lenker of Big Thief. Later this month you can listen to her solo albums, songs and instrumentals, and you can preview a listen to anything accompanied by nature bathing visuals because obviously. And just released for our early listening/nature healing pleasure is dragon eyes.

"I'm grateful that this music has come into existence," lenker said. "These songs have helped me heal. I hope that at least in some small way this music can be a friend to you." Preorder the upcoming albums here and savor them as the air turns crisp. 
And, if you need a song that perfectly describes my mood (it *is* the Jewish holiday when you literally beg god for rain after all) it's the new Sam [-voice-of-an-angel-] Amidon release Light Rain Blues.

While I'm stuck in this genre we might as well revisit Simple Gifts, with Mountain Man reminding us this song is actually such a beautiful round and putting my elementary school choir rendition to shame. Honestly Mountain Man could sing me the dictionary, I'd swoon.
*Hot Goss*
Brought to you by the superb Latifah Azlan.
There have been few (if any) bright spots to this year. Like, I can count on one hand, maybe half of the other, of all the bright spots I've had in my experience of 2020. I've said it so many times in this column and only because it's true—what a struggle it's been! But if these excerpts of Mariah Carey's newly released memoir is anything to go by, we might end on a high note after all.
The Meaning of Mariah Carey was released in late September and since then, Mariah has been making the virtual rounds to promote her book. It has received quite rave reviews so far and apparently the memoir is quite easy to read, extremely enjoyable, and funny—all of the qualities we would expect from a celebrity memoir. Mariah Carey herself is quite the character and the interviews she's been doing to promote her book has only made me want to read it more. Some highlights: 
On Jennifer Lopez: Mariah famous said "I don't know her", when asked almost two decades ago about Jennifer Lopez… Speaking of Lopez, her name is notably not in Carey's memoir. Instead, when recalling the hoo-hah that led to their fallout, when a sample Carey had planned to use on her single, Loverboy, appeared on Lopez's I'm Real, Carey refers to her as a "female entertainer (whom I don't know)." So is her official position still that she has never heard of Lopez? There is a pause, then stifled laughter. "Oh my gosh, can you hear that music in the background? It's Sam Cooke! It's fantastic!" she giggles. Not only has Carey not heard of Lopez, she cannot even hear questions about her, it seems.
She doesn't even mention James Packer in the book: A lot of attention has focused on her confirmation that she did, as long rumoured, have a fling with the former baseball star Derek Jeter ("I'm not being shady, but he had on pointy shoes," she recalls a little shadily of their first meeting.) But there is no mention of other boyfriends, such as her former fiancé, the Australian billionaire James Packer. "If it was a relationship that mattered, it's in the book. If not, it didn't occur," she says. But you were engaged to Packer, I say. "We didn't have a physical relationship, to be honest with you," she says. And that is that.
Whether she considers herself high-maintenance: "You know what? I don't give a sh-t. I f–king am high-maintenance because I deserve to be at this point. That may sound arrogant, but I hope you frame it within the context of coming from nothing. If I can't be high-maintenance after working my ass off my entire life, oh, I'm sorry – I didn't realise we all had to be low-maintenance. Hell, no! I was always high-maintenance, it's just I didn't have anyone to do the maintenance when I was growing up!" 
Mariah is such an icon and a legend in her own right. I want to have her will to simply erase the existence of certain people from my life because her dedication to not acknowledging Jennifer Lopez in any way, shape, or form in every single instance JLo has been brought up is admirable! She's honestly hysterical if a little up in the clouds, but she deserves it. Her book also dives into her former marriage withTommy Mottola, who was controlling and abusive towards her not only as her husband, but also as the executive of her record label at the time.  We're quickly approaching peak Mariah Carey season too so I think this would be the perfect fun read as we enter the holiday season. I might check it out of my library if they have copies.
And that wraps up ~*Hot Goss*~ for this week, friends! I'll be back next week with more stories to share. Take care :)