September 11th
Issue 26.5
Good morning!
Welcome to Issue 26.5 of Digestable, your daily mouthful of real things happening in the world, minus alarmist pandemic news.
I'm all ears for your feedback, or if you're already a fan, share this email with your friends. If you're not yet on the list, click below to sign up.
Today's news, fermented:
Wowie, we made it! First and foremost, happy belated birthday to dear Caro!
This weekend's reading is by Ed Yong, who has been a tremendous pandemic synthesizer and storyteller at The Atlantic. His most recent piece is America Is Trapped in a Pandemic Spiral, and it is in fact pretty inspiring. He goes through our missteps, and each one is pretty unsurprising—which filled me with hope because it means that we might already have better strategies for dealing with crisis than we have yet employed.
It's also impossible for me, like many New Yorkers, to not pause today. To consider that seemingly unbreakable blue sky that hung over the city on the morning of September 11th, nineteen years ago. To consider all that has been set in motion and ground to a halt since then.
For your moment of pause, here's Manhattan, circa 1609.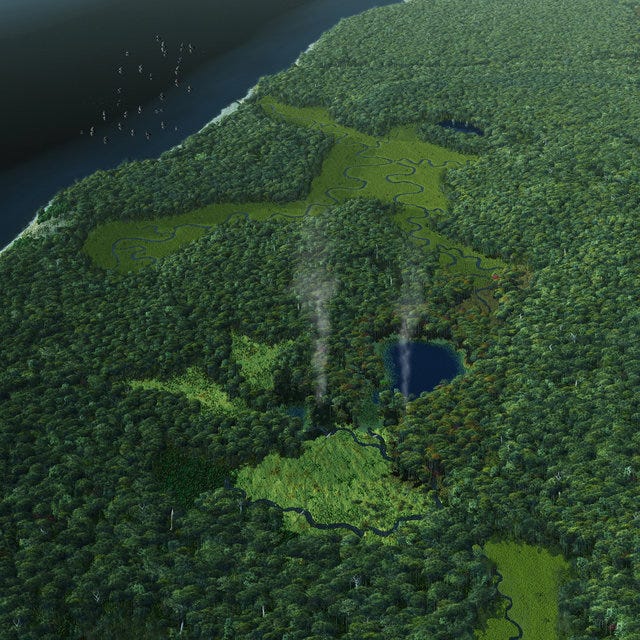 (via)
Caro's Advice Corner
Dear Caro,
I have an urge to make a spontaneous pandemic purchase, but I want it to end up being useful a month from now, any suggestions?
Truly yours,
Pent up purchaser
Dear Pent up purchaser,
I will admit, I have made many a quarantine purchase.  In March I panic bought 5 new plants, with a vision of making my room into a green oasis.  In April I fell in love with a makeup palette I did not need, but felt deep in my heart that I needed to own (ok but if you saw these colors, you would fall in love too).  In May I decided I needed to spruce up my space with some art, so I purchased art from the lovely Justina Blakeney (you can browse the pieces on her page here).  So yes, I have fallen into the spontaneous pandemic purchase trap.  I hear you, Pent up purchaser, you want to be thoughtful about this purchase, and I think you're taking the right approach.  In the past couple of months I have attempted to be more mindful about what I buy and where I buy it from.  Here is a list of potentially, useful, pandemic approved purchases:
I could go on and on, Pent up purchaser, but I hope this is a good place for you to start.
Encouragingly yours,
Caro
DJ M0RO's low-key Music Show
Any else just so disheartened with our corporate options for listening to music, while simultaneously feeling overwhelmingly privileged to live in a time when this much music is available with so little effort? And maybe also super upset at how our modern standard for music consumption directly devalues the people that make it (and make a living off of it)? In the land of following-up-on-promises-i-made, I spent the last week testing out the platform resonate, a cooperative music streaming service. It felt really good to be participating in a platform that pays artists in transparent terms for their work, and gives them creative control over distribution. The idea is that while you're "discovering" music, you pay a small fee per play, and as you continue to return to music you like, your fee increases until eventually, you've paid to own the music. Pretty radical in the rapidly shifting media landscape that is music streaming. Especially when that landscape has been shifting ever more eco-apocalyptic (art valued as profit only, legacy and ownership entrenched in structural racism, noise pollution from music being overplayed and underappreciated...). What would it take to consume music more in line with my values? Blessed and cursed by the availability of options, able to listen to everything at anytime, but make it cooperative and artist-centered. If you try resonate, please let me know what you think.
Anyway rant over here's some of my favorite things that i have been listening to this week, mostly probably on streaming platforms that i strongly disagree on morals with. 
Off of super recent album Things I Never Said, the song Heartbeat by Oceanator is what i'm just absolutely living for, it's teenage angst and yummy vocals. Plus it makes the best dance-alone-in-your-underwear soundtrack if you need to happy-rage. Don't skip the video for this one, more self-love anthems and playful goofiness pleeease.
Afel Bocoum, who started his career as a part of Ali Farka Touré's band, has been making solo albums for over 20 years now and Lindé his latest is so dreamy. Listen to my favorite tracks Dakamana and best safety demo Avion, as well as Penda Djiga which also has a dreamy video. The album is named after a wilderness near Bocoum's home in Mali, and was also recorded in Bamako. It has so many celebrated musicians on it and blends more styles than I'm qualified to parse out, but you don't need to be a musical expert to hear the genius in the ebbs and flows of the current through the sound. 
Lindé is also an album with a message – in the face of, well, everything... Afel Bocoum urges hope, solidarity and unity. "We have to meet each other, talk to each other, look each other in the eye and tell the truth. If we're not united, I can see no solution. Our social security is music. That's all we've got left. People love music, so we have to make use of that fact." 
**featured pod: Spend some time with this episode of NPR's Code Switch, an exploration of friendship and race that somehow also made me laugh and introduced me to the idea of racial melancholia, which feels like the vocab term for the moment. It's a sadness that never goes away like grief, just ever-present mourning, directly stemming from being not-white in a racist society.
*Hot Goss*
Back on Monday from the superb Latifah Azlan.