September 1st
Issue 25.2
Good morning!
Welcome to Issue 25.2 of Digestable, your daily mouthful of real things happening in the world, minus alarmist pandemic news.
I'm all ears for your feedback, or if you're already a fan, share this email with your friends. If you're not yet on the list, click below to sign up.
Today's news, fermented:
New month, same problems.
After Obama, we got Trump. Americans briefly, and very specifically, stood up for a Black person, and then came the whitelash.
Elie Mystal, phenomenal and sassy columnist at the Nation, just published The Inevitable Whitelash Against Racial Justice Has Started.
It's about what you think it's about; Mystal says that this whitelash is so predictable that he predicted it back in June, in another article (which may also look familiar, as I referenced it here).
This whitelash is connected to something Mystal names directly in the earlier article. It's that,
"Already, the infrastructure is in place for this country to ignore police brutality the moment everybody stops shouting about it."
The way I read this is: our country is built in such a way that when white people stop paying attention to police brutality, stories of this violence and calls for accountability vanish from the public eye. Another way I have heard this explained is 'white people leaving.'
Hello, white people reading this. Are you leaving? Have you left? Now that there is no daily protest, now that Black organizers aren't working overtime to develop 'weeks of action' and social media toolkits for us white folks to say we've done our due diligence every day, what are you up to?
I ask as an invitation, not an admonition—it's a real question. White American life has been specifically crafted to ignore and erase the slow and fast violence wrought on Black people in this country (as well as Indigenous people and other folks of color). So reorganizing one's white person life to actually turn and face and fight for Black liberation is a project.
If you read one article from beginning to end today, read what Mystal has to say about whitelash. You'll encounter things like:
Blaming victims of police brutality

The ongoing urgency of keeping Black families and Black children safe

White people preferring that Black people die the way George Floyd died

Connecting white supremacist murderers with the Democratic party platform
A friendly reminder that is a hell of a lot easier to learn about racism than to live it.
For a little bit of hope, and some context on the powerhouse movement for Black liberation that has taken the nation (and the world) by storm these last few months, go read How a New Wave of Black Activists Changed the Conversation.
There's discussion of the development of Black Lives Matter, some of the decentralized organizing that's occurred under that banner, and the Movement for Black Lives, which recently led the Juneteenth mass-mobilization and hosted the Black National Convention.
Although the phrase Black Lives Matter is most commonly associated with protests against police brutality, there is lots of nuance under that umbrella.
"Today the Movement for Black Lives contains 150 Black-led organizations that are working to host conversations about housing insecurity, voter suppression and sexual violence and to coordinate large-scale events like worker strikes. They are also pushing a bill to transform the criminal-justice system called the Breathe Act, which largely focuses on redirecting federal funds from jails and other forms of detention and policing to community safety."
In other words, this coalition is doing the work to transform American economies and cultures to value and invest in Black life, safety, and joy.
The members of the Black Visions Collective, which received an influx of attention after George Floyd's murder and raised a staggering $30 million, are featured prominently in the article. Their methods echo those of the Combahee River Collective, whose statement is required reading for all people who are not…wealthy or CEOs, I'd say.
It's impossible to sum the vastness of this work here; read the article, check out Black Visions Collective's website. Read things, talk to everyone you know about them, organize yourself, go follow Black leadership. There are plenty of alternatives to leaving this moment and this movement.
Here's a group of Black activists in Minneapolis at the Say Their Names Cemetery, where there are gravestones to represent 100 lost Black lives.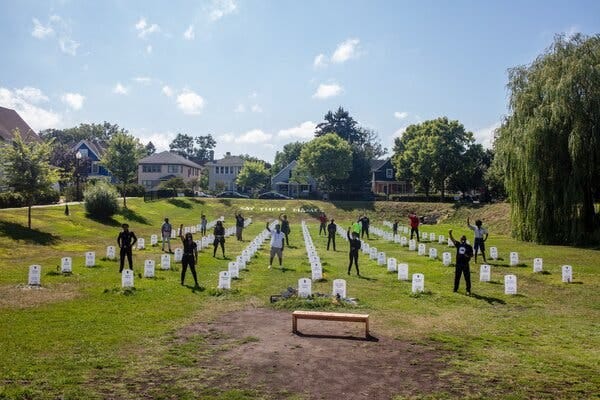 (via)
*Hot Goss*
Brought to you by the superb Latifah Azlan.
September 1st. Already?! Already.
Remember when there was fear of a potential war with Iran all the way back in January? Remember when Australia burned and burned in February? And then of course, the pandemic. I don't need to go into it because you know, but damn, the pandemic. I think I've mentioned this once or twice already on this column, but really so much has happened this year while nothing happened at all. And now we're about to potentially welcome another disaster: Adele's problematic, acting up, acting out, acting stupid era.
Adele has been in the news a lot this year for her weight loss and changed appearance. Then, over the weekend, she posted a photo of herself attending a get together on what would have been the weekend of the Notting Hill Carnival celebrations in London.
Happy what would be Notting Hill Carnival my beloved London 🇬🇧🇯🇲
As you can see, there were reasons this photo caused so much chatter. I think overall the consensus is that Jamaican flag bikini top probably is fine but the bantu knot hairstyle Adele is sporting pushed this over the line of cultural appreciation to cultural appropriation. To be fair to Adele, lots of people are defending her too and saying that it was appropriate for the event she was at. Obviously I am neither Black nor West Indian/Caribbean so my opinion on this carries no weight, but it really isn't a good look.
Regardless of your take on the photo, I think we've all collectively lost the bandwidth to react and respond to anymore things this year. I cannot deal with Adele having her Miley Cyrus moment right now. I just want to go into the last quarter of 2020 with some peace. Adele, babe, I am begging you to please save this era of your career for another year or two when we can all fully appreciate the mess in all its glory. And when the time comes, I only respectfully ask for a duet with you and our White Patois King, Chet Haze. It's the only way for me to take this era seriously from you as an artistÉ.