September 21st
Issue 28.1
Good morning!
Welcome to Issue 28.1 of Digestable, your daily mouthful of real things happening in the world, minus alarmist pandemic news.
I'm all ears for your feedback, or if you're already a fan, share this email with your friends. If you're not yet on the list, click below to sign up.
Today's news, fermented:
Ohh wow! This has been sitting in editing mode on my computer all day. Here it is!
It's the 21st day of September, which means it's time to listen to this song. And today, Gabriel, dear author of the Second Look and one of my closest confidants, is starting graduate school!
This weekend, we saw the beginning of a new year (wassup 5781) and the end of an era, which some call Ruth Bader Ginsberg's life, and others call '(at least the illusion of a) democracy.' We'll see about that one. Today is a great day to make sure you have a plan to vote, and do some other election-protecting things.
Instead of an animal, here's a picture of a plaque some of us did our best to deliver to oil and gas CEOs on this day last year.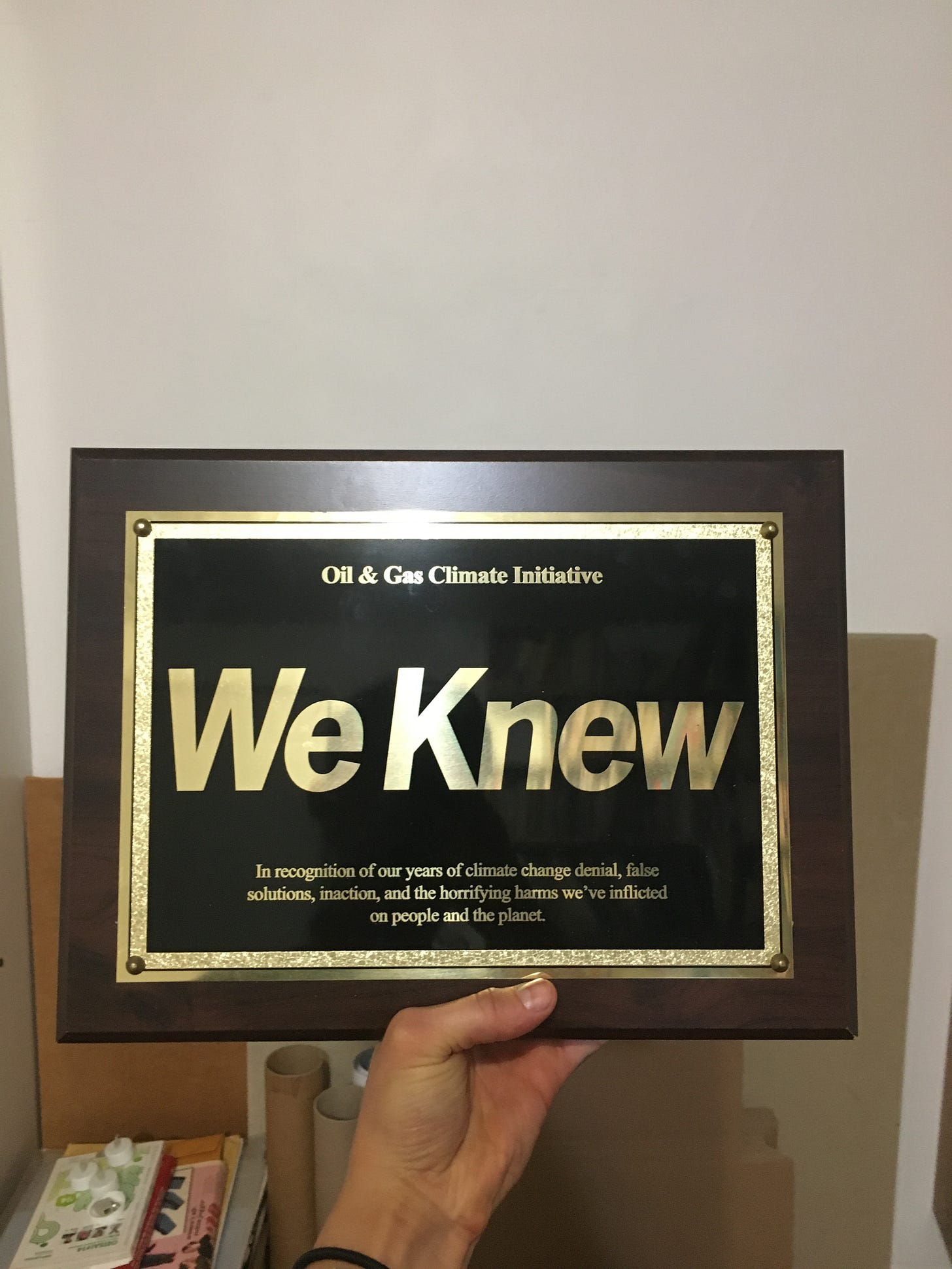 The Second Look
Half-baked cultural criticism from Gabriel Coleman.
As the smoke from unprecedented wildfires pollutes skies in East coast cities, and hurricane season surges past the alphabet into Greek letters despite only being half over, my mind turns as it often does, to Grimes. I know, the Canadian musician's much anticipated album Miss Anthropocene came out back in February (feels so much longer ago than that) to generally positive reviews. But I haven't seen anyone really discuss what it means for Claire Boucher to sell an album as being about climate change when in reality it has virtually nothing to do with the topic. Even Grist was like, "bless her little heart – using climate change as a metaphor for relationships and fame" but like is this okay?  People die every day – have been dying and have been displaced by disasters attributed to climate change for well over a decade, and Grimes just comes in and uses the climate catastrophe as a METAPHOR to discuss issues with her marriage to a fake-environmentalist billionaire tycoon?  AND she's got the nerve to go ahead and green light an ad campaign that puts "GLOBAL WARMING IS GOOD" on billboards across North America for the shock factor??! I'm sorry but no.
Okay. 
Taking a breath. 
I think a lot about what constitutes good environmental art. I'm doing this whole going back to school thing because I deeply believe that storytelling has a key role to play in inspiring and educating folks to stop and reverse this apocalypse-in-progress, make the revolution irresistible and all that.  I've made the case that using climate change as loose conceptual packaging for a work, as in the case of Miss Anthropocene, is not good environmental art making, so what is?  
Well… 
I'm not quite sure 
and also 
it's complicated 
so I'm going to split this into two parts. This week I'll take on some narrative pitfalls environmental art often falls into, and in next week's column I'll discuss some different possibilities for environmental art making and stretch the idea of what environmental art can be. Sound good? Let's roll.
Good environmental art thinks outside of conventional narratives. There are certain stories we grow up with that teach us how to think about the environment, the Mother Nature Allegory, the Extraction Parable, and the I Love the Earth piece. Artists gravitate towards these stories because they are the narrative air we breathe, they're in advertising, in conversations, and in our heads. It's easy for an artist to tell a story they already know and the story's familiarity means the message is immediately clear to the audience. The success these narratives have in making change however, is not so clear.  
The Mother Nature Allegory personifies the Earth or nature, usually as a woman, and humanity as their children or husband romantic partner. Many of us grew up with Shel Silverstein's book The Giving Tree, and we can see contemporary portrayals in Darren Aronofsky's film mother! and songs like Imogen Heap's Earth and Björk's Sacrifice:
"With clairvoyance / she knew what you needed / and she gave it to you / now her desires are repressed"
The Extractive Parable tells of a person or group of people mining or otherwise extracting resources from a fragile or volatile landscape.  The characters ignore warnings not to take more than they give and their greed or ignorance causes them to suffer greatly.  Dr. Seuss's The Lorax is a good example, as is Fire Coming Out of The Monkey's Head from Gorillaz's Demon Days album. Another children's book, Milo and the Magical Stones, by Michael Pfister, puts an interesting twist on the parable by adding a second positive ending, one where sustainable extraction is implemented and the characters in the story are better off for it.
There are some interesting creative directions people can take with the previous two categories, but the I Love the Earth lacks even that possibility.  The I Love the Earth piece isn't usually even narrative, it's just a declaration of (conditional) love for (certain parts of) the planet or land the artist inhabits and requires virtually no mental effort to write or to listen to. Woodie Guthrie's This Land is Your Land – originally written as a retort to God Bless America – is a good example. It's a nice sentiment if you don't think about the colonial legacy the lyrics uphold but really, what has the song done, and more importantly does the song make you think? Charity singles like We Are The World and Michael Jackson's Earth Song also fall into this category but the peak of this unoriginality is Lil Dicky's star studded song Earth. The song features lyrics like "Hi, I'm a baboon / I'm like a man, just less advanced and my anus is huge / Hey, I'm a zebra / No one knows what I do, but I look pretty cool / Am I white or black?" and the inspired chorus "We love the Earth, it is our planet / we love the Earth, it is our home."  Oh and profits from the song and related merch go "towards helping the earth" according to Dicky's website.  That sounds very honorable and totally not like a scam.
Using an established form for environmental works doesn't have to be cliché, and there are some very interesting and creative twists people have put on these forms. My issue with the method is my same issue with a lot of the tactics mainstream environmental organizations keep using – if they worked, we wouldn't be watching this country (/world) burn. If evoking Mother Nature was all it took to stop oil companies from drilling and governments from permitting, we wouldn't be in this situation so why not try something different? More on that next week!
*Hot Goss*
Brought to you by the superb Latifah Azlan.
The 2020 Emmy Awards were held virtually last night, after being postponed several months due to the 'rona. I'll be the first to admit that I love Awards Show season and was quite sad that the festivities had to be cancelled this year. I mostly love watching these shows for the red carpet coverage -- beautiful gowns, gorgeous makeup, expensive jewels, they all speak to me because I'm consumerist scum. So today's ~*Hot Goss*~ will feature some of the best looks from last night's Emmy Awards (full list of all winners here). The dress code was "come as you are, but make an effort" and I am pleased to report that the glitz and glam did not die down one bit just because celebrities were watching and participating from their homes.
My best dressed for the night goes to Regina King, in a s t u n n i n g cobalt blue Schiaparelli gown with a dramatic puffed shoulder and golden metal appliques all over that made it look like she sculpted and draped the night sky over her body. Beautiful! Regina also won an Emmy for her role in HBO's Watchmen, changing into a t-shirt bearing the face of Breonna Taylor during her acceptance speech in which she called for action.
Next up, it wouldn't be a red carpet without Zendaya, who delivered yet again in a Christopher John Rogers frock with a tulip-like shaped skirt. My favorite look she wore last night, however, was the custom Armani gown she wore during her acceptance speech for winning Outstanding Lead Actress in a Series for her work on HBO's Euphoria. And at 24 years old, Zendaya is the youngest person ever to take home the statue. Amazing!
Billy Porter showed up in a custom white Ashi Couture suit with a flowing cape-train that made him look regal and resplendent as usual. Billy did not win for the category he was nominated in but oh, how I would kill to see the presentation of this suit in action on an actual televised red carpet! 

Annie Murphy of Schitt's Creek fame was also a favorite of mine in her sleek, black Valentino suit complete with matching mask. Annie won her first Emmy for Outstanding Supporting Actress in a Comedy Series on a night where Schitt's Creekswept the floor with awards! Well-deserved too -- if you haven't watched the show yet, what are you doing?! Get on with it!

And finally, Paul Mescal in a simple and chic Louis Vuitton suit -- for lounging around on the stairs at his house on the night of his first Emmy Awards ever! Paul was nominated for Outstanding Lead Actor for his role as Connell on Normal People but lost out to Mark Ruffalo instead. This suit though? Total win.