September 25th
Issue 28.5
Good morning!
Welcome to Issue 28.5 of Digestable, your daily mouthful of real things happening in the world, minus alarmist pandemic news.
I'm all ears for your feedback, or if you're already a fan, share this email with your friends. If you're not yet on the list, click below to sign up.
Today's news, fermented:
I feel like I say this every Friday, but what a week.
The only news I'll share is that the world still needs us at our most ready to fight for people, for democracy, for justice. I'm gonna take a little news detox this weekend, but will also be doing some text banking to get folks registered for the upcoming you know what.
In times of crisis, often organizing—doing something to address the crisis—is the best therapy. Maybe this weekend is a nice time to find your thing that does that for you.
Here's a pretty blue tarantula.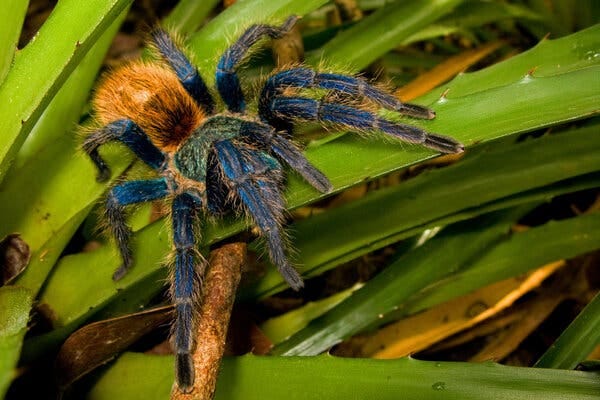 (via)
Caro's Advice Corner
Dear Caro,
How do I start being more emotionally open not only with the people around me but also myself?
Love,
Emotionally REKT
Dear Emotionally REKT,
Emotions are not easy, and they are not everyone's forte.  So I invite you to first be kind to yourself.  We are often socialized to think of emotions as a burden, or as something negative that we need to hide.  But fear not, you came to the right girl for advice, as my dad used to say when I was younger (ok he still says this to me now), crying is my favorite sport.  If I'm angry, I cry...if I'm sad, I cry...if I'm happy...you guessed it, I cry.  I unfortunately cannot hide my emotions, as they are automatic and cannot be stopped.  My journey to accepting my emotions was inevitable, but there was plenty of pushback along the way.  Don't ever let anyone tell you that your emotions are a sign of weakness, because they are the opposite, they are your superpower; they are one of the most precisely human things about you.  

Emotionally REKT, the first step here is accepting your own emotions.  I invite you to try an exercise here: next time you feel an emotion well up in your system, rather than ignoring or finding a distraction, engage in an inner dialogue with yourself.  I know this sounds silly, but treat your emotions and yourself as if you were a child.  How would you talk to a child that is feeling distraught, frustrated, or angry?  You would of courses respond with patience, kindness and compassion.  So start there, be patient, reinforce yourself with positive affirmations.  Validate your feelings, being human is hard, and the more we let our emotions well up inside us, the harder it can get.  Release those bad babies out, cry, scream into your pillow, embrace your emotional state of being, it's the only way to come to acceptance.  Throw on a sad song, an angry song, a movie that makes you bawl your eyes out.  And if you need it, here's some scientific proof that crying is actually really good and healthy for you for you (I'm looking at all the people that made fun of me for crying when I was younger…I'm a healthy, badass, emotional goddess, ok!?).

As for emotional vulnerability with others, well, that comes with time.  The best place to start is with yourself.  Once you are able to accept your emotions and foster a kind relationship with yourself and those emotions, it gets easier to express your emotions to others, I promise.  Shed that guilt and shame, and get out there and feel your feelings!  Hell, I'll cry with ya!  It's my life and I'll cry if I want to.
(Emo)tionally yours,
Caro

DJ M0RO's low-key Music Show
This week on your playlist:
ALICIA. That is all.

Okay that's not all but like, it's so good, it might be playing over and over again anyway. What a legend, an incredible artist, modeling full self-awareness, leaning into her true sound. Very grateful to be getting new music from her this year <3 Listen to the whole damn album and play it extra loud so your neighbors can dance along with you.

Tash Sultana also has new music out and is about "finding solace in nature and realizing the depth of your relationship when you find your one." But really, you gotta listen to this with the video because wow the expressions on those dancers faces is extraordinary. 

Featured Pod this week is Unspooled, which I admit I haven't listened to a lot of, but stumbled upon because i think Paul Scheer is hilarious and i love the movie Mean Girls (obvi). It has some very nostalgic and poignant reviews of the classic film. If you grew up in the 90s i highly recommend staying for the reflection on how the movie has aged, how it fits into internet culture, and what about it resonated with so many.
*Hot Goss*
Brought to you by the superb Latifah Azlan.
Here's some ~*Hot Goss*~ that completely flew under my radar earlier this year, when it first happened, but has now completely captured my interest because of how nuts the story seems to be. So back in July, Demi Lovatoannounced her engagement to Max Elrich, whom she had been dating for a little under four months at that point. Given the timeline, people were slightly side eyeing this personal development. I've never been invested in Demi Lovato as a celebrity so it was just another engagement announcement to me until today, when stories broke that the couple have split up and are apparently not even on good terms with each other.
Apparently, Demi's family members have all unfollowed Max on Instagram this week, while Max and Demi themselves haven't interacted with each other on the photo-sharing app for a while. All of these extremely scientific and meticulously observed clues are documented in this Page Six article that was published yesterday about how Demi and Max are on the brink of a break up. The best part of this story, however, is the pervasive belief or conspiracy theory (depending on where you land) that Demi broke things off after Max's thirsty tweets to Selena Gomez were uncovered. And this is where the story gets bonkers.
Now if you were a t(w)een in the mid-to-late 2010s, you'd be well aware of the fact that Demi Lovato and Selena Gomez have had quite the rocky friendship. The pair were best friends when they came up on the Disney Channel together and then had a falling out, but ultimately reconciled although never really quite became as close as they once were as young women in the business. Shortly after Demi announced her engagement to Max, some Selena Gomez fans and fan accounts on Twitter began uncovering some of Max's past tweets in which he tried desperately to gain Selena's attention on the platform and relentlessly thirsting after her, along with a couple other famous women of that generation. These significant archaeological finds naturally fueled speculation that Demi would end her relationship with who can only be described as a clout chasing fame-ho. Which, as you've read so far, is where we're at right now. And this is why I'll never shoot my shot with famous folks, even if I could. I just don't think I'm psychologically or emotionally ready to have stan accounts mine my social media accounts for all the tweets I've sent out into the world about wanting to ruin my life for Idris Elba. It's way too humiliating and I'd never live it down.
Now obviously, we have no way of knowing for sure if this is why the pair broke off their engagement. But honestly, the whole idea seemed ill-advised from the get go and Max really hasn't come off well at all in this scenario. The common sentiment since the news broke has been variations of "I'm glad she saw right through him" or "Demi dodged a bullet right there" which, given Demi's personal history, will probably be better for her in the long run. Now what I'd really like to see come out of this is a genre-crossing romcom-thriller about a creepy, fame-parched man somehow finding himself conning a celebrity into marrying him in order to get closer to her ex-best friend or whatever. Maybe at some point in the future when Demi can look back on this chapter of her life and laugh?