September 29th
Issue 29.2
Good morning!
Welcome to Issue 29.2 of Digestable, your daily mouthful of real things happening in the world, minus alarmist pandemic news.
I'm all ears for your feedback, or if you're already a fan, share this email with your friends. If you're not yet on the list, click below to sign up.
Today's news, fermented:
This morning, I remarked that Tuesday has been the hardest day to write. It's the delayed news whiplash of Monday plus the knowledge that there's still so much week ahead, yet we're already ankle deep.
The silver lining of Tr***'s tax reveal was a nice one, yesterday. By nice, I mean, unsurprising and disgusting, but a relief to have it all out in the open, and to have the affirmation we (didn't really) need that the president is in fact a national security threat.
But the implications are grand; that this one incredibly rich man is
1. committing tax fraud unlike anything we've seen in a hot second and
2. also deeply in debt
suggests that (surprise) the problems inherent in the system that allowed this to happen are not just broad but deep. In Trump's Tax Evasion Is an Indictment of American Plutocracy, Jeet Heer writes,
"As the old adage goes, the real scandal is usually what is legal. Trump might well have crossed legal lines in order to avoid taxes. He should certainly be investigated. But much of what he's done is standard operating procedure for the American rich and perfectly within the law. That's a problem that needs more than an election to fix."
But all we have right now is a debate, tonight at 9pm ET. Surely, Chris Wallace will ask about this tax scandal—which, I am not all that old, and I remember when this could have ended a presidential run. It's best not to reminisce. But climate change, one of the most important issues for voters, will not be on the agenda. Why is one of these topics fair game, while the other is not?
Yes, that is a rhetorical question. It seems that the new plan must be to hold out hope for the salty ponds on Mars and plastic-eating super-enzymes. Sounds pretty foolproof to me.
Yet another biological phenomenon to admire, along with not carelessly destroying the economy and the planet and the lives of your fellow species-beings, is extreme head-biting mating strategies of the southern alligator lizard.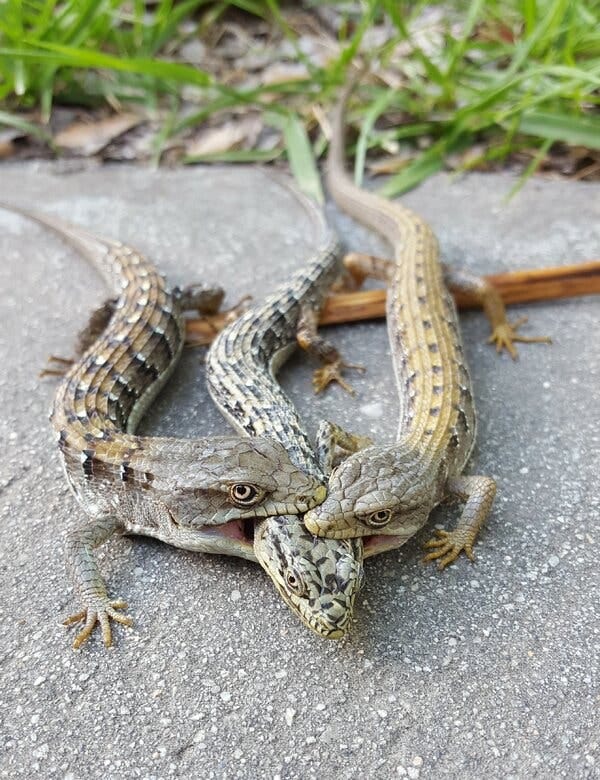 (via)
*Hot Goss*
Brought to you by the superb Latifah Azlan.
One of the most horrific pieces of ~*Hot Goss*~ that broke this year was of Megan Thee Stallion's shooting, which was perpetrated by singer Tory Lanez. I didn't report on it when it first happened but over the weekend, Tory was trending on Twitter for some of the statements he made about the incident and it was infuriating, to say the least. But let's back up a little bit and recount the story from the beginning so we're all aware of what happened just a few months ago.
Earlier this quarantine szn, Megan and Tory sparked rumors that they were dating as the pair had been spending a lot of time together in lockdown. The pair posted a couple of videos together on Instagram in May but things stayed quiet until mid-July, when news broke that Megan had been shot in some sort of incident involving Tory. The pair had been party-hopping around Los Angeles until very, very early in the morning when they got into a fight that culminated in the shooting. Details were scant when the story was first reported but there's video of Megan hobbling out of the SUV in which she was shot, hands against her head towards the police as though she was the culprit rather than the victim in the situation.
In the months since the shooting occurred, Megan has talked about the trauma she experienced in several Instagram Live videos. I think she took to the app to clear up some of the rumors that were flying around but also to advocate for herself after people started making fun of her for being shot. It was sickening all around and in these videos, you can tell that Megan was still quite emotional and affected by what happened. She also revealed that Tory shot her in both feet, for which she had to get surgery so that all the bullets could be taken out. Still, even after this horrific experience, Megan chose not to press charges or give Tory up to the police because she was worried of how he would be treated by the police. 
Which brings us to this past week, when Tory Lanez decided to share his "side" of the story that nobody asked for because there is no acceptable side when the story is you choosing to fire your gun in an enclosed SUV towards a woman and injuring her in the process. According to some new reporting by Complex, a source close to the situation alleges that Tory told Megan to "Dance, b*tch" before he shot her -- and then continued to text her as she was being wheeled into surgery to offer her hush money so that she would cover the story up. Tory's team claims this is false of course, but Tory himself is also speaking on the incident through his latest album "Daystar," which contains several songs in which Tory seems to insinuate that Megan is lying about what happened. 
I think we can all be in agreement that Tory is the absolute worst, right? And to think that the first thing Megan thought of when she was walking towards the police with traumatically injured feet was to protect Tory from himself being accosted and hurt (or worse) by law enforcement. And what did she get out of it? People mocking her online and her abuser capitalizing off the incident whilst launching a smear campaign against her. I told you it's infuriating! Megan's had such a phenomenal year too that it's such a shame this is part of her story of success. It honestly makes me ill.