September 3rd
Issue 25.4
Good morning!
Welcome to Issue 25.4 of Digestable, your daily mouthful of real things happening in the world, minus alarmist pandemic news.
I'm all ears for your feedback, or if you're already a fan, share this email with your friends. If you're not yet on the list, click below to sign up.
Today's news, fermented:
As on many days, I hinted yesterday at the necessity of resistance beyond the scope of protest. Syreeta McFadden published an article this morning that directly addresses the need for that scope.
McFadden's article, Where Does Black Lives Matter Go from Here? outlines the history of protests that led to the passage of the Voting Rights Act, as well as the protests that have shaped 2020.
Selma, and the national attention it drew, provided the final legal push to LBJ's administration, and yielded the passage of the Voting Rights Act. McFadden describes the violence and active sabotage protestors experienced during that march and others, which sounds eerily but unsurprisingly similar to today's swellings of whitelash.
But unlike in the 60s, there is truly no chance that the presidential administration will sign anything akin to the Voting Rights Act into law, much less the Breathe Act, a visionary piece of legislation developed by the Movement for Black Lives and championed by Reps. Rashida Tlaib and Ayanna Pressley.
Also unlike the Black Power organizations that drove the Civil Rights Movement, the Movement for Black Lives is not helmed by charismatic male leaders. Don't get me wrong; these men were phenomenal organizers, often deemed enemies of the state, and assassinated for that. But as McFadden says,
"Today, the Black Lives Matter movement is a decentralized, leaderful, interdependent network of organizations and individuals, channeling its resources toward building a society where Black people can flourish. Friday's march and convention presented a myriad of committed activists working twin threads of direct-action protests and longer-term plans to dramatize the urgency of this crisis. Rooted in Black feminist thought, the convention demonstrated the capaciousness of this movement and highlighted efforts from large and small communities nationwide…. Still, its holistic agenda—that all (cis/trans/queer/disabled) Black lives matter—is why the movement will last."
In other words, uniting around one powerful force (ahem, the American right?) is actually not as good a strategy as building up independent leaders across identities who come together towards a common goal.
While we're on decentralized leadership, I want to point your attention to an opinion piece published today, How Libraries Can Save the 2020 Election. Coincidentally, I said to a friend yesterday that 'libraries are the best thing about America' in fit of passion. Libraries are a tremendous wealth of free, decentralized information that is truly accessible to all people, like so few resources in this country. Hooray for libraries! Let's use them to save the election, shall we, and then keep organizing around the Breathe Act?
Here's a smiling turtle, brought back from extinction, which maybe will be a thing we can someday say about our democracy.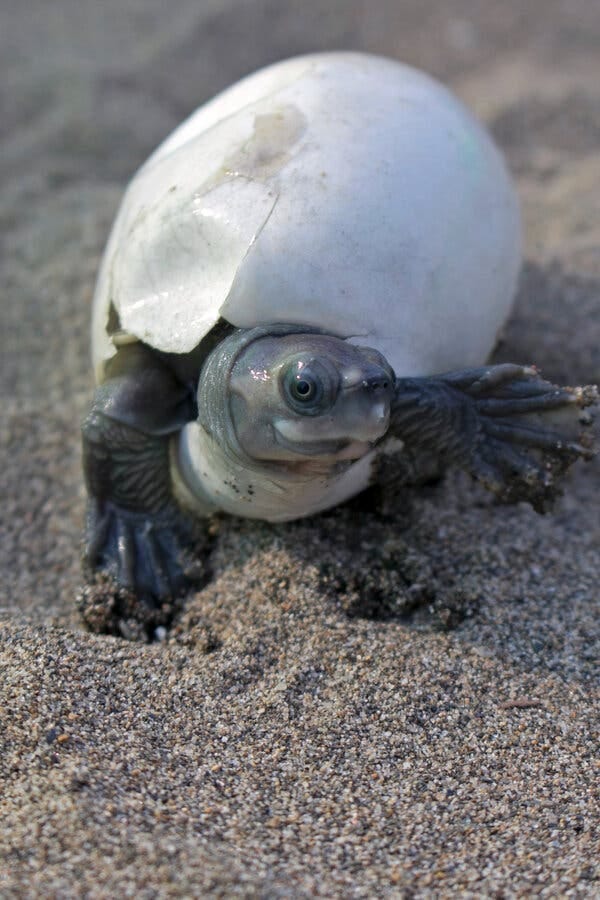 (via)
*Hot Goss*
Brought to you by the superb Latifah Azlan.
Late last week, Brad Pitt decided to officially roll out his new girlfriend, Nicole Poturalski, to the world. We were regaled with tales of how perfectly the two complemented each other, despite the fact that Bradley is in his late 50s while Nicole is in her late 20s.
Well, it seems like the age gap thing isn't out of the ordinary for Nicole because it sure looks like she's actually married to a 68-year-old restaurateur, Roland Mary, who may have been the one to introduce Nicole to Brad. Most reports are saying that the Marys have an open relationship, though it's unclear if Brad was aware of this fact when he decided to go public about his relationship. He brought Nicole to the Chateau Miraval over the weekend, where the pair were supposed to spend the week together but that's no longer the case. Nicole has returned to Germany, although Brad is still on his estate in the South of France.
On her part, Nicole has been deleting photos of her husband and following "Brad and Nicole" shipping accounts on Instagram. She's one of four followers on an account called "nicobrad2020," which seems so thirsty to me. I typically associate the creation and administration of these shipping accounts with either Millennial and/or Gen X people, or celebrities that are popular among Millennial and/or Gen X people, or both. I don't see Brad Pitt fitting into those categories. Sure, he's a leading man, but no one is "shipping" him the way we shipped Cole Sprouse and Lili Reinhart, or Janelle Monae and Tessa Thompson, or Gigi Hadid and Zayn Malik. Brad just didn't come up in this sort of era of fandom. NO ONE – not one soul – was checking the trades for updates on Brad and Nicole. And the portmanteau? Bricole? Yeah, that's not taking off any time soon, if ever. I suspect Nicole created this account herself. How else could she have known about an obscure shipping account with five posts and four (three, if we exclude her) followers?
As for Nicole being dispatched from the Chateau Miraval – do you guys think Brad and his team saw those stories break over the weekend and realized that this new relationship isn't going to work out? Because I do. Brad and Angelina have been in a prolonged divorce for some years now and the PR hasn't always been favorable to him. In fact, over the years, Brad's reputation has taken quite a hit. First, the fact that part of the reason Brad and Angelina are getting divorced is because he became embroiled in a potentially physical altercation with his son Maddox during a flight to Los Angeles. Second, the revelations that his relationship with his oldest sons is nonexistent. Finally, the fact that Brad and his foundation, Make It Right, are being sued in a class action lawsuit by New Orleans residents who claim that they were sold "defective and improperly constructed homes" after Hurricane Katrina. It's been a rough few years for Brad and I'll bet money that this girlfriend roll out was partially intended to scrub that image a little bit.
I'm not entirely sure if the narrative on Brad and Nicole will change from "completely perfect for each other" to "it was nothing serious" over the next couple of days or weeks. I do think Brad being involved with a woman in  an open relationship with a 68-year-old man doesn't vibe well with his image. There's nothing wrong with being in an open relationship but it's not exactly an image Brad has cultivated for himself over the years. And that's why I think Nicole's back in Germany instead of still spending time at the Chateau with Brad. I don't know what the vetting process is like for dating when it comes to mega-stars like Brad Pitt, but it does seem to me like they're trying to cool down on the roll out a little bit.