September 4th
Issue 25.5
Good morning!
Welcome to Issue 25.5 of Digestable, your daily mouthful of real things happening in the world, minus alarmist pandemic news.
I'm all ears for your feedback, or if you're already a fan, share this email with your friends. If you're not yet on the list, click below to sign up.
Today's news, fermented:
Wowie, it's Friday! I wondered four times over the course of Tuesday if it was Thursday, and thank heck, we've made it.
Your weekend reading is Where Calling the Police Isn't the Only Option, an examination of alternatives to policing that are being implemented around the country.
Here's a black hole, which looks like a…well, I'll let you all come to your own conclusions. Read more about black holes here.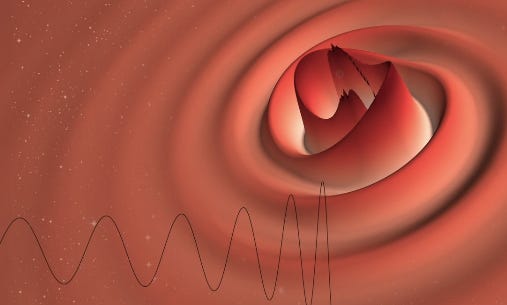 (via)
Caro's Advice Corner
Dear Caro,
I am completely unmotivated to look up new recipes.  Ever since quarantine started, it has been really hard to get back into cooking.  I used to cook alllll the time, but for some reason it now feels daunting.  Any advice and recipes you could share?
Hungry and unmotivated


Dear Hungry and unmotivated,
I ebb and flow on this very topic constantly.  I am also a person that loves to cook, and when I don't feel motivated to do it, it's the worst.  Cooking is like meditation for me, the careful focus you need to have when chopping up veggies, the meditative feeling of mixing in ingredients and smelling them as they are all coming together.  It is a sensory experience like no other, but it can also often feel like a chore.

The key here, Hungry and unmotivated, is variation.  Break out of your cooking comfort zone.  Whenever I feel really down, and without much energy to do much (let alone cooking), I spruce it up and look up recipes that involve incorporating new things.  And by new things I mean new ingredients, new techniques, new cultural awareness or understandings.  Cooking can be a window into someone else's world and perspective.  I myself recently decided to try veganism with a friend and my boyfriend, which really forced me to think about my relationship with food, but more specifically my relationship with meat.  And if we want to take it a step further, I learned a lot about what it meant being a woman of color adhering to a diet that has been very popularized and co-opted by mostly white folks.  A friend suggested I read Sistah Vegan  an anthology exploring black female veganism,  food politics, identity, sexuality,  decolonization, anti-racism, and so much more.  See, this is what gets me pumped, creating a relationship with food where I am constantly learning about myself and others.

Ok hungry and unmotivated, let's get to the recipes.  You'll notice I will mostly be sharing videos, and that is because I am a visual learner, typically it is easier for me to follow along if I am able to visualize something.  So without further distraction, here are the recipes:
This first one is from one of my favorite Korean/American YouTubers.  In this video specifically, she walks you through how to make three different Korean dishes.  You can watch the video here.  The meat in this video can also be substituted by tofu or any other non-meat alternative.  My favorite recipe from this video is the Doenjang Jigae...as Jenn describes it, it literally  feels like a hug in a bowl.

Next we have some great vegan, no-cook recipes, for those hot summer days, from one of my fav vegan vloggers, Pick Up Limes.  You can watch the video here.  My favorite is the summer roll, I have never worked with rice paper before, and it really made it really fun to learn and work with a new cooking ingredient/material.
Ok, finally, my other favorite vegan vlogger, SweetPotatoSoul made this video for a "Better than Chipotle" burrito bowl.  And honestly...she hit it out of the park.  This burrito bowl is ahhh-maaazing.  

Alright, Hungry and unmotivated, time to chef it up!  Hope you're able to whip up some delicious meals, and get in touch with that side of you that loves to cook.

Hungrily yours, 
Caro
DJ M0RO's low-key Music Show
Your weekend playlist is dedicated to feelings of all kinds; to finding courage in connection; and to my new favorite place to DJ, the 12-foot box truck named Harvey that I drive at work. 
Jamila Woods has been a mainstay in my music library since she made me swoon by writing a whole damn (fantastic) song about how to pronounce and spell her name ("it's a long i baby") so when I heard she had a new single out I was so excited. SULA (Paperback) is inspired by and an ode to Toni Morrison, who wrote works that infuse all of the music Woods has graced us with (for a 101 on JW see her recent performance on KEXP and a really special Tiny Desk Concert.) 
Jamila draws on Sula to guide her self-love poem, revisiting the relationship of the main characters' struggles and friendship. While you're listening it's worth meditating on her own take on the track, which she says "gave me permission to reject confining ideas about my identity designed to shrink my spirit. It reminded me to embrace my tenderness, my sensitivities, my ways of being in my body. This song is a mantra to allow myself space to experience my gender, love, intimacy, and sexuality on my own terms." And I hope it can be this for you, too, dear listeners.
There will be songs that we hear differently - references to closeness, touching, proximity - and then there will be songs that just are different because of this pandemic. Nick Hakim's QADIR, written for his late friend who passed at age 25 in 2018, is one of those songs that stands out for its ability to act as a prayer for our times. "There seems to be a complexity / To being kind / To your space / To your temple / To your neighbors." 
It's accompanied by a very sweet video if you're a visual learner, in which a bit of play with a broken mirror really made an impact on me. And that's the thing about this song that is about grief - it is broken but not focused on personal pain, it is ultimately hopeful and connected to something bigger.  And as if it was written for this moment, you may have a minor meltdown when you hear, "Who've seen the changes / We all feel change / Some of us wear masks / To hide the pain."
Hakim reappears on Starchild & The New Romantic's sophomore album Forever, on a track alongside Le'Asha called Cool Disco Dan which is very good. My favorite track on the album might be Fall_Window, a long synth build up that feels fresh and cool. The title track featuring London O'Connor is also a top pick with its dreamy vocals. 
This Friday morning *DJ set* is often pretty organic and random but as much as I can hold myself accountable to a future commitment I'll be back next week with some thoughts on a musical experiment I'm exploring. Until then I'll continue my quest to figure out which state I'm able to vote in <3
*Hot Goss*
Brought to you by the superb Latifah Azlan.
There were so many things I could have covered in today's ~*Hot Goss*~. I had thought about writing a story on Prince Harry and Duchess Meghan'smulti-year Netlfix deal that will have them producing documentaries, feature films, and children's programs under their newly-founded and yet-to-be-named production company. I might cover this more in depth on Monday so be on the lookout if you want some Royal Tea updates.
The new cast of Dancing with the Stars was also announced this week, with familiar names such as Tiger King's Carole Baskin, Catfish's Nev Schulman, Selling Sunset's Chrishell Stause, ice skater Johnny Weir, rapper Nelly, and others expected to make their dancing debut on September 14th. The cast this year seems pretty evenly comprised of C and B+ listers at best, which I am surprised by. I am also utterly surprised they didn't get a former Trumper on as a contestant ala Sean Spicer last year. I guess Sarah Huckabee Sanders was too busy shilling her new memoir to compete.
But instead, I am going to talk about vaginas. More specifically, Gwyneth Paltrow's vagina. Did you know that Gwyneth Paltrow recently released a line of candles that smell like her vagina? Homegirl has made the rounds when it comes to talking about (her) vaginal health so I thought this was an absolute parody of her very specific brand of wellness and lifestyle until I googled "Gwyneth Paltrow vagina" and the first link listed under the search results was one to a candle called "ThisSmells Like My Vagina" on her Goop website. I was utterly agog with bewilderment.
And the crazy thing is, this isn't even the craziest part. You may be wondering how exactly Goop's manufacturing and product design team were able to capture the scent of Gwyneth's 'gina. Well, wonder no more – Goop employees actually smelled the real thing to bring this product to life. I'm gonna need Janet from HR to open a file on this department because so much no is happening over here.
For $75, we can all burn and smell Paltrow's poon this fall. But now that I know the type of labor that goes into making this candle, I'm questioning the price tag a little bit. Honestly, that seems a little low for me and I am wondering what sort of compensation and benefits the Goop team gets for this work? Nothing could ever be enough to get me to take notes on my boss's crotch. Also, if you're wondering what the vagina candle smells like, the product description states that it is "funny, gorgeous, sexy, and beautifully unexpected" with notes of geranium, bergamot, cedar, Damask rose, and ambrette seed. I don't know about you, but that smells like an unrealistic vagina to me, and I think it's time we put the jade eggs down and call an actual, licensed gynaecologist to deal with our vagina needs.
Thanks for tuning in to ~*Hot Goss*~ this week, everyone! I'll be back with more on Monday.