September 9th
Issue 26.3
Good morning!
Welcome to Issue 26.3 of Digestable, your daily mouthful of real things happening in the world, minus alarmist pandemic news.
I'm all ears for your feedback, or if you're already a fan, share this email with your friends. If you're not yet on the list, click below to sign up.
Today's news, fermented:
Never have I been so alarmed by a call for people power as I was when reading this article, Is Tr*mp Planning a Coup d'État? It outlines the fears that more traditional Republicans are having about the 'president' failing to leave office in November (or December or January). The article lays out a number of scenarios: DT loses the popular vote but wins the electoral, there are fraud lawsuits left and right about mail-in voting, it ends up in the Supreme Court. If you need more fuel for your fever dreams about the future of this country, go give it a read.
The rest of the news is not much solace either. We've got continued denial about the dangers of the virus, still-traumatized and displaced wildfire refugees, and COVID-positive refugees escaping a fire.
My momentarily escapist brain said, we got the covid denial, we got the refugees, we got the combination covid-positive refugees, a la Combination Pizza Hut and Taco Bell, which brought a needed giggle to my morning.
Y'all, everything is going wrong out there.
Which brings me back to the initial article about our desecrated democracy (also the subject of the Guardian US's lead article). We've got this handful of disaster scenarios, and the myriad iterations of those scenarios. After this laying-out-of-potential-crises, the call to action at the end of the article is massive numbers in the streets, and people power.
That's all well and good, and hey, who am I to say that people power isn't our best chance at liberation from the fascist state. But it makes me wonder about all those situations where there is risk involved, and we tell ourselves we'd stay and stand up for what's right (Jacob Blake trying to break up a fight in his neighborhood, perhaps?), but most of us don't. Such is human preservation instinct.
This framing of 'stay and fight' or 'walk away' first lodged itself in my mind when I read The ones who walk away from Omelas, a short narrative by Ursula K. Le Guin. (You can read the full story here.) It's about a very happy place in which all that happiness hinges on the absolute misery of one person. The parallels are not exact between the scenario laid out here and the current set of disasters that form our reality, of course, but it came to mind when reading about the faith we'll need to place in people power.
Will we walk away, into the unknown, or will we stay and fight? As with all questions, there is no simple binary, no distinctly correct way forward. The ones who walk away, in Le Guin's words,
"go on. They leave Omelas, they walk ahead into the darkness, and they do not come back. The place they go towards is a place even less imaginable to most of us than the city of happiness. I cannot describe it at all. It is possible that it does not exist. But they seem to know where they are going, the ones who walk away from Omelas."
And then there are these hummingbirds, which go into deep hibernation when their options are limited.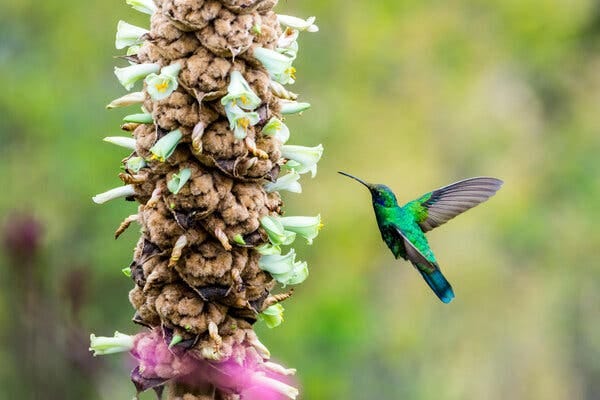 (via)
*Hot Goss*
Brought to you by the superb Latifah Azlan.
Today, I'm circling back around on some ~*Hot Goss*~ that broke late last week and making good on my promise to write about it for this column – it's time for some Royal Tea. A cup of English Breakfast, perhaps?
Last Thursday, news broke that the Duke and Duchess of Sussex (a.k.a. Prince Harry and Duchess Meghan Markle) signed a multi-year mega-deal with Netflix that will have them producing documentaries, feature films, and children's programs under their newly-founded and yet-to-be-named production company. It's a pretty big deal, but it didn't exactly come as a surprise as many Royal watchers and gossip sites have been anticipating such an announcement since the couple moved to Los Angeles.
Just as unsurprising was the reaction from royal commentators across the pond, who were predictably salty and critical for no reason. Folks like Richard Palmer, Dan Wootton, and Piers Morgan have accused Harry and Meghan of "lying" to the British public about wanting more privacy (being the reason behind their split from the British Royal Family) as well as mocking them for signing this deal and getting a shit ton of money from it. The Daily Mail released an article calling the deal "overhyped" and saying that the Sussexes are "looking for attention all the time" while royal biographer Angela Levin called the deal "the biggest exploitation of the Royal Family that has been in our lifetime."
Do all of these people sound unhinged to you? Because they certainly do to me. Nothing has been announced of this deal other than the fact that it exists and already folks are clamouring to find reasons for a downfall where there aren't any. And "the biggest exploitation of the Royal Family that has been in our lifetime" is truly, audaciously remarkable when you remember that Prince Andrew has been credibly implicated in a global human trafficking and sexual abuse ring spanning decades! That's of course aside from the fact that the mere existence of a monarchy that lives off taxpayer dollars with no discernible benefit to the wider society itself is the biggest exploitation of its kind – but the tea can't be that hot today, so I'll just focus on the issues at hand.
I'm not saying that the Sussexes can't be criticized, but knowing the pattern of criticism and the feelings royal commentators have towards the couple (and especially Meghan), I doubt any of these "concerns" are held in good faith. I'd also just like to remind people that when the Sussexes split from the British Royal Family, they did offer to continue working part-time as official royals – but the Queen turned that offer down and officially stripped Harry of his military titles, honors, and patronages instead. So the courtiers and other folks can turn their noses up all they want, but you can't have it both ways. Man's got to make a living somehow, and still I suspect that if this deal hadn't been signed, these same commentators would also be the first ones to lead the charge against the Sussexes for living off British taxpayer money in America instead. See? No good faith.