July 31st
Issue 20.5 aka #100!
Today's news, fermented:
Friends! It feels celebratory and complicated that this is the 100th issue of Digestable, and the conclusion of the 20th week of quarantime for many of us. So much devastating and also transformative stuff has happened in these 20 weeks.
When I look back at early issues—March 19th, the first day I included an animal; April 6th, which is about all the kids who won't get to celebrate graduation in the traditional way—it's clear that I, and we, had no idea what was in store for the coming months. I started writing Digestable with the very wrong assumption that this would be over pretty soon, and the chunk of time I use to write would have been taken back over by commuting.
And now, like many of us, I'll be remote for the rest of 2020, maybe longer. So the plan is to continue writing and gathering and publishing.
But I wanted to pause, at this 100-issue mark, and ask for your feedback. I made a little form—if you've got some thoughts or requests or questions of any kind, will you take a few minutes and fill it out?
I'd be remiss if, in this pause, I didn't give a hearty round of applause and thanks to the Digestable contributors. Caro and Mollie Rose, you make Fridays even more worth waiting for, with your sharp wits, ears, and wisdom. Latifah, *Goss Queen,* this project would be a catastrophe without you and your spectacular deliverance of humor and sass, every day of the week. Gabriel, there is so much good revisiting to come as you grace us with a Monday column; I would not have made it this far without your encouragement and enthusiasm.
To each and every one of you who reads this, thank you, from the tips of my fingers. It means the world to me that I'm able to write some things and send them to your inboxes every weekday, now for four and a half months.
Here's a sweet article about swifts (a kind of bird, pictured) and community for your weekend. Oh, and don't forget to send me your thoughts.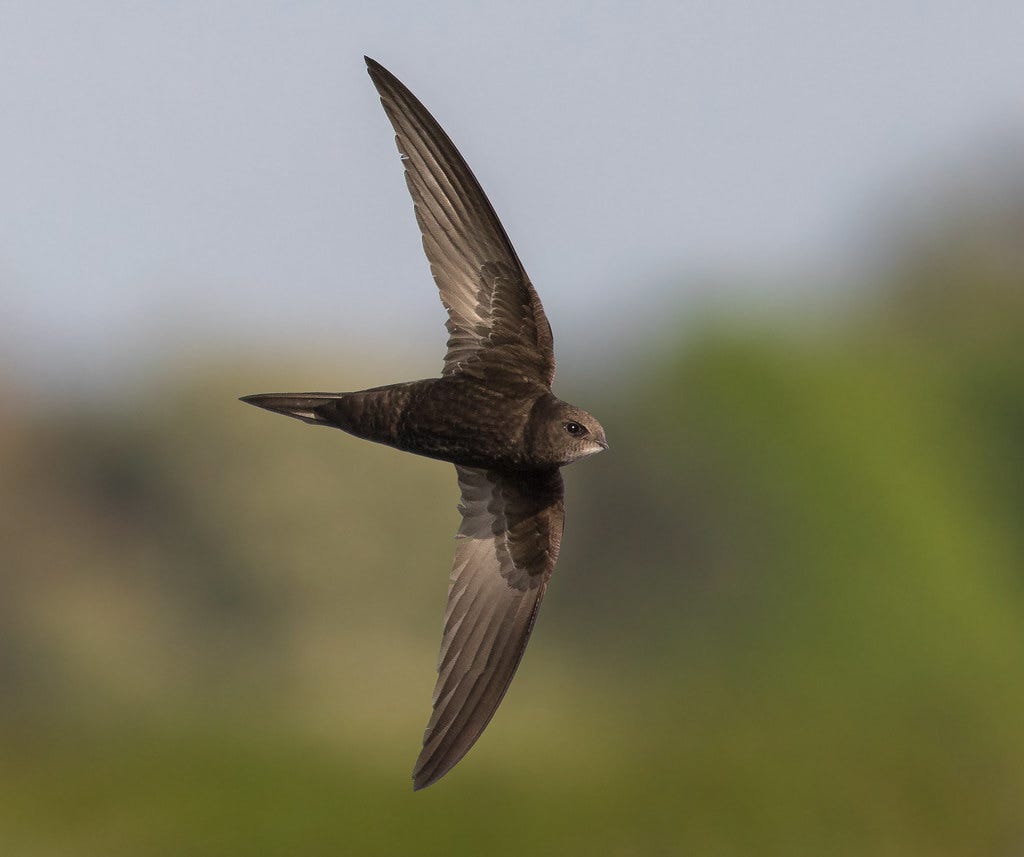 (via)
Caro's Advice Corner
Dear Caro,

I HAVE RUN OUT OF NETFLIX SHOWS TO WATCH...help!

Sincerely,
Short and to the point

Dear short and to the point,

As your sign off indicates, you are concise.  So I will in return be concise in my response.  While I have no idea what Netflix shows you have already watched, I can provide this nifty tool to help you choose your next flick.  It's called Netflix roulette, and the site is linked here.  You can choose what genre you want, if you want it to generate movies or tv shows (or both), AND what the IMDB and Reelgood scores are.  Now I'm not just going to leave you with with this website, here are some of my recent favs if you have not checked them out yet: She's Gotta Have It, What Happened, Miss Simone?, Street Food: Latin America, Astronomy Club: The Sketch Show, and finally Mucho Mucho Amor: The Legend of Walter Mercado (this is a real uplifting one).

Happy watching!
Caro

DJ M0RO's low-key Music Show
This week, Rhiannon Giddens was named the new Artistic Director of Silkroad, a "radical cultural collaboration, both modeling and teaching the importance of connection across difference" founded by Yo-Yo Ma twenty years ago. "My keenest desire for Silkroad is a sharpening and reinterpretation of what it means for the 'right now.' That it becomes obvious to all that Silkroad is as American as it is possible to get in spirit, even as many of the players are from elsewhere; for what is more American than the gathering of influences from disparate areas of the globe to create something unique and fantastic," she shares. Here is Giddens playing with Yo-Yo in response to the self-posed question, "What can I say about what's been happening, what has happened, and what is continuing to happen, in this country, in the world?" and here covering Bill Withers to raise money for coronavirus relief. I'm very excited to see what Rhiannon does with Silkroad, and am continually grateful for how she defines American music.
Obviously I'm loving Smino's new collab release with JID and Kenny Beats because, well, we all need a minute to meditate. There's no shortage of passages to ponder in the song either, giving us lots to review. Afterall, "...lotta sh*t changed since last summer."
If you want to know what's on repeat this week for me it's I Know I Know from Raquel Rodriguez and writer/producer Amber Navran of the band Moonchild. The lyrics are Raquel's attempt to reckon with the concept of intent vs impact, finding a balanced support system, and healthy communication. Read the full story about the song in the notes, it's a good one. 
I love recognizing a sample that you just didn't see coming - though the track/album title shoulda tipped me off, because really all of Be Water flows out of Bruce Lee's timeless wisdom. Super excellent writer and jazz pianist Christian Sands takes "inspiration from water's tranquility and power and muses on the possibilities offered by echoing its fluidity and malleability" on this beautiful album. I'm always so taken with any intersection of music and environment, and Christian's new release truly deserves to be returned to with attention and presence. We need his interpretation to help comprehend right relationship with water, and parse out an alternative narrative to humans v nature. 
Speaking of water (please indulge my smooth transition AND my inner Deadhead) there have been a number of remastered Jerry Garcia releases from the archives recently, but I want to especially highlight last week's live recording with John Kahn from January 27th, 1986 at the Ritz. It's acoustic, bluegrassy, jubilant, and stripped-down. As BillyStrings describes in the liner notes, Garcia "sings through the verses and picks through the melodies as if he is the man in the story. Delicate and deliberate." There's a version of Ripple (there's the water reference, okay okay) on it that made me feel like I was in a big crowd *sigh* of people and instantly had me smiling. There's also a cover of Goodnight, Irene which is so happy you almost forget that the song is about some pretty dark stuff (fun fact: this was a camp song for me growing up. Imagine being 8, away from home for 2 months, and joyfully belting out "take morphine and die" with 600+ other people in the woods") Anyway, I'd like to shout out my dad for offering me my one shot at live music this year when I got to watch his outdoor, socially-distanced band practice last weekend. True to Grateful Dead form, he got all three of his Dead tribute bands together for an epic jam sesh in the backyard. You rock dad.
*Hot Goss*
Brought to you by the superb Latifah Azlan.
I very much enjoy reading about and looking at photos of celebrity real estate. I love seeing the design and décor of the glitterati, perhaps because I may never own or live in such beautiful houses myself. I've been dreaming about Dakota Johnson's digs since I first read an article about it in March – it's pretty much my dream house now. So I was very intrigued to see "Gigi Hadid" and "apartment" trending on my timeline a few days ago.
Supermodel Gigi Hadid shared some photos of her newly renovated NYC apartment on Instagram a few days ago and it caused quite a stir. In a word, I would call her décor 'chaotic'. It's colorful and quirky but some of the design elements really… are a choice?
One that stood out in particular was a kitchen cabinet with colored pasta. I don't really know how to explain it other than that the glass panel doors of some cabinets on the island of her kitchen are filled and decorated with loose fusilli and farfalle that have been dyed in garish blues and oranges. I've seen some people say how cool and creative the idea is but I just can't get on board with it. I'm sorry, I guess I am not cool enough to appreciate the artistry.
There is also a guest bathroom plastered with New Yorker magazine covers that generated quite the discussion online. Maybe I am just a sterile and boring person but all the funkiness going on in this apartment is too much for me. I love colors and colorful décor but a wall of magazines against a bamboo-like marble slab is too much texture for my brain to handle. I think that's what is confusing me a little bit – the eclectic mix of textures and styles are a little too mismatched for my personal taste. But it's working for Gigi, and I certainly like it more than Kim Kardashian's mausoleum-like mansion or Justin Bieber's former… whatever this is.